Asia Foundation's Let's Read! E-Book Competition Launches Girls Empowerment Collection in Cambodia
Phnom Penh, March 8, 2017 — This International Women's Day, The Asia Foundation honors eight stories of female ingenuity and bravery that have been chosen as winners of the Let's Read! children's story competition in Cambodia titled Girls Can Do Anything. The Girls Can Do Anything competition was organized to encourage the writing of children's stories featuring dynamic female characters and is part of the Let's Read! e-book hackathon project that incubates the creation of local-language children's books in Asia. Five of the eight selected writers are women.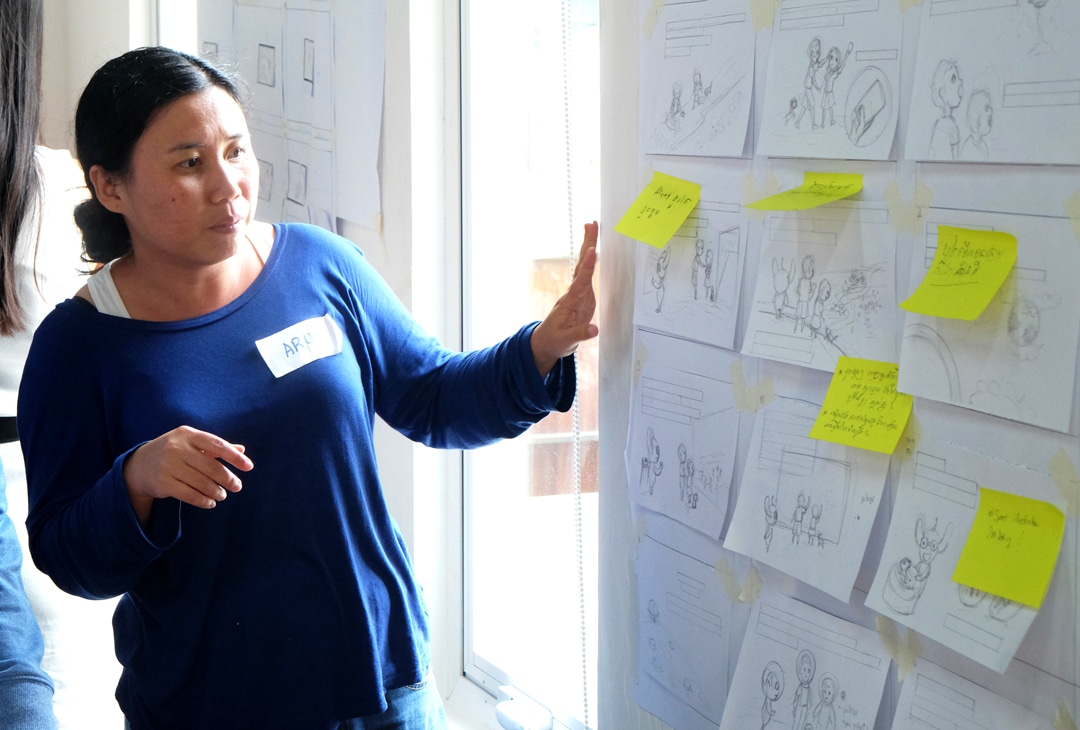 From the tale of a little girl who travels to the sun to save her village to the story of a female cricket who devises a clever idea to chase away a wicked bird, all are original works by Cambodia's burgeoning children's literary community.
The winning stories were selected from a national public call for stories with strong female characters and themes last month. The selection committee was comprised of local literacy, publishing, and girls education experts from Room to Read, Save the Children, and Cambodian publisher and NGO Sipar.
Winners of the competition will go on to take part in a story workshop on Cambodia's National Reading Day, March 11, where they will work with editors to refine their narratives and be paired with an illustrator and graphic designer. The writer-illustrator-designer teams will gather for the signature Let's Read! e-book hackathon event at TEKHUB, a co-working space in Phnom Penh, on March 19 to collaboratively bring the books to life.
The Let's Read! girls empowerment collection will be freely available online to benefit as many students as possible and widely distributed through the Ministry of Education's children's digital library and other popular Cambodian e-book apps and websites. The finished books are intended for readers at the lower primary school level.
Let's Read! is generously supported by Smart, one of Cambodia's leading telecommunications companies. Sabay Digital Corporation is the project's media partner and community partners include technology company CamAnt, Room to Read, and Sipar.
For more information on the Let's Read! initiative in Cambodia, visit www.letsreadbooks.org.
The Asia Foundation is a nonprofit international development organization committed to improving lives across a dynamic and developing Asia. Informed by six decades of experience and deep local expertise, our work across the region addresses five overarching goals—strengthen governance, empower women, expand economic opportunity, increase environmental resilience, and promote regional cooperation.
Read more about the Foundation's work.
For media inquiries, please visit our News Room. Engage with us on Facebook, Twitter, and Instagram.
Read our latest news, or insights from our blog.
Media contacts
Amy Ovalle, Vice President, Global Communications
[email protected]
415-743-3340
Eelynn Sim, Director, Media & Strategy
[email protected]
415-743-3318
Leaders on the Frontlines:
Leaders for a Better World
Tuesday, November 9, 2021, 6PM PT