New Book Examines China's Governance Puzzle
March 29, 2017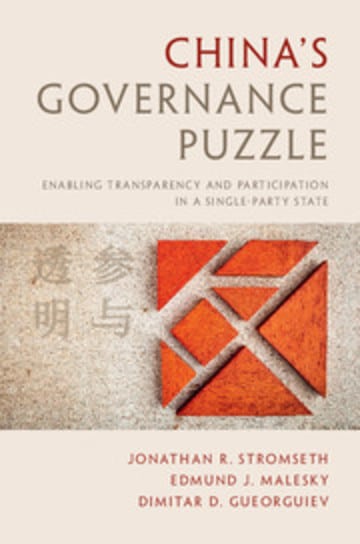 China is widely viewed as a global powerhouse that has achieved a remarkable economic transformation with little political change. Less well known is that China's leaders have also implemented far-reaching governance reforms designed to promote government transparency and increase public participation in official policymaking. What are the motivations behind these reforms and, more importantly, what impact are they having? These questions lie at the heart of a new book, China's Governance Puzzle: Enabling Transparency and Participation in a Single-Party State.
The basis for the research that led to the book began in 2010 with an Asia Foundation-supported national research study, the Chinese Governance Assessment Project (C-GAP). This extensive collaborative study not only documents the origins and scope of these reforms across China, but offers the first systematic assessment of the reforms by quantitatively and qualitatively analyzing the impact of transparency and participation on important governance outcomes. Comparing across provinces and over time, the authors argue the reforms are resulting in lower corruption and enhanced legal compliance, but these outcomes also depend on a broader societal ecosystem that includes an active media and robust civil society.
On March 31, following a similar event held on March 29 at The Asia Foundation's headquarters in San Francisco, the Center for East Asia Policy Studies at Brookings and The Asia Foundation will co-host the authors of the new study and will also feature a discussion by Wang Xixin, vice dean and professor at Peking University Law School.
Below is an excerpt from the preface (written by Jonathan Stromseth) of China's Governance Puzzle, which is available for purchase by Cambridge University Press.
When I arrived in Beijing in 2006 to become country representative of The Asia Foundation in China, I was fortunate to inherit a series of programs supporting administrative law reform. During the 1990s, Chinese legal reformers had worked to establish the basic structures of administrative law and curtail arbitrary decision-making and administration discretion by government officials. Through workshops and exchanges, the Foundation supported these efforts in cooperation with the State Council's Legislative Affairs Office, Chinese Academy of Governance, Peking University Law School, and the China Administrative Legislation Research Group – a network of legal scholars advising the National People's Congress (NPC) on law reform and legislative drafting. By the early 2000s, the Foundation was supporting members of this network who were drafting a comprehensive Administrative Procedure Law (APL) that would mandate transparency, public transportation, and consistency in Chinese rule-making.
This national drafting effort stalled in 2003, but it was only the beginning of a larger journey. Before long, Chinese legal scholars started looking to the provinces – setting their sights initially on Hunan, the large and politically important province in southern China where Mao Zedong was born. They advised and then assisted the Hunan authorities to develop a provincial version of the APL, and in 2008 the provincial government enacted the first ever Administrative Procedure Rule in China that significantly increased requirements for public participation in policymaking. Observing this shift, I worked with my Chinese colleagues at The Asia Foundation to recalibrate our governance and law programs to support and assess the Hunan reforms, partly in the hope that it might rekindle interest in the national APL. We also supported the Hunan authorities to draft forward-leaning implementing guidelines for national Open Government Information (OGI) regulations issued that same year by the State Council.
Soon these programs expanded to assist similar reforms in other areas of China, including Jiangsu, Gansu, and Shandong provinces, and the cities of Xi'an and Shantou. As these reforms and programs grew, I had an opportunity to travel across China to witness how the transparency and participation reforms were being developed and implemented in diverse local settings. I also saw how the reforms were promoting a groundswell of popular activity, widely covered in the domestic press, as Chinese citizens tried to take advantage of their new information rights and recently mandated opportunities to participate in official decision-making. Not only did the reforms seem significant in their own right, but they appeared to be generating new forms of interaction between citizens and the Chinese state—raising popular expectations for government disclosure and responsiveness along the way.
During this period, I was also struck by what seemed to be contradictory political trends unfolding in China. While official firewalls continue to impede free access to the Internet, the authorities had issued OGI regulations that were enhancing government transparency and increasing citizen access to official information. And while China remained a one-party state with no appetite for political pluralism or liberalization, government authorities were taking concrete steps to expand opportunities for citizens to participate in the formulation of laws and policies that would affect their daily lives.
These puzzles and on-the-ground observations led me to begin conceptualizing a research project that would document the extent of these reforms as part of a broader assessment of Chinese governance. As a development practitioner with a background in political science, I was interested in examining Chinese governance on several levels. First, from a macro perspective, how did China stack up against other countries based on "good governance" frameworks, emphasizing transparency, participation, accountability, and rule of law? Second, at a micro level, what were the policy effects of the recent reforms promoting transparency and public participation? With regard to participation, for instance, were citizens actually influencing specific policies, and, if so, were they more satisfied with the results? Third and finally, what did these reforms imply for political change in China over the long run?
It was around this time that I reached out to law and governance specialists in China to discuss these questions and broached the idea of launching a collaborate research project. The research got underway not long thereafter, in 2010, in the form of as Asia Foundation program called the Chinese Governance Assessment Project (C-GAP).
Jonathan Stromseth is a senior fellow at the Brookings Institution and former Asia Foundation country representative in China. Ji Hongbo is the Foundation's current country representative in China. The views and opinions expressed here are those of the authors and not those of The Asia Foundation or its funder.
About our blog, InAsia
InAsia
is a bi-weekly in-depth, in-country resource for readers who want to stay abreast of significant events and issues shaping Asia's development, hosted by
The Asia Foundation
. Drawing on the first-hand insight of renowned experts,
InAsia
delivers concentrated analysis on issues affecting each region of Asia, as well as Foundation-produced reports and polls.
InAsia
is posted and distributed every other Wednesday evening, Pacific Time. If you have any questions, please send an email to
[email protected]
.
Contact
For questions about
InAsia
, or for our cross-post and re-use policy, please send an email to
[email protected]
.
The Asia Foundation
465 California St., 9th Floor
San Francisco, CA 94104
Mailing Address:
PO Box 193223
San Francisco, CA 94119-3223
Change Starts Here Campaign Impact
Thank you for powering The Asia Foundation's mission to improve lives and expand opportunities.