Asia Foundation Hosts Release Events for China's Governance Puzzle – New Research on Transparency and Participation in a Single Party State
San Francisco, March 31, 2017 — In a series of events this week, The Asia Foundation organized panel discussions in San Francisco and Washington D.C. featuring Asia Foundation experts together with contributors Wang Xixin, Jonathan R. Stromseth, Edmund J. Malesky, and Dimitar D. Gueorguiev for a new book, China's Governance Puzzle: Enabling Transparency and Participation in a Single-Party State. The panels examined the book's extensive research findings and their implications for China's future.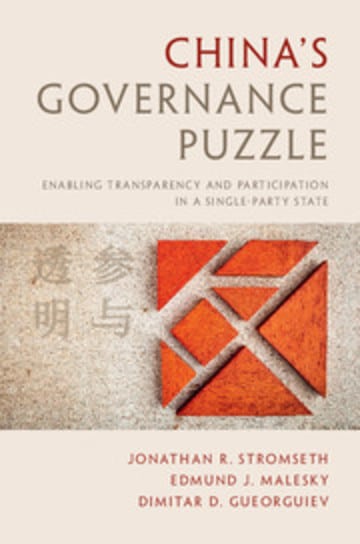 China is widely viewed as a global powerhouse that has achieved a remarkable economic transformation with little political change. Less well known is that China's leaders have also implemented far-reaching governance reforms designed to promote government transparency and increase public participation in official policymaking. What are the motivations behind these reforms and, more importantly, what impact are they having?
China's Governance Puzzle: Enabling Transparency and Participation in a Single-Party State documents the origins and scope of these reforms across China, and offers the first systematic assessment by quantitatively and qualitatively analyzing the impact of transparency and participation on important governance outcomes. Comparing across provinces and over time, the authors argue the reforms are resulting in lower corruption and enhanced legal compliance, but these outcomes also depend on a broader societal ecosystem that includes an active media and robust civil society. The book is now available from Cambridge University Press.
The basis for the research that led to the book began in 2010 with an Asia Foundation-supported research study, the Chinese Governance Assessment Project (C-GAP). The extensive national study examined changes in public participation, transparency, and accountability in China. Read a brief excerpt.
Since 1979, The Asia Foundation in China has partnered with leaders and communities across the country. Together with local partners, the Foundation's work in China remains as relevant as ever with initiatives focused on the development of the charitable sector, disaster management, empowerment of women, and constructive U.S.-China relations.
The Asia Foundation is a nonprofit international development organization committed to improving lives across a dynamic and developing Asia. Informed by six decades of experience and deep local expertise, our programs address critical issues affecting Asia in the 21st century—governance and law, economic development, women's empowerment, environment, and regional cooperation.
Read more about the Foundation's work.
For media inquiries, please visit our News Room. Engage with us on Facebook, Twitter, and Instagram.
Read our latest news, or insights from our blog.
Media contacts
Amy Ovalle, Vice President, Global Communications
[email protected]
415-743-3340
Eelynn Sim, Director, Media & Strategy
[email protected]
415-743-3318
Change Starts Here Campaign Impact
Thank you for powering The Asia Foundation's mission to improve lives and expand opportunities.