Asia Foundation and Estée Lauder Companies Launch Women's Technology Literacy Initiative in Indonesia
Jakarta, April 6, 2017 — Today, The Asia Foundation announced the launch of a new, six-month pilot initiative with The Estée Lauder Companies to promote women's technology literacy and help build and encourage the computer and internet skills of vulnerable urban women. The pilot program, in partnership with the Women's Resource Development Center (PPWS), will provide training to 200 low-income women. Based in Jakarta, Indonesia's largest urban center, this initiative focuses on the most socioeconomically disadvantaged populations of society concentrated in underserved urban areas. For these disadvantaged women, access to basic technology literacy can open new doors socioeconomically and enhance their quality of life.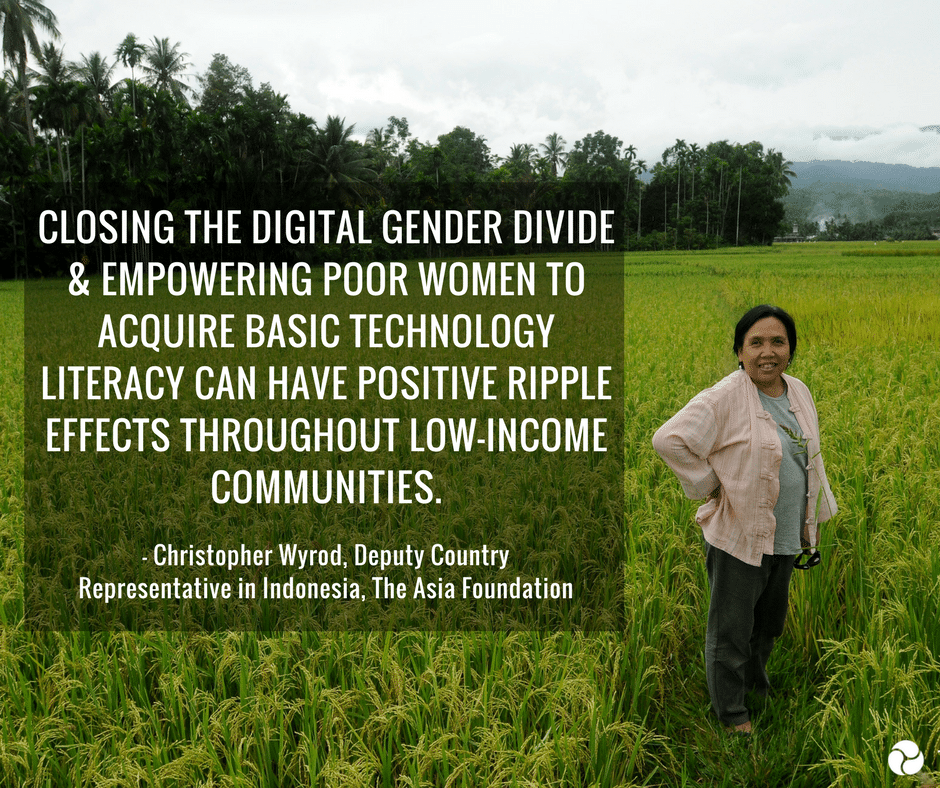 "As internet connectivity becomes increasingly available to disadvantaged communities, closing the digital gender divide by empowering poor women to acquire basic technology literacy can have positive ripple effects throughout low-income communities. For the 200 participants and their families, this pilot initiative will provide a meaningful opportunity to embark on a more promising, prosperous, and dignified future," said Christopher Wyrod, The Asia Foundation's Deputy Country Representative in Indonesia.
Computer software and application training will allow participants to gain skills that will improve their access to information and provide new employment and income opportunities. Digital learning tools (in Bahasa Indonesia) will not only empower them with professional skills but enable them to make deeper connections with other women, increase self-esteem and self-expression, and become leaders in their communities.
Although Indonesia is emerging as a regional technology hub, inequality is growing fast. Women in urban areas are a particularly vulnerable demographic due to higher costs of living, heightened insecurity, and the prevalence of single-parent households. Confronted with rising income disparity and intolerance of difference and diversity, the Foundation promotes access to services that enhance job opportunities for the marginalized poor, particularly women.
The Asia Foundation and The Estée Lauder Companies are committed to improving access to education and opportunities for women and girls. "As a Company founded by a woman and driven today by a workforce that is 85% women, we know that providing education to women not only creates the opportunity to affect change for individuals and families but for entire communities. We are dedicated to improving access to quality education for women and girls worldwide and are proud to partner with the Asia Foundation on this important pilot initiative," said Nancy Mahon, Senior Vice President of Global Corporate Citizenship and Sustainability at The Estée Lauder Companies.
The Asia Foundation is a nonprofit international development organization committed to improving lives across a dynamic and developing Asia. Informed by six decades of experience and deep local expertise, our work across the region addresses five overarching goals—strengthen governance, empower women, expand economic opportunity, increase environmental resilience, and promote regional cooperation.
Read more about the Foundation's work.
For media inquiries, please visit our News Room. Engage with us on Facebook, Twitter, and Instagram.
Read our latest news, or insights from our blog.
Media contacts
Amy Ovalle, Vice President, Global Communications
[email protected]
415-743-3340
Eelynn Sim, Director, Media & Strategy
[email protected]
415-743-3318
Leaders on the Frontlines:
Leaders for a Better World
Tuesday, November 9, 2021, 6PM PT