Asia Foundation's George Varughese Speaks on Politically-Informed Development Approaches at University of Tennessee
April 7, 2017 — On March 27, The Asia Foundation's Country Representative in Nepal George Varughese gave a lecture at the Howard Baker Center at the University of Tennessee, titled Politically-Informed Approaches in Fragile and Conflict-Affected Environments: Key Challenges from Nepal and Afghanistan. The talk was the part of the Center's International Security Distinguished lecture series and focused on the political economy of development in Afghanistan and Nepal.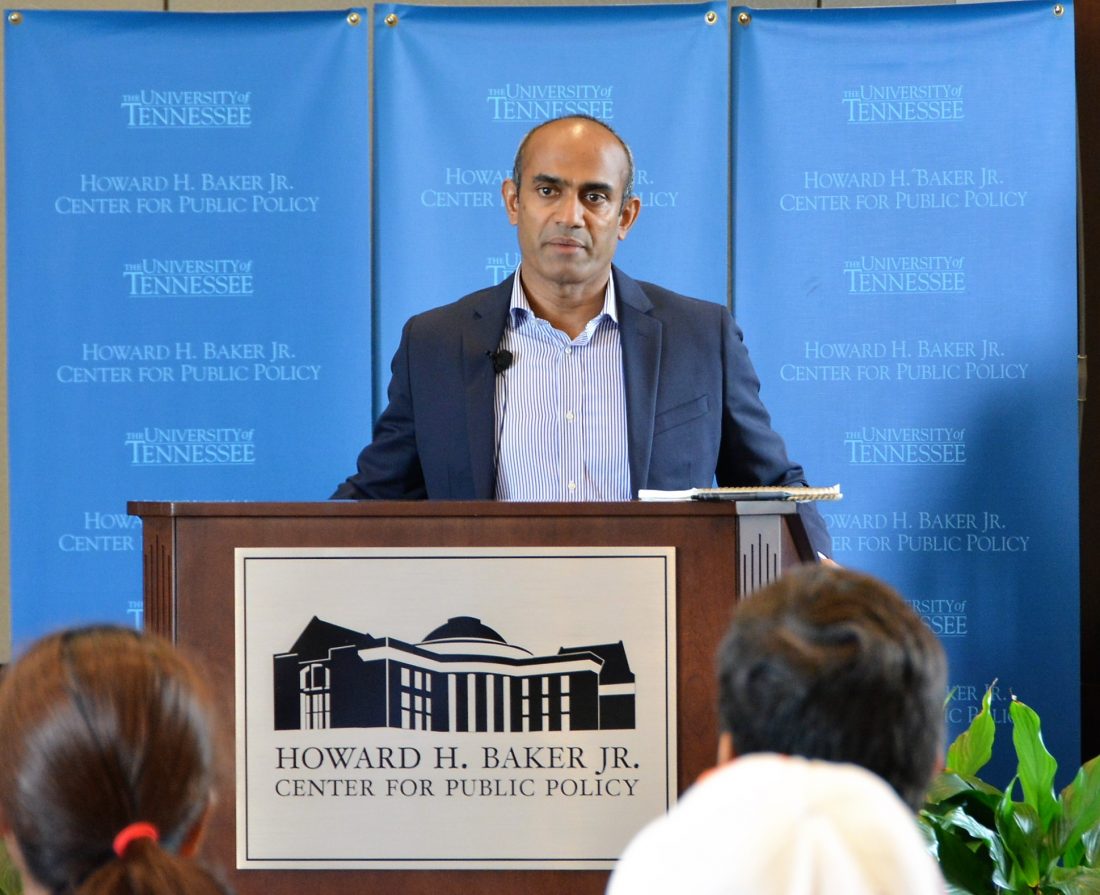 Varughese spoke about the Foundation's engagement in conflict-affected societies, saying that it requires a significant investment in getting to first know the context, both formal and informal actors and their interests, and an organizational ability to recognize the most politically feasible moment to provide support. Using examples from his service in Afghanistan and Nepal, Varughese focused on how development practitioners could be more contextual and relevant when confronted with a fluid operating environment. Varughese also provided an update of the Foundation's currents programs in Nepal, where since 2009 he has led the development of Foundation programs that seek to accompany the country through an elongated and complex political transition.
The Baker Center was established in 2003 as a non-partisan center. The Center conducts policy research and education related to Energy and the Environment, Global Security, and Leadership and Governance and engages students, legislators, and the public in their work. Past Baker Distinguished Lecture Series speakers include: journalist Tom Brokaw, U.S. Secretary of the Treasury John Snow, and U.S. Secretary of Education Arne Duncan.
The Asia Foundation is a nonprofit international development organization committed to improving lives across a dynamic and developing Asia. Informed by six decades of experience and deep local expertise, our programs address critical issues affecting Asia in the 21st century—governance and law, economic development, women's empowerment, environment, and regional cooperation.
Read more about the Foundation's work.
For media inquiries, please visit our News Room. Engage with us on Facebook, Twitter, and Instagram.
Read our latest news, or insights from our blog.
Media contacts
Amy Ovalle, Vice President, Global Communications
[email protected]
415-743-3340
Eelynn Sim, Director, Media & Strategy
[email protected]
415-743-3318
Change Starts Here Campaign Impact
Thank you for powering The Asia Foundation's mission to improve lives and expand opportunities.