Asia Foundation Releases Report on Disaster Preparedness During Political Transition in Nepal
Kathmandu, April 24, 2017 — Two years from the earthquakes that hit Nepal in April and May 2015, The Asia Foundation and Harvard Kennedy School are releasing Disaster Preparedness and Response During Political Transition in Nepal: Assessing Civil and Military Roles in the Aftermath of the 2015 Earthquakes. The paper is part of a broader, ongoing effort to better understand how to improve Nepal's disaster preparedness and response capabilities.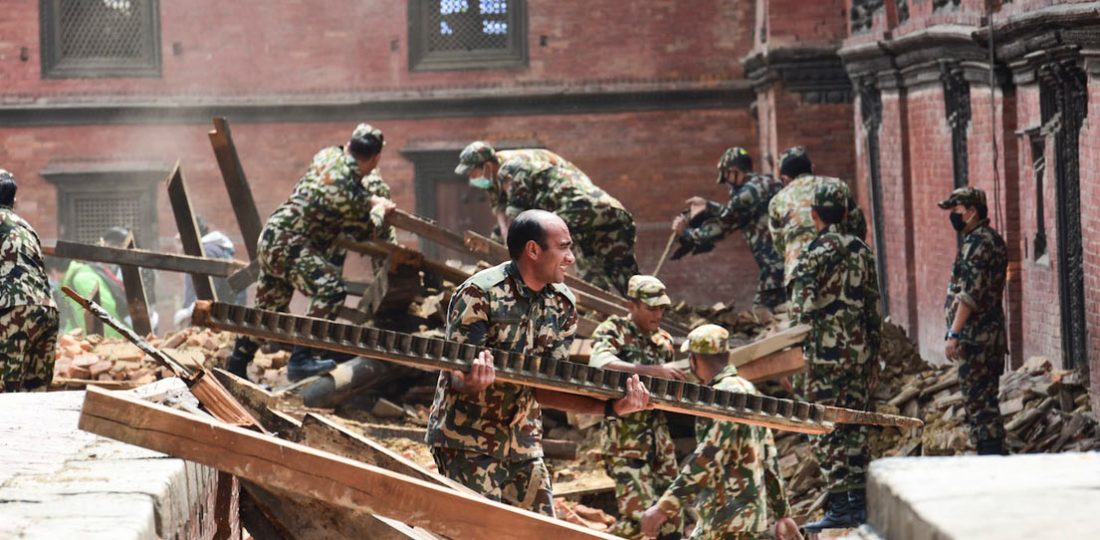 Using the 2015 earthquake response as a case study, the policy brief highlights the key factors that affected coordination between security-related agencies and the civilian agencies of the Government of Nepal, and identifies potential ways to improve future disaster responses. The paper also looks at ways that international organizations can support future efforts to improve the effectiveness of coordination in disaster response.
The strategic actions highlighted by the brief include:
Prioritize supporting local-level disaster management training as well as training national-level stakeholders
Aid the improvement of informal ties between the military and civil agencies through workshops, conferences, training, and so on
Facilitate open and collaborative discussion of the role of the military in disaster response
Standardize and promote public dissemination of key disaster response information
The 2015 earthquakes tested Nepal's ability to respond to disasters. In addition to the policy brief on civil-military coordination under Nepal's national disaster preparedness framework, The Asia Foundation also released reports this week on the impact of aid and recovery in post-earthquake Nepal.
The Asia Foundation supports Nepal's efforts to strengthen subnational governance, mitigate conflict, empower women, expand economic opportunity, increase environmental resilience, and promote regional cooperation.
The Asia Foundation is a nonprofit international development organization committed to improving lives across a dynamic and developing Asia. Informed by six decades of experience and deep local expertise, our work across the region addresses five overarching goals—strengthen governance, empower women, expand economic opportunity, increase environmental resilience, and promote regional cooperation.
Read more about the Foundation's work.
For media inquiries, please visit our News Room. Engage with us on Facebook, Twitter, and Instagram.
Read our latest news, or insights from our blog.
Media contacts
Amy Ovalle, Vice President, Global Communications
[email protected]
415-743-3340
Eelynn Sim, Director, Media & Strategy
[email protected]
415-743-3318
Leaders on the Frontlines:
Leaders for a Better World
Tuesday, November 9, 2021, 6PM PT