Disaster Preparedness and Response During Political Transition in Nepal
April 26, 2017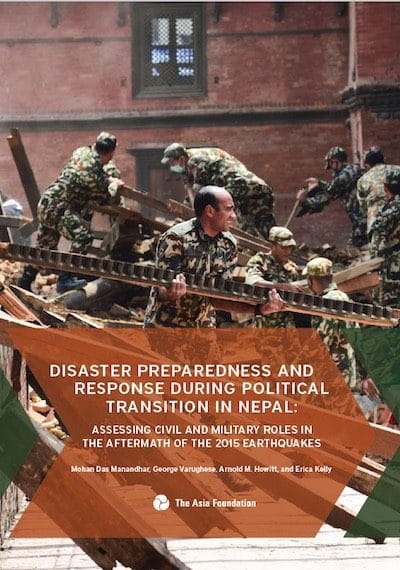 Two years ago, the 7.8 magnitude Gorkha Earthquake struck Nepal's densely populated Kathmandu Valley, followed by a second quake on May 12, leaving 9,000 people dead, 22,000 injured, and a tenth of the population, 3.5 million people, homeless. In response, the Nepali government, army, and civil society mobilized to help the survivors, joined by an outpouring of international assistance.
As seen from the aftermath of the 2015 earthquake, the Nepal Army plays a crucial role in disaster response. Within minutes of the 2015 earthquake, the Nepal Army began mobilizing—ultimately mustering 90 percent of its personnel in affected areas and rescuing 1,336 people alive from collapsed buildings. Forty-one percent of all lives saved were in the first 72 hours of the earthquake, before most foreign rescue teams had arrived. While these efforts were critical, there were also significant shortcomings in effectiveness. Chief among them, an overall need for improved domestic military-civil coordination within Nepal's national disaster preparedness and response framework is clearly indicated.
As part of a broader, ongoing effort to better understand how to improve Nepal's disaster preparedness and response capabilities, The Asia Foundation and Harvard Kennedy School just released a new policy paper, "Disaster Preparedness and Response During Political Transition in Nepal: Assessing Civil and Military Roles in the Aftermath of the 2015 Earthquakes."
Using the 2015 earthquake response as a case study, the policy brief highlights the key factors that affected coordination between security-related agencies and the civilian agencies of the Government of Nepal, and identifies potential ways to improve future disaster responses. The paper also looks at ways that international organizations can support future efforts to improve the effectiveness of coordination in disaster response.
About our blog, InAsia
InAsia
is a weekly in-depth, in-country resource for readers who want to stay abreast of significant events and issues shaping Asia's development, hosted by
The Asia Foundation
. Drawing on the first-hand insight of over 70 renowned experts in over 20 countries,
InAsia
delivers concentrated analysis on issues affecting each region of Asia, as well as Foundation-produced reports and polls.
InAsia
is posted and distributed every other Wednesday evening, Pacific Time. If you have any questions, please send an email to
[email protected]
.
Contact
For questions about
InAsia
, or for our cross-post and re-use policy, please send an email to
[email protected]
.
The Asia Foundation
465 California St., 9th Floor
San Francisco, CA 94104
Mailing Address:
PO Box 193223
San Francisco, CA 94119-3223
Leaders on the Frontlines:
Leaders for a Better World
Tuesday, November 9, 2021, 6PM PT