Asia Foundation Signs Memorandum of Understanding with Asian Development Bank on Knowledge Partnership
May 17, 2017 — On May 10, The Asia Foundation signed a Memorandum of Understanding (MOU) with the Asian Development Bank (ADB) to expand their cooperation in supporting development efforts across the Asia-Pacific region. Four areas have been identified for this initial cooperation: strengthening governance and public sector management, increasing environmental resilience, empowering women, and supporting regional cooperation. Building on the ADB's 50-year track record of supporting the development efforts of countries throughout the region, and the Foundation's 60 years of on-the-ground development experience across the 18 Asian countries in which it works, this partnership will enable enhanced collaboration and knowledge exchange between the two organizations, and help to foster new approaches to addressing critical development challenges in the region.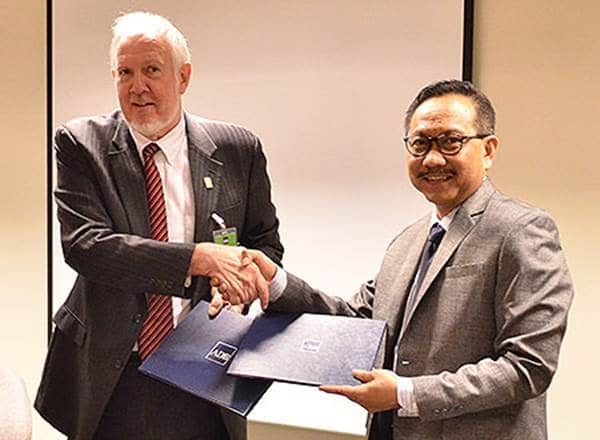 The Foundation's Senior Vice President for Programs, Gordon Hein, and the ADB's Vice President for Knowledge Management and Sustainable Development, Bambang Susantono, participated in a special signing ceremony and highlighted the importance of the partnership.
"This is an exciting moment in The Asia Foundation's history of cooperation with the Asian Development Bank. The Foundation and the ADB have both long been committed to the development of Asia, and I hope today's signing of the MOU agreement will provide an opportunity for both institutions to share their knowledge and discover new areas of collaboration," said Gordon Hein.
The Asia Foundation is a nonprofit international development organization committed to improving lives across a dynamic and developing Asia. Informed by six decades of experience and deep local expertise, our programs address critical issues affecting Asia in the 21st century—governance and law, economic development, women's empowerment, environment, and regional cooperation.
Read more about the Foundation's work.
For media inquiries, please visit the Press Room. Engage with us on Facebook, Twitter, and Instagram.
Read our latest news, or insights from our blog.
Media contacts
Amy Ovalle, Vice President, Global Communications
[email protected]
415-743-3340
Eelynn Sim, Director, Media & Strategy
[email protected]
415-743-3318
2022 Impact Report
Thank you for powering The Asia Foundation's mission to improve lives and expand opportunities.