A Conversation with Gordon Hein on The Asia Foundation in a Changing Asia
May 24, 2017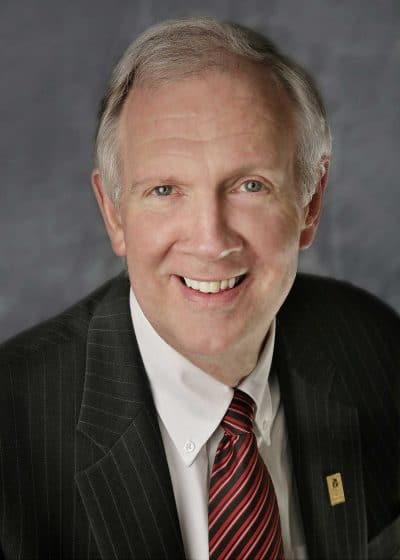 Asia's rise has been dramatic, with unprecedented economic growth and investment, expanding access to information, and millions lifted out of poverty. But new obstacles are emerging in some parts of the region, alongside enduring challenges. In Asia editor Alma Freeman sat down with Gordon Hein, The Asia Foundation's senior vice president of programs, to discuss the Foundation's strategies for sharpening program priorities and rapidly adapting to these emerging issues.
Can you talk about some of the big changes underway in Asia, and why the Foundation carried out this intensive strategic planning exercise, known as TAF2020?
Throughout Asia, rapid, sustained economic growth has lifted hundreds of millions of people out of poverty; regional and global economic architecture is facilitating rising trade and investment within Asia and with the world; and technology is accelerating change in striking ways, driving faster global economic integration, access to information, and the ability to organize and act collectively. At the same time, millions of people across Asia are threatened by a lack of access to justice and to natural resources, by rising inequality, pervasive subnational conflicts, challenges of urbanization, violence against women, and in some countries, closing space for civil society.
Weak institutions of governance, resource constraints, and/or a lack of political will can impede the ability of many Asian governments to tackle these challenges on their own. At the same time, traditional sources of external development assistance are decreasing.
Happening simultaneously is a rise in citizens' expectations of the government and a change in the principles of governance itself: it is now expected that governments should be accountable to the people, and that citizens should have the opportunity to participate in the selection of their leaders and policies and be part of the process of governance in an ongoing way.
Left unaddressed, these challenges could threaten Asia's many political and economic gains and undermine its future prospects.
To navigate and prepare for the decades ahead, the Foundation carried out an intensive strategic planning exercise, known as TAF2020, to identify and effectively address the most urgent issues facing Asia, as well as examine our own approach, focus, and direction. The process reaffirmed our mission, values, and core program goals while outlining steps needed to sustain and enhance our impact and the operational effectiveness required for a successful future.
A critical part of this process is to harness the dynamism of Asia's growth by engaging our longstanding and ever-expanding networks, nurturing new talent and rising young leaders, forging strong partnerships, and taking advantage of cutting-edge technology to bring about positive and transformative impact for communities, countries, and the region as a whole.
One of the important initiatives coming out of TAF2020 is the formation of Emerging Issues Teams (or EITs), which are nimble, time-bound, problem-based teams of staff from different parts of the Foundation that will tackle some of the critical emerging issues identified in the TAF2020 planning exercise. One key issue we want to focus increased attention on is urban governance—crafting a response to effectively managing rapid urbanization across Asia. A second is defining and contributing to a path for continued success for advanced middle-income countries (or AMICs). Can you talk about this approach?
We started the TAF2020 process with an in-depth Environmental Scan that examined three key sets of issues that affect our work: the changes going on in the region itself, the changing donor landscape, and what other organizations are doing in the region. All of this was to help us understand what the current dynamics are in Asia, and how the Foundation best fits in so that we can work with other organizations more effectively and remain current in our programming and in synch with the changing needs of the region.
This backdrop research was very important in laying out some of the directions we wanted to move in as an organization, and led directly to the creation of EITs to address the issues identified in our review process as growing in importance. The creation of these cross-Foundation, problem-focused teams emulates what successful tech firms in the Bay Area have been pioneering for years, and draws upon a nimble, forward-looking, incubator-style structure that will help to push the Foundation forward and keep us on the leading edge of change in the region.
Rapid urbanization and therefore urban governance immediately surfaced as a clear priority, and the fate of Advanced Middle Income Countries bubbled to the top right away. These top-tier rapid action teams will focus solely on each of these issues and chart the way forward for the Foundation to better understand these challenges and lay out a Foundation approach for making progress on them.
Can you talk more about these first two issues and why they rose to the top of the list for action, starting with urbanization?
More than half of the world's megacities are in Asia, including many on the list of 100 cities with the greatest exposure to natural disasters. More and more people are moving to the city in search of better lives and better jobs. They are the hubs of economic growth, and cities provide opportunities to participate in the growing global economy that simply aren't there in remote, rural villages. But most of the big cities in Asia didn't set out 20 years ago to have a population of 20-30 million people. In some cities, like Mongolia's capital, Ulaanbaatar, where the Foundation has been working since the 1990s, literally half of the city's population are new arrivals who have set up outside of the originally inhabited areas and borders of the city, creating their own communities. It's been a challenge for the city government to extend public services to these new populations. There is a whole set of issues related to urbanization, including effective city planning, environmental concerns, and disaster risk mitigation, as well as dealing with municipal finance and managing city budgets with citizen input.
While we have been working on some of the challenges related to urbanization such as service delivery and disaster risk mitigation for years in places like Cambodia and Vietnam, the formation of the dedicated EIT represents a more deliberate and dedicated cross-sectoral focus, pulling in our best talent from across the Foundation and sharing experiences across countries to address these urgent issues more systematically and holistically.
The second issue we identified is the challenges facing advanced middle-income countries, or AMICs. The places in Asia that have achieved advanced status began with Japan, followed by Korea, Singapore, and others. Malaysia, Thailand, and in just a few years' time at current trajectories, Indonesia, Sri Lanka, Philippines, and Mongolia will reach AMIC status, and with that rise comes enormous consequences.
While Asia has made great progress in reducing poverty, more than 550 million Asians continue to survive on less than $1.25 per day, and most of the world's poor are in middle-income countries, not in poor countries. The benefits of economic growth have not been evenly distributed, as evidenced by the widening gap between rich and poor across Asia.
In Thailand, for example, there is a huge divergence between the relative wealth of Bangkok and the much lower income levels in the Northeast of the country. This uneven development is at the root of much of the political struggle between those regions and the capital. In other countries, there are severe ethnic and linguistic divisions between different parts of the country, and economic growth doesn't make the significance of those divisions disappear overnight.
In many of these AMICs, we're seeing patterns of economic development play out where countries started as largely agricultural economies and over time began exporting more manufacturing goods. But you can reach a point where the early gains of industrialization and manufacturing for export starts to slow down because other countries come into the game with lower labor costs and are therefore more competitive. To increase income and create new job opportunities, they must move to higher-end, value-added economies. In a way, it's a race to the top, but one that requires educational systems producing the right set of talents needed for a global economy, trade facilitation so firms and countries can pursue opportunities overseas, and environmental and labor regulatory policies that need to be put in place. We're also seeing that the structure of legal institutions becomes even more critical at this more advanced stage because there are more issues of contention, including private sector disputes, where you really need the impartiality and clarity of laws, and the institutions to enforce those laws.
These are significant trends, and this new EIT will help us determine the most useful role we can play in this rapidly changing environment. In many instances, this will mean serving as a partner, convener, a catalyst for change, and a source of ideas rather than a provider of development assistance or a source of funding.
So, what's next?
None of these challenges comes without very serious domestic political debates. It's one thing to say here's the right technical solution; it's another to try and go through a political process to get consensus about what represents the best set of policies for creating the most good for the most people. The role for an organization like The Asia Foundation has to do with facilitating the process of identifying issues and supporting productive dialogue around the policy alternatives these countries face. This includes working with local partners to understand the critical issues and policies so that governments have an evidence base to form decisions around. Our role is thus in helping to advance understanding and develop greater consensus around some difficult policy choices that these countries are going to have to make if they are to continue becoming more prosperous, and more successful in meeting the needs and expectations of their populations.
In six months, we aim to have a roadmap in place on how we can be most effective in working in these areas, and we'll be pursuing solutions to other challenges down the road. In overall terms, a key part of our TAF2020 implementation is about organizing ourselves to be an even more effective organization going forward. This means getting the most from our staff, leveraging their numerous talents, and giving them new opportunities to work on issues like urban governance in collaboration with staff in other offices. We're now conducting a full mapping of the talent within the Foundation and the interests and experiences of our staff. One of our real advantages of having 18 country offices and such a long history in Asia is that we're in a position to learn from and draw upon the experiences of different Asian countries and how they tackle issues. In many cases, the examples of development experience and successes within Asia are often more relevant and of greater interest than those from the West.
From here, we want to use this opportunity to pinpoint new approaches to addressing critical issues and continuously position ourselves to respond nimbly as new needs arise. Identification of what would be a valued contribution requires constant dialogue with your in-country partners in the field. We don't sit here in San Francisco and try to decide what's good for the city of Ulaanbaatar. We have a local office on the ground with local staff, we talk to the mayor, the city officials, local NGOs, and community members. That's a process of engagement that we think we're pretty good at, and we never want to lose sight that this is ultimately what makes the difference.
Gordon Hein is senior vice president of programs at The Asia Foundation. The views and opinions expressed here are those of the interviewee and not those of The Asia Foundation or its funder.
About our blog, InAsia
InAsia
is a bi-weekly in-depth, in-country resource for readers who want to stay abreast of significant events and issues shaping Asia's development, hosted by
The Asia Foundation
. Drawing on the first-hand insight of renowned experts,
InAsia
delivers concentrated analysis on issues affecting each region of Asia, as well as Foundation-produced reports and polls.
InAsia
is posted and distributed every other Wednesday evening, Pacific Time. If you have any questions, please send an email to
[email protected]
.
Contact
For questions about
InAsia
, or for our cross-post and re-use policy, please send an email to
[email protected]
.
The Asia Foundation
465 California St., 9th Floor
San Francisco, CA 94104
Mailing Address:
PO Box 193223
San Francisco, CA 94119-3223
Support Women Forest Defenders
Join us this holiday season to help untapped leaders like Sumini and the Women Forest Defenders battle rampant deforestation in Indonesia.