Stanford Event – The Future of Asia: Voices from Asia's Next Generation
Event: Monday, October 30, 2017, Stanford, CA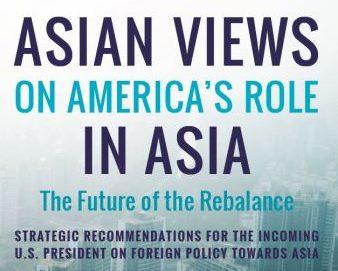 12:00 pm – 1:30 pm
Philippines Conference Room
Encina Hall, 3rd Floor
616 Serra St.
Stanford, CA 94305
Asia's transformation presents both challenges and opportunities at international, regional, and domestic levels. One key to a peaceful, prosperous Asia in the 21st century is good relations between the United States and China. But other challenges exist: nuclear proliferation, maritime security, violent conflict, environmental degradation, natural disasters, food security, cyber-security, and social and gender inequality, among others. Social transformation is outpacing political and institutional reform in many Asian countries, and the widening gap between state and society is a potent force for change. How will Asians address these challenges over the next one to two decades? What role will Asian women play in this transformation? How should the United States respond? This panel has carefully considered answers to these and other questions as participants in Asian Views on America's Role in Asia, The Asia Foundation's seminal report and strategic recommendations for U.S. President Trump's Administration—including a concise top 10.
Featuring
Chheang Vannarith, Senior Fellow and Member of the Board, Cambodian Institute for Cooperation and Peace
Sylvia Mishra, Researcher, Observer Research Foundation, New Delhi, India and James Martin Center for Nonproliferation Studies, Monterey, California
Duyeon Kim, Visiting Senior Fellow, Korean Peninsula Future Forum
John Brandon, Senior Director, International Relations Programs, The Asia Foundation
Moderator
Don Emmerson, Southeast Asia Program Director, Stanford University
Open to the public, reservations required. Please click to RSVP by 5:00 pm, October 27th.
This panel discussion is co-sponsored by The Asia Pacific Research Center with support from The Carnegie Corporation of New York.
Change Starts Here Campaign Impact
Thank you for powering The Asia Foundation's mission to improve lives and expand opportunities.