Security, Economic Concerns Shape Afghanistan
November 15, 2017
The Asia Foundation just released its 13th Survey of the Afghan People, the longest-running barometer of Afghan opinion. Despite the challenging security environment and high unemployment, this year's survey reveals an Afghanistan that is eager for a better future, with 32.8 percent of respondents citing their country is moving in the right direction.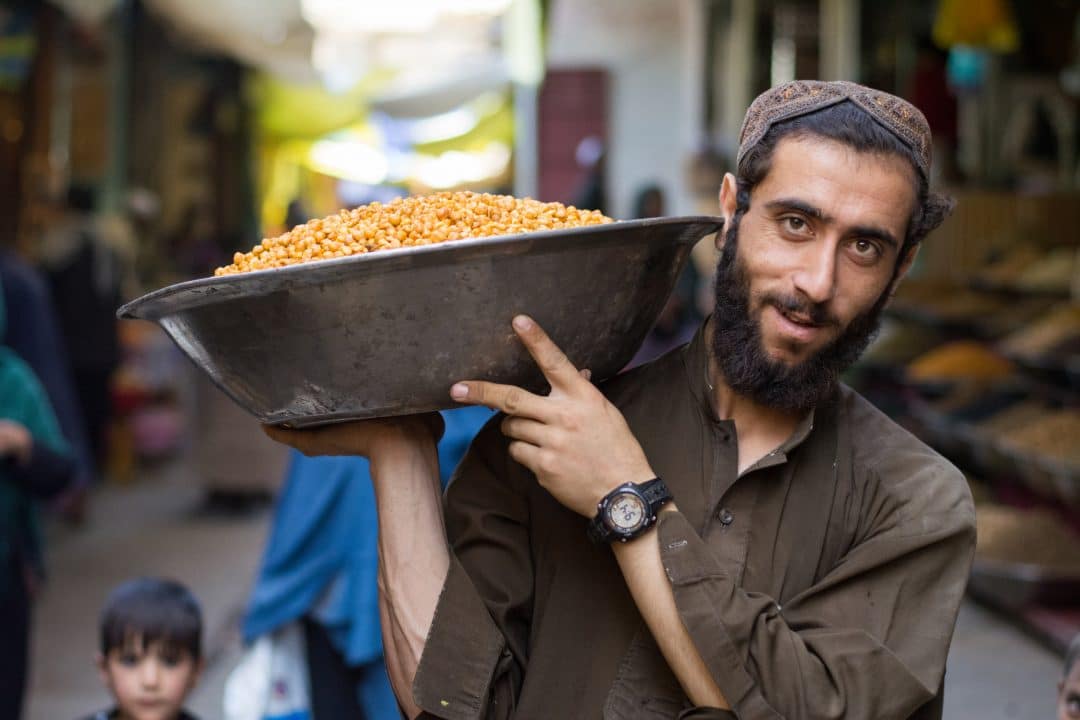 Here are some key findings:
National Mood: Among the Afghans who say the country is moving in the right direction, rebuilding the country (51.0%) and improved security (50.6%) are the most frequently cited reasons, followed by improved governance (26.7%), rights for women (14.9%), and the economy (11.6%). On the other hand, pessimism is rooted in concerns relating to security or crime (69.5%), economic concerns (39.9%), and governance issues (36.9%).
Migration. This year we see that an increased sense of risk contributes to a rising number of Afghans willing to migrate. If given the opportunity, 38.8 percent of Afghans say they would leave the country, the second-highest level recorded in survey history. [Read more about trends in migration.] Among those expressing a desire to leave, over three-quarters cite insecurity (76.3%) as a main reason to leave Afghanistan, followed by unemployment (54.5%). Awareness of ISIS/Daesh also increases the desire to leave at 40.5 percent, compared to those who have not heard of this group (32.7%).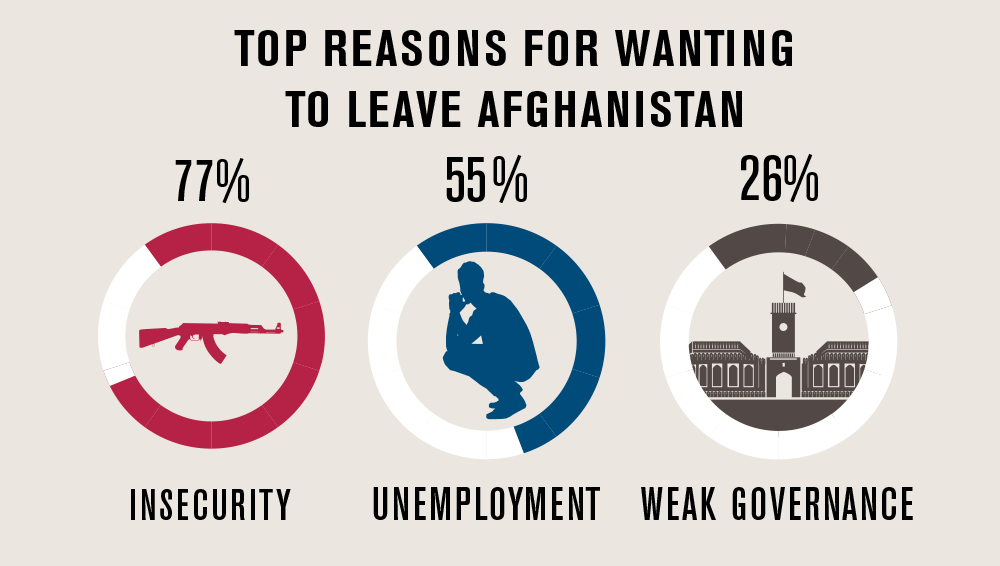 Security: Fear for personal safety increased to 70.7 percent, an increase of 0.9 percentage points from 2016. At the same time, attitudes toward the Afghan National Police (ANP) and Afghan National Army (ANA) have stabilized, with the number of Afghans who strongly agree that the ANP is honest and fair increased by 7.2 percentage points over 2016. Fear of encountering armed forces such as the ANA and ANP has also dropped, while fear of encountering opposition forces remain a source of fear among 92.3 percent of respondents who report "some" or "a lot" of fear of encountering the Taliban. At the same time, half of respondents (52.3%) believe reconciliation with the Taliban is possible.
Economic Growth and Employment: Economic concerns continue to shape Afghan perception of the direction of the country. Among the 61.2 percent of Afghans who say the country is moving in the wrong direction, unemployment (27.2%) is the second-most cited reason (after security). Other reasons for overall pessimism include the poor economy (10.9%), lack of reconstruction (4.6%), and high prices (3.9%). When Afghans are asked to shift their frame of reference from national to local problems, economic issues become their primary concern. In terms of employment, while there has been no significant change since last year in respondents who report involvement in an economic activity that generates income, more than half of respondents (58.1%) report that their employment opportunities have worsened since last year.
Development and Service Delivery: Only 12.2 percent of Afghans say their electricity supply has improved, down from 13.9 percent in 2016, while 43.4 percent say it has gotten worse, the same as last year. Perception of a family members' health "getting better" has increased somewhat since last year, from 18.8 percent to 19.6 percent. A further 16.6 percent of Afghans say the quality of food in their diet has improved. While awareness of projects continues to be low compared to 2012, awareness of the following kinds of projects increased in the last 12 months: a new private school (16.1%), water supply for irrigation (17.2%), health care (22.4%), reconstruction/programs in agriculture (20.3%), and reconstruction/programs in industry (5.2%). As in 2016, the highest rate of awareness is of projects to build or repair roads and bridges (33.9%), followed by the building of mosques (29.9%), and drinking water supplies (24.5%).
Governance: Satisfaction with government performance has improved with 56.2 percent of respondents believing the National Unity Government (NUG) is doing a good job, up from 49.1 percent in 2016. Similar to 2016, Afghans report the highest levels of confidence in their religious leaders (67.3%), followed by the media (65.7%) and community shuras/jirgas (65.7%). On the other hand, receiving the lowest levels of support are members of parliament (MP) (35.4%), government ministers (35.9%), and the parliament as a whole (36.8%). Almost all Afghans (83.7%), say corruption is a major problem in Afghanistan, with concerns over corruption reaching a record high of 69.8 percent this year.
Women in Society: A majority of Afghans (89.0%) say women should be allowed to vote in elections, slightly up from 2016. In general, Afghans express support for women's access to certain leadership positions, such as a community development council (69.7%), CEO of a private company (54.6%), provincial governor (55.4%), or a cabinet member (56.0%). A slight decrease from last year, 72.4 percent of Afghans agree women should be allowed to work outside the home. Support for women working in female-only schools (85.8%) and in hospitals or clinics (84.4%) remains roughly unchanged since 2016. In comparison, support for women working in the security field garners only 36 percent. Fewer respondents support women working in a private company that employs both men and women (35.9%). In terms of access to education, 82.3 percent of Afghans support women having equal opportunities as men.
Political Participation: Attitudes toward democracy are lukewarm, with just over half of Afghans (57.0%) satisfied with the process. In terms of basic political freedoms, 51.5 percent of Afghans say they experience "some" or "a lot" of fear while participating in a national election, down slightly from 53.7 percent in 2016. Fear while voting is more pronounced among women (55.1%) than men (47.9%). An increase since last year, nearly half (49.5%) of Afghans say they have "some" or "a lot" of influence over local government decisions. There is a slight increase in the percentage of Afghans who say that religious leaders should be involved in politics, at 61.6 percent, compared to 57.2 percent in 2016.
Access to Information and the Media: Family and friends continue to be the most common source of news and information, followed by television and radio. However, use of both radio and television has declined from 70.5 percent in 2016 to 62.3 percent in 2017 (radio), and 66.4 percent to 64.9 percent (television). Mobile phones remain a common way for Afghans to obtain information (43.4%). Mosques and community shuras also remain common sources of information, but declining slightly since 2016. The role of the media in public opinion and behavior is significant, as respondents who watch TV for news and information say that they "always" or "often" fear for their own personal safety slightly more frequently (38.3%) than consumers of other sources of news, such as radio (37.3%).
Download the full report on The Asia Foundation's website.
Abdullah Ahmadzai is The Asia Foundation's country representative in Afghanistan and Wendy Barron is the Foundation's deputy country representative there. The views and opinions expressed here are those of the authors and not those of The Asia Foundation or its funders.
About our blog, InAsia
InAsia
is a weekly in-depth, in-country resource for readers who want to stay abreast of significant events and issues shaping Asia's development, hosted by
The Asia Foundation
. Drawing on the first-hand insight of over 70 renowned experts in over 20 countries,
InAsia
delivers concentrated analysis on issues affecting each region of Asia, as well as Foundation-produced reports and polls.
InAsia
is posted and distributed every other Wednesday evening, Pacific Time. If you have any questions, please send an email to
editor.inasia@asiafoundation.org
.
Contact
For questions about
InAsia
, or for our cross-post and re-use policy, please send an email to
editor.inasia@asiafoundation.org
.
The Asia Foundation
465 California St., 9th Floor
San Francisco, CA 94104
Mailing Address:
PO Box 193223
San Francisco, CA 94119-3223