More than Uncertainty Drives Afghan Migrants to the West
November 15, 2017
Despite the danger that migrants face leaving Afghanistan, and the campaigns to keep them from fleeing, the desire to migrate has increased considerably—from 29.6 percent in 2016 to 38.8 percent in 2017, according to The Asia Foundation's new Survey of the Afghan People. While in 2016 trends pointed to uncertainty as the overriding factor that drove migrants to the West, this year, a more complex range of push and pull factors have motivated Afghans to consider migration.
After Syrians, Afghans form the largest group of refugees in the European Union (EU). An estimated 182,780 Afghans have lodged application for asylum in the EU in just the last year (2016). The International Organization for Migration concurs the number of Afghans traveling to Europe has gone up to pre-2015 numbers. The fate of these hopeful migrants ranges. While some perish en route to Europe, others are forcibly sent back to Afghanistan.
Amnesty International recently released a report detailing the disturbing realities of Afghans who have been returned from Norway, the Netherlands, Sweden, and Germany face, including kidnapping, torture, and death. In 2016 alone, over 9,000 Afghans were returned to Afghanistan from the EU alone. This number is expected to rise in the upcoming year, with EU agencies suggesting "more than 80,000 persons could potentially need to be returned in the near future."
Among those Afghans who desire to leave, insecurity is still the reason most commonly cited (72.0%), followed by unemployment (54.5%), and a bad economy (18.0%). Growing violence has plagued Afghanistan this year as witnessed by the increase of casualties. Last year was the deadliest year on record for civilians, with 11,418 killed or injured. In 2017, Afghanistan continues to be "intensively volatile" according to the UN Secretary-General.
The role of the Afghan National Security Forces (ANSF) in mitigating perceptions of insecurity is correlated with migration. Respondents who are confident in the ANSF are less likely to say they want to migrate. Similarly, those who have a higher level of fear for personal safety are more likely to say they would leave Afghanistan if given the opportunity.
Reasons for Migration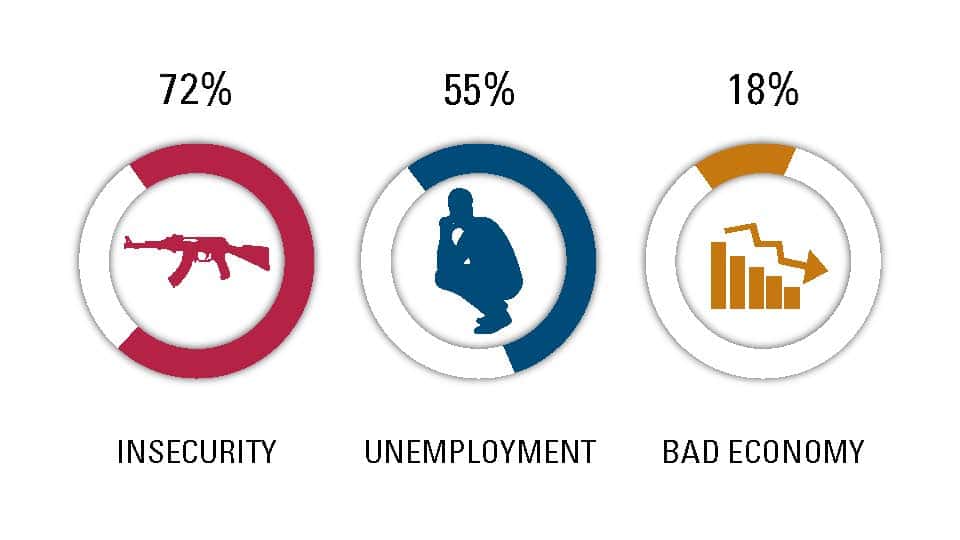 Pessimism about the direction of the country and the possibility of reconciliation are also indicators of desire to migrate. Desire to migrate is lowest among those who cite improved security as a reason for why the country is moving in the right direction, compared to other reasons including rebuilding, improvements in human rights, the economy, women's rights, and international assistance.
In addition to these push factors, certain pull factors also increase a person's desire to migrate. For example, Afghans who have family members abroad have a greater desire to leave the country, particularly those with family members in Iran and in Western countries (Europe, North America, Australia, and New Zealand). Among the respondents who have family abroad (34.0%), a third receive remittances. The desire to migrate is higher among those who receive remittances from family abroad (51.4%), particularly if those family members live in Australia or New Zealand (62.6%), as opposed to those living in the Gulf states (42.4%). Knowing a returnee is associated with higher desire to migrate (44.5% vs. 37.0%), particularly if the respondent has family abroad (46.2%). Those who do not have family abroad and are personally unaware of other returnees have the lowest desire to migrate (31.8%).
While it is more difficult to influence the pull factors, the government can address the push factors that drive Afghans to leave.
What the Government Should Do to Deter Migration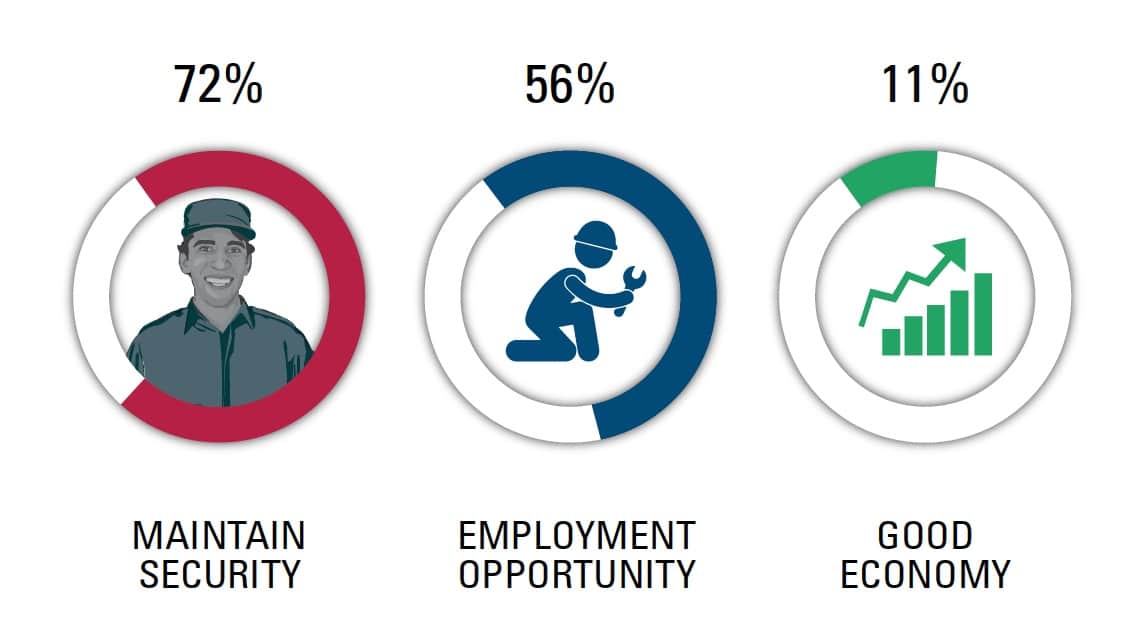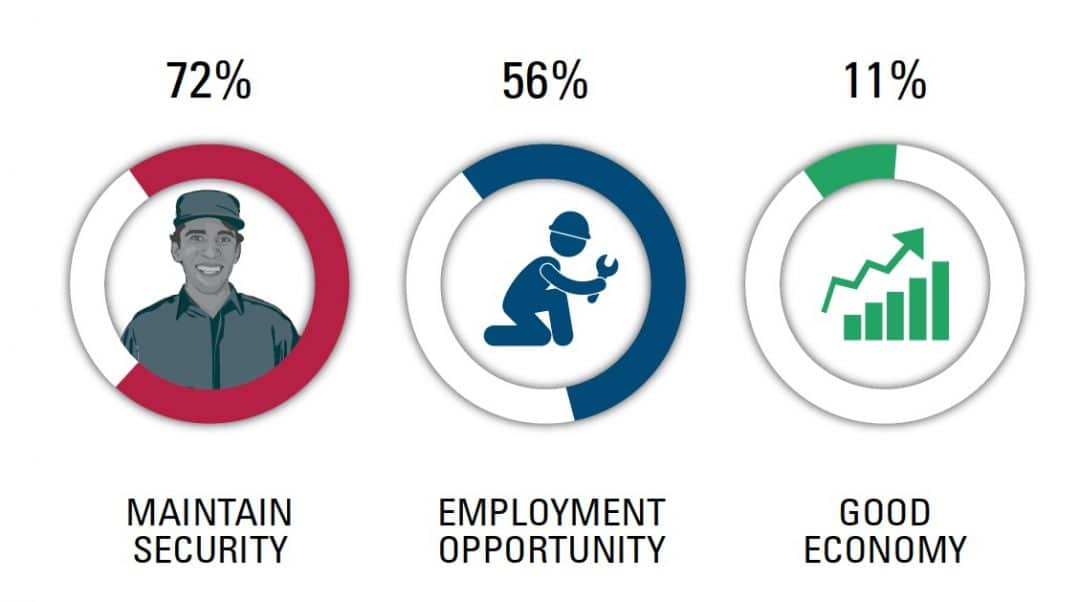 There are obvious challenges with addressing these factors; however, that is not to say it cannot be done. A recent Special Inspector General for Afghanistan Reconstruction (SIGAR) report offers insight into some of the lessons learned from the United States experience in Afghanistan, including the importance of community policing and criminal justice, and developing foreign military and police capabilities as a whole-of-government mission. Recommendations such as improving ANSF governing, oversight, and accountability systems to support anticorruption investigations into the ANSF leadership, and imposing stringent mechanisms to eliminate ANSF's culture of impunity, can assist in strengthening the capabilities of ANSF.
There are other opportunities to increase public confidence in the ANSF through media awareness, particularly given the consistently high confidence Afghans have in the media. More recognition of ANSF's successes, such as foiling terrorist plots in Kabul, will help increase Afghans confidence in their ability to protect and provide security.
Furthermore, the source of news and information has a distinct relationship with the desire to migrate, so tailoring messaging to appropriate mediums is necessary. For example, respondents who acquire their news and information from traditional sources such as mosques and shuras are less motivated to migrate (39.0% both) compared to those who get their information from modern sources such as radio, TV, mobile phone, or the internet. Even among the modern sources of acquiring information, the desire to migrate is highest among users of the internet and TV (42.9% and 42.1%, respectively).
Considering the dangers migrants face in the process of migration, or upon their forcible return, Afghanistan is experiencing a humanitarian crisis. Ensuring their security, but also strengthening the economy and creating more jobs, will provide a greater incentive to keep Afghans, who otherwise feel there is little opportunity to stay, from risking migrating to an unpredictable, and perhaps fatal, future.
Download the full survey on The Asia Foundation's website.
Sayed Masood Sadat is The Asia Foundation's Data and Research analyst in Afghanistan and Tabasum Akseer is the Foundation's Survey of the Afghan People acting director there. The views and opinions expressed here are those of the authors and not those of The Asia Foundation or its funders.
About our blog, InAsia
InAsia
is a weekly in-depth, in-country resource for readers who want to stay abreast of significant events and issues shaping Asia's development, hosted by
The Asia Foundation
. Drawing on the first-hand insight of over 70 renowned experts in over 20 countries,
InAsia
delivers concentrated analysis on issues affecting each region of Asia, as well as Foundation-produced reports and polls.
InAsia
is posted and distributed every other Wednesday evening, Pacific Time. If you have any questions, please send an email to
editor.inasia@asiafoundation.org
.
Contact
For questions about
InAsia
, or for our cross-post and re-use policy, please send an email to
editor.inasia@asiafoundation.org
.
The Asia Foundation
465 California St., 9th Floor
San Francisco, CA 94104
Mailing Address:
PO Box 193223
San Francisco, CA 94119-3223