Asia Foundation Partners with Starbucks Cambodia on 'Give Good' Storybook Campaign
Phnom Penh, November 29, 2017 — The Asia Foundation is partnering with Starbucks in Cambodia to launch the "Give Good" Charity Campaign, an initiative that supports the "Let's Read!" project this holiday season.
"'Let's Read!' is a regional project that gathers local talent for open-sourced storybook creation, with an aim of promoting the love of reading among young children," said Meloney Lindberg, country representative of The Asia Foundation in Cambodia. "In partnership with Starbucks Cambodia, we hope to extend access of storybooks in local language and cultural context to the underserved communities in the country."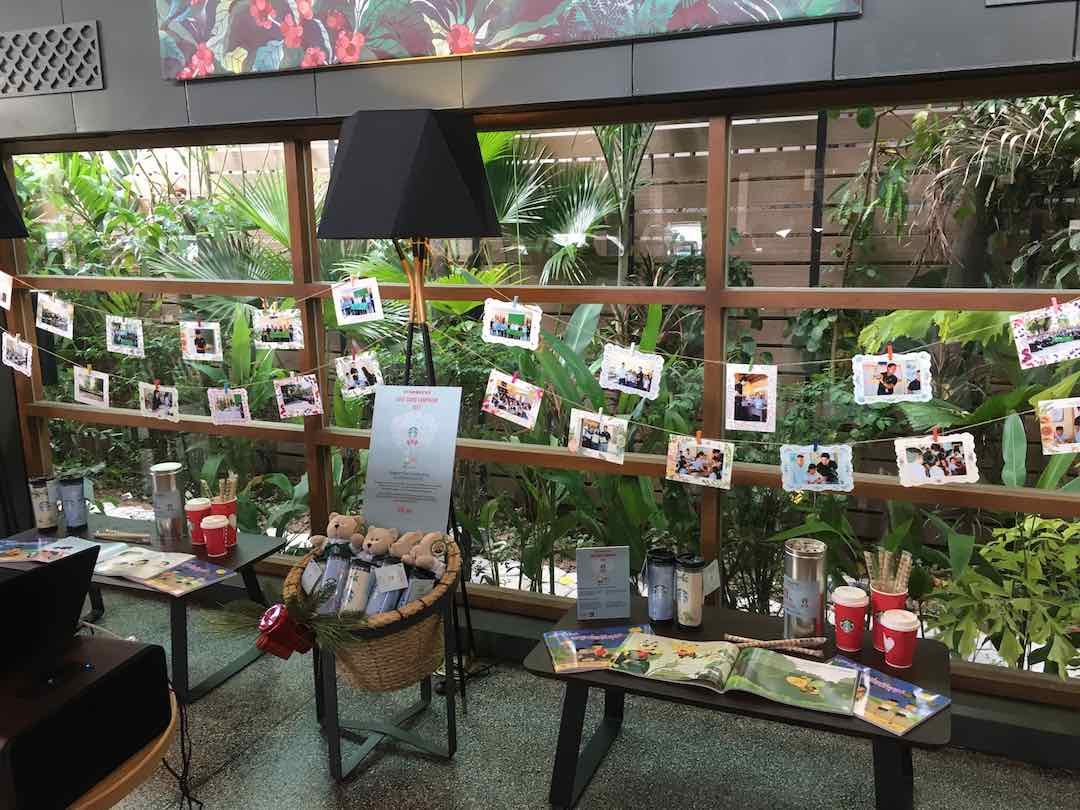 "This holiday season, we want to inspire our customers to do good through small acts of kindness. We are honored to team up with The Asia Foundation to 'Give Good' and make a difference in our neighborhood," said Mr. Por Lim, general manager of Starbucks Cambodia. "Whether they are looking for a gift to give or just a small treat to enjoy, customers can play a part to support the local communities."
From November 27 until December 31, the "Give Good" campaign will take place at all Starbucks stores in Cambodia. Customers are invited to "Give Good" by either purchasing Starbucks + Let's Read! Charity Tumbler inspired from the artwork in the storybooks, or the Frappuccino® Cookie Straw. Proceeds from sales go towards funding the "Let's Read!" project.
In addition to the fundraising program, Starbucks partners (employees) have volunteered to donate storybooks to local primary schools in Kampong Speu and Kampong Chnang, and engage young students through book reading activities. 500 printed storybooks sponsored by Starbucks will be distributed through The Asia Foundation to local school libraries in Cambodia–an initiative that will benefit over 25 schools in seven provinces.
About Starbucks
Since 1971, Starbucks Coffee Company has been committed to ethically sourcing and roasting high-quality arabica coffee. Today, with stores around the globe, the company is the premier roaster and retailer of specialty coffee in the world. Through our unwavering commitment to excellence and our guiding principles, we bring the unique Starbucks Experience to life for every customer through every cup. To share in the experience please visit us in our stores, online at Starbucks.com and through the Starbucks Newsroom.
About The Asia Foundation
The Asia Foundation is a nonprofit international development organization committed to improving lives across a dynamic and developing Asia. Informed by six decades of experience and deep local expertise, our work across the region addresses five overarching goals—strengthen governance, empower women, expand economic opportunity, increase environmental resilience, and promote regional cooperation.
About Books for Asia
Since 1954, The Asia Foundation's Books for Asia program has donated print books to thousands of needy educational institutions in 21 Asian countries each year. While print remains the most effective means of delivering information in many parts of the developing world, mobile technology's increasing affordability suggests e-books hold the promise of becoming a cost-effective, scalable model. Read more about the Foundation's work. Learn more about the Let's Read! initiative.
For media inquiries, please visit our News Room. Engage with us on Facebook, Twitter, and Instagram.
Read our latest news, or insights from our blog.
Media contacts
Amy Ovalle, Vice President, Global Communications
[email protected]
415-743-3340
Eelynn Sim, Director, Media & Strategy
[email protected]
415-743-3318
2023 Lotus Leadership Awards
Join us in New York on April 26, 2023, to honor Gloria Steinem, Google.org, and HAkA.