Lotus Leadership Awards Dinner, San Francisco
Event: February 21, 2018, San Francisco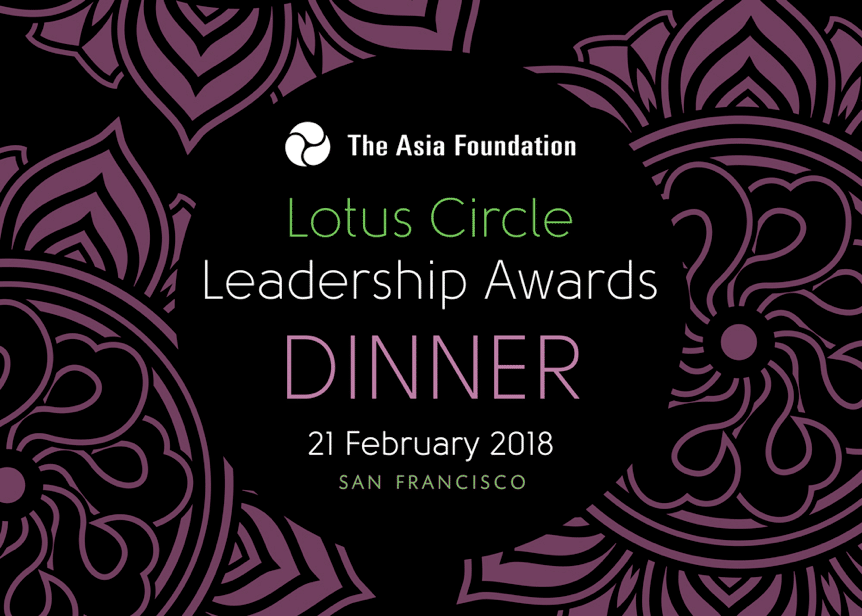 St. Regis Hotel
125 3rd Street
San Francisco
The Lotus Leadership Awards recognize outstanding individuals and organizations that have made major contributions to the well-being of women and their communities in Asia. The San Francisco Awards Dinner will honor Akie Abe for her commitment to advancing women's empowerment in Japan and Asia, notably in Myanmar; and Colorful Girls, a grassroots organization empowering adolescent girls and supporting their contributions to public life in Myanmar.
The Awards are hosted annually by The Asia Foundation's Lotus Circle, a group of committed individuals, foundations, and corporations that advance women's rights and opportunities across Asia. The events draw hundreds of guests, including diplomats, business leaders, young professionals, members of the media, and the philanthropic community. Proceeds fund innovative projects to empower disadvantaged women and girls in 18 Asia-Pacific countries.
Akie Abe is the Chairperson of the Foundation for Social Contribution. In this role since 2014, she is an advocate for education, women's empowerment, and international exchanges, notably in Myanmar. Mrs. Abe established "UZU Workshop," a leadership and learning community that organizes panel discussions and other programs to support and advocate for women. Mrs. Abe is also engaged in organic rice farming initiatives in the city of Shimonoseki. She is married to Shinzo Abe, the current Prime Minister of Japan. Born in Tokyo, she received her master's degree in Social Design Studies from Rikkyo University in 2011.
Colorful Girls is a grassroots organization in Myanmar empowering adolescent girls of all ethnicities with leadership skills to advocate for their rights. Powerful young women from Colorful Girls are overcoming enormous obstacles and becoming leaders to transform their own lives. One teenage Colorful Girl created a successful campaign to fight harassment of women on public buses in Yangon.
The annual Lotus Leadership Awards are made possible by the active support of our Lotus Circle Advisors.
For individual tickets or to make a donation to the Lotus Circle fund, please click here.
For table purchases or more information about the event or sponsorship opportunities, please contact Melissa Weakley at [email protected].
Change Starts Here Campaign Impact
Thank you for powering The Asia Foundation's mission to improve lives and expand opportunities.