London's Chatham House presents 2017 Survey of the Afghan People
London, January 19, 2018 — Earlier this week, The Asia Foundation's Abdullah Ahmadzai, country representative for Afghanistan and Tabasum Akseer, director of Survey and Research in Afghanistan were invited to present the 2017 Survey of the Afghan People at Chatham House, the Royal Institute of International Affairs, an independent policy institute based in London. The discussion was chaired by Hameed Hakimi, research associate for the Asia Programme and Europe Programme at Chatham House. Audio from the presentation is available here.
The timely discussion examined the national mood in Afghanistan and long-term prospects for the country's future. Changing attitudes emerge amid the escalation of attacks in Afghanistan and underscore the crucial questions of security, economic stability, and reconciliation that still confront President Ashraf Ghani.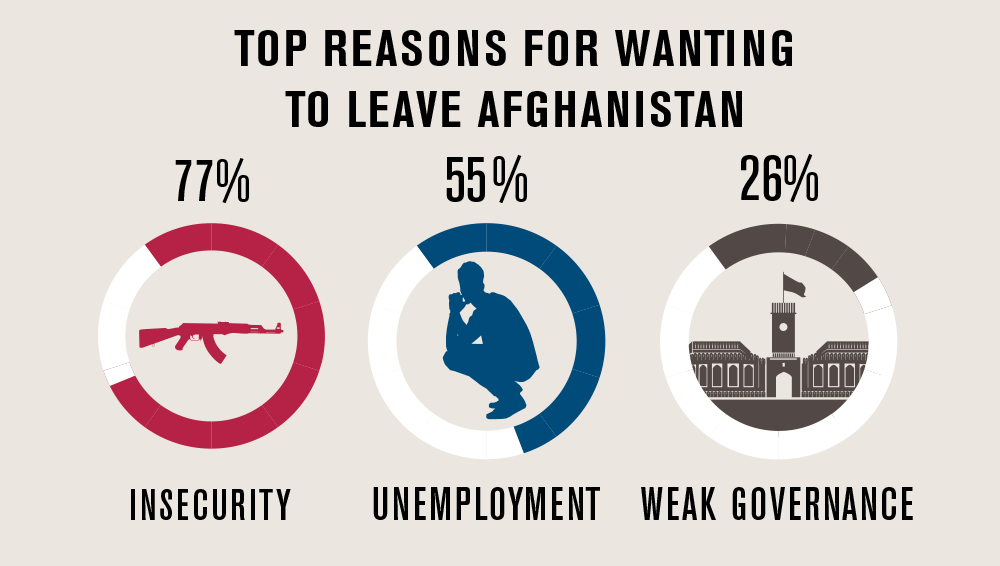 The senior leaders from The Asia Foundation's office in Kabul discussed findings of the 2017 Survey of the Afghan People, the longest-running and broadest nationwide survey of Afghan attitudes and opinions. Since 2004, the survey has gathered the opinions of more than 97,000 Afghan men and women, providing a unique longitudinal portrait of evolving public perceptions of security, the economy, governance and government services, elections, the media, women's issues, and migration.
The 2017 survey reports that the number of Afghans who say the country is moving in the right direction has increased and optimism has risen slightly, reversing a decade-long downward trajectory in national mood. However, a heightened sense of risk contributes to rising number of Afghans willing to migrate. 39% of Afghans would leave the country if afforded the opportunity—the second-highest level recorded in survey history.
Read the report and executive summary here.
For media inquiries, please visit our News Room. Engage with us on Facebook, Twitter, and Instagram.
Read our latest news, or insights from our blog.
Media contacts
Amy Ovalle, Vice President, Global Communications
[email protected]
415-743-3340
Eelynn Sim, Director, Media & Strategy
[email protected]
415-743-3318
Leaders on the Frontlines:
Leaders for a Better World
Tuesday, November 9, 2021, 6PM PT