Inaugural Citizen's Budgets Released in Tanintharyi Region in Myanmar
Availability of subnational budget information strengthens democratic governance and transparency
Dawei, January 22, 2018 — With the support of The Asia Foundation, the Tanintharyi Region government in southwestern Myanmar today launched its inaugural Citizen's Budget for the 2017/18 fiscal year, disseminating hundreds of physical copies to help citizens better understand the budget process and how the government receives and spends its resources. Read the FAQ here.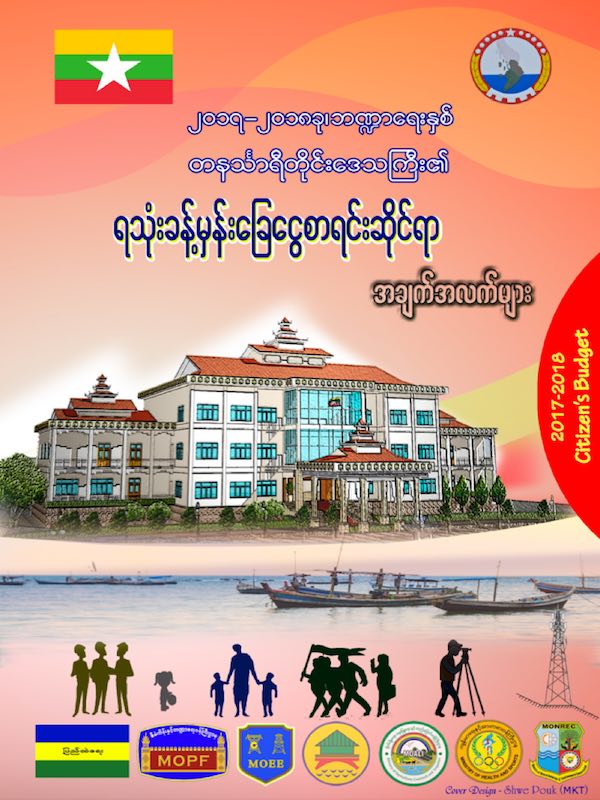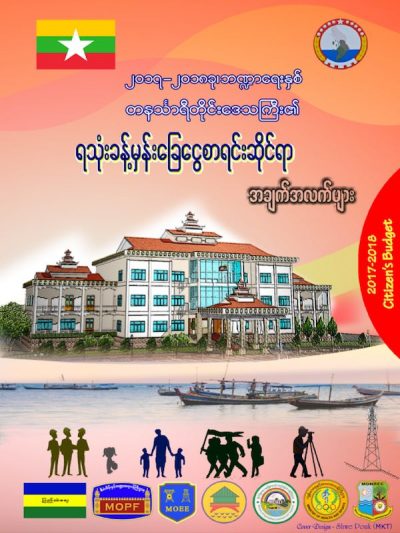 Citizen's Budgets, prepared with the objective of increasing transparency and public engagement, present important budget information in a simplified language to ensure that every citizen understands and is able to participate in the budget process. Citizen's Budgets cover a wide range of topics including overall economic performance of the government, breakdown of revenue and expenditure, and where taxes are spent.
Government officials, members of the Tanintharyi Hluttaw, representatives from local civil society organizations, and media correspondents attended the launch on Monday afternoon, hearing from the chief minister, budget director, and minister of Planning and Finance on the contents and significance of the Citizen's Budget.
U Nay Lin Htet, Tanintharyi budget director, said the publication of this Citizen's Budget will strengthen the relationship between the Tanintharyi Region government and its citizens: "The objective of publishing the first Tanintharyi Citizen's Budget is to inform citizens about the government's policies and spending in each sector. Our hope is to foster good communication between the public and the government, to promote transparency and to improve public financial management."
The creation of state and region governments in 2008 has marked the beginning of a significant chapter in Myanmar's historic transition toward democracy. The subsequent decentralization of political power and fiscal responsibilities, away from the Union government, and to state and region governments, has resulted in the creation of local government institutions that are better placed to receive and respond to its citizens' needs.
The government's budget is the primary way in which governments do that. As such, fiscal transparency is a key factor in the relationship between subnational governments and their citizens, making the inaugural release of Citizen's Budgets at the subnational level a monumental step forward toward stronger democratic governance.
Dr. Kim N. B. Ninh, The Asia Foundation's country representative in Myanmar, emphasized the significance of Citizen's Budgets as an internationally recognized tool of fiscal transparency and government accountability: "Citizen's Budget is essential to helping citizens understand and, more importantly, participate in the policy decisions that impact their everyday lives. I congratulate the Tanintharyi government on their commitment to strengthening interactions and dialogue with citizens."
The Asia Foundation, along with the Renaissance Institute, has an on-going partnership with four states and regions, providing technical support in the area of public financial management. This support includes conducting budget analyses, providing budget oversight training, and assisting with producing Citizen's Budgets. The Foundation focuses strategically on public financial management in order to increase subnational governance capacity, foster improved transparency, and improve social accountability.
The Asia Foundation's work on strengthening subnational governance in Myanmar is supported by the UK Government Aid, Australia's Department of Foreign Affairs and Trade, and the Swiss Agency for Development and Cooperation.
In 2013, the Foundation re-established a resident country office in Myanmar after an absence of more than 50 years. The Foundation works with partners in government, the private sector, and civil society to build the country's capacity for regional and global integration, strengthen the core institutions and processes of democratic governance at national and local levels, support initiatives for inclusive economic development, promote women's empowerment and political participation, and increase public access to information through policy research and dissemination.
Read about the Foundation's work in Myanmar.
For media inquiries, please visit our News Room. Engage with us on Facebook, Twitter, and Instagram.
Read our latest news, or insights from our blog.
Media contacts
Amy Ovalle, Vice President, Global Communications
[email protected]
415-743-3340
Eelynn Sim, Director, Media & Strategy
[email protected]
415-743-3318
Support Women Forest Defenders
Join us this holiday season to help untapped leaders like Sumini and the Women Forest Defenders battle rampant deforestation in Indonesia.