The Asia Foundation Releases Survey of Nepali People in 2017
Kathmandu, April 13, 2018 — The Asia Foundation in Nepal today launched A Survey of the Nepali People in 2017 at the Hotel Himalaya, Kupondole. The first of a series of yearly nationwide surveys on Nepal implemented by the Foundation, the survey documents the views, concerns, and aspirations of the Nepali people at this important turning point in the country's modern history. During the significant period of country's transition to a federal governance structure, the survey provides timely data useful for policymakers and leaders in government, the development community, civil society organizations, and the broader Nepali public. Download the survey report and infographics.
Fieldwork was conducted in September and October of 2017 by the Inter Disciplinary Analysts, in collaboration with a team of technical experts. Based on a nationally-representative sample of 7,202 people randomly selected from 599 wards across all seven provinces, the survey represents views of the Nepali people of the unfolding political context, national mood, security, governance, public service delivery, economic outlook, and access to information.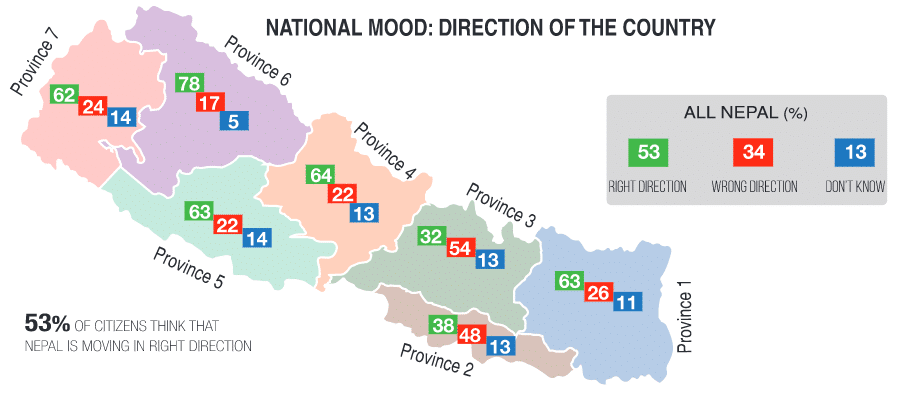 In this period of transition, the majority of Nepalis (52.9%) feels that the country is headed in the right direction. Most of them feel safe (93.8%). A large proportion of the public think that the 2015 Constitution is a step forward (45.6%), that federal reform will lead to tangible improvements in their lives (44.4%) and that they are better represented after the reintroduction of local elections (43.8%). Some 89.7% of Nepalis are satisfied with the results of the elections, and 82.2% trust the newly elected municipal councils to have their best interests at heart. Most Nepalis are happy with the quality of public education (82.1%) and healthcare services (76.6%) available in their locality.
The survey is a product of The Asia Foundation with support provided by the Australian Department of Foreign Affairs and Trade. The Foundation implements similar longitudinal surveys in other countries like Afghanistan which help inform the work of both government and non-government stakeholders on different issues.
The Asia Foundation is a nonprofit international development organization committed to improving lives across a dynamic and developing Asia. Informed by six decades of experience and deep local expertise, our work across the region addresses five overarching goals—strengthen governance, empower women, expand economic opportunity, increase environmental resilience, and promote regional cooperation. Read more about the Foundation's work.
For media inquiries, please visit our News Room. Engage with us on Facebook, Twitter, and Instagram.
Read our latest news, or insights from our blog.
Media contacts
Amy Ovalle, Vice President, Global Communications
[email protected]
415-743-3340
Eelynn Sim, Director, Media & Strategy
[email protected]
415-743-3318
2022 Impact Report
Thank you for powering The Asia Foundation's mission to improve lives and expand opportunities.