Asia Foundation's Kathmandu Conference Examines Asian Approaches to Conflict Prevention and Peacebuilding
Kathmandu, May 23, 2018 — Protracted conflicts in Asia have negatively impacted development and growth, nationally and regionally. Local conflicts, associated with land and natural resources, along with urban crime, are on the rise as Asian countries develop and urbanize. In response to the need to support peacebuilding efforts, The Asia Foundation, Korea Development Institute (KDI), and KDI School of Public Policy and Management hosted the 18th meeting of the Asian Approaches to Development Cooperation (AADC) dialogue series in Kathmandu, Nepal on May 9-10 to examine South-South and development cooperation approaches to addressing conflict challenges in Asia.
Participants at the Kathmandu conference from Korea, China, Japan, India, Nepal, Indonesia, Myanmar, Philippines, Afghanistan, Pakistan, ASEAN-IPR, DFAT, and UNOSSC shared perspectives and approaches from the public and private sectors in support of peacebuilding in Asia. The AADC dialogue is an ongoing series which addresses how Asian countries' engagement in development and South-South cooperation is changing the global aid landscape and the development prospects for the region.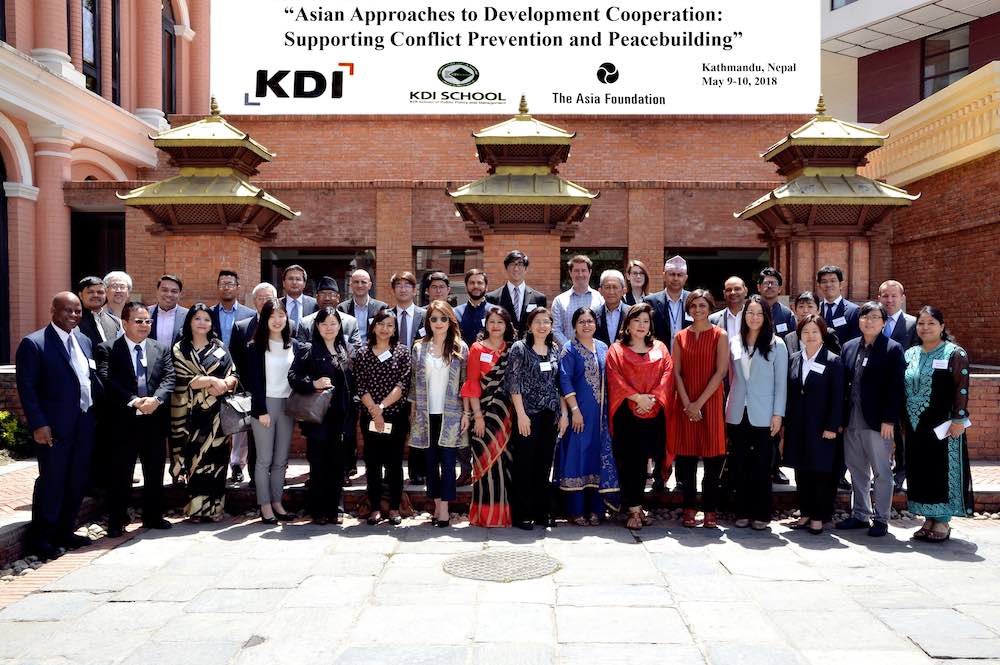 Half of the countries in South and Southeast Asia have experienced subnational conflicts in recent decades. Many countries also face challenges managing tensions between diverse ethnic and religious communities. The State of Conflict and Violence in Asia report, recently released by The Asia Foundation, identifies the critical need to support country-to-country learning within Asia on what has worked when it comes to peacebuilding. South–South cooperation's emphasis on sharing a country's own relevant experience holds significant potential for supporting peacebuilding efforts in partner countries.
Highlights of the 18th AADC meeting included a discussion of Pakistan's approach to peace building in neighboring Afghanistan; how conflicts along China's belt and road initiative may affect its implementation; how Indonesia's experience of domestic peacebuilding in Aceh has informed it's knowledge sharing with other countries, how neighboring country border regulations help or hinder peace efforts in Myanmar; and the role multilateral efforts play in peacebuilding and conflict prevention in Asia. The meeting also included a site visit to the Banepa Municipality, to learn about how community mediation is addressing local disputes over land and resources, which have escalated as a result of the 2015 earthquake.
In previous years, AADC conferences have focused on the changing aid landscape, rising inequality and pro-poor growth, climate change mitigation and adaptation, social mobility, advancing South-South cooperation, the role of NGOs and the private sector, planned urbanization, and women and girls' empowerment.
The Asia Foundation is a nonprofit international development organization committed to improving lives across a dynamic and developing Asia. Informed by six decades of experience and deep local expertise, our work across the region addresses five overarching goals—strengthen governance, empower women, expand economic opportunity, increase environmental resilience, and promote regional cooperation.
Read more about the Foundation's work.
For media inquiries, please visit our News Room. Engage with us on Facebook, Twitter, and Instagram.
Read our latest news, or insights from our blog.
Media contacts
Amy Ovalle, Vice President, Global Communications
[email protected]
415-743-3340
Eelynn Sim, Director, Media & Strategy
[email protected]
415-743-3318
Change Starts Here Campaign Impact
Thank you for powering The Asia Foundation's mission to improve lives and expand opportunities.