Philippines: Tourism Industry Training in Senior High Schools
Program Year: 2018
Turo-Turismo is a project run by The Asia Foundation in the Philippines, through our Coalitions for Change (CfC) partnership with the Australian government. Beginning with a pilot program in Bohol in 2014, later expanded to the adjacent island provinces of Cebu and Siquijor in 2016, the tourism-focused training and immersion program prepares high school students for employment in the tourism industry. Turo-Turismo links the Department of Education's (DepEd) technical-vocational-livelihood (TVL) track with hands-on industry training aligned to current and future needs in the tourism sector. In the Philippines, where half a million skilled TVL-tracked students graduate annually, linking education and industry training not only improves employment prospects; it also increases industry enhancements in quality, productivity, and competitiveness. In May 2018, The Asia Foundation began discussions with DepEd to apply this industry-focused model to develop a strategic national roadmap for TVL education.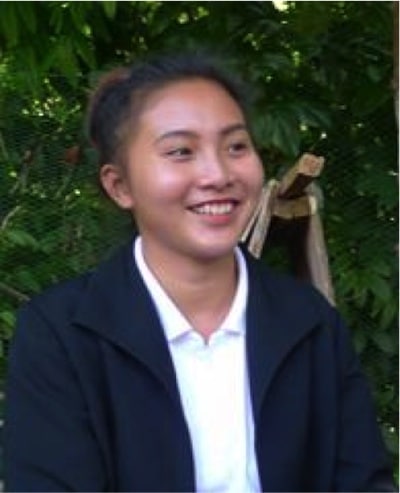 Joelyn is one of the beneficiaries of this program. As the eldest of five children supported solely by the income of her father as a security guard, Joelyn concentrated her study on fields related to tourism to help her find future employment. During her graduation, along with her high school diploma, Joelyn received national certificates in housekeeping and in tourism promotion. In her final year, she also completed the course in food and beverage service. Her education involved an immersion period in tourist establishments to apply her knowledge and learn skills not offered in school. "Before my immersion ended, I found out from the staff that I would be hired," Joelyn said with pride, "Of course, I was very happy. Now I can contribute to the family—if just to buy rice."
For Joelyn, finding a job in which she is competent has not discouraged her from pursuing higher education; while working, she also plans to attend the Siquijor State College, majoring in Technical Education.
Leaders on the Frontlines:
Leaders for a Better World
Tuesday, November 9, 2021, 6PM PT