Tackling the Backlog in Pakistan's Courts
August 29, 2018
In his old age, a longstanding property dispute became the bane of Abdul Hamid Khan's existence. The father of four sons and three daughters in Punjab's Rahimyar district, Khan had been left, like Shakespeare's King Lear, without a roof over his head.
It was a dispute over land inheritance. In 2010, Khan transferred all his property, some 16 acres, to his sons and grandsons. Two years later, his sons who lived with him turned him out of the house. He appealed to his daughters to take him in, but his sons-in-law refused on the grounds that Khan had deprived his daughters of their rightful share of the inheritance.
The case had languished in district courts for three years, with Khan homeless and his hopes for a solution slowly crumbling with each hearing.
In Pakistan, civil cases like this one often await trial for years. According to a report published in Dawn this year, any moderately complex civil suit can stretch for 30 to 40 years of litigation. Chief Justice Syed Mansoor Ali Shah of the Lahore High Court (LHC) last year told an international roundtable that some 200,000 cases were pending in district courts across Punjab and another 130,000 in the LHC.
As perceptions grow that the formal legal system cannot and does not provide justice, alternative dispute resolution (ADR) is attracting increasing attention from both professionals and the public. Last year, the National Assembly Standing Committee on Law approved a government bill on ADR permitting mediators appointed by trial courts to arrange out-of-court settlements with the consent of the disputing parties. The LHC, for its part, has set up court-annexed mediation centers, now functioning in all 36 districts across Punjab, in a bid to speed the administration of justice and provide relief to long-suffering litigants by tackling the backlog in civil courts.
The Asia Foundation's alternative dispute resolution project, "Mainstreaming Alternative Dispute Resolution for Equitable Access to Justice in Pakistan," is working to broaden access to justice, in particular for marginalized elements of society, by bringing ADR mechanisms further into Pakistan's judicial mainstream. Informal systems of dispute resolution have centuries-old roots in the rural societies of Pakistan, but traditional courts, known as panchayats or jirgas, have been criticized for exploiting the powerless and vulnerable, such as women and the poor. The Foundation's ADR project, on the other hand, seeks to establish a legally sanctioned system of alternative dispute resolution that delivers justice consistent with the country's formal legal norms.
The project incorporates international best practices into Pakistan's ADR framework and builds the capacity of judges and lawyers to manage ADR cases effectively. Last year, the Foundation supported a training-of-trainers for judges nominated by the LHC and a selection of faculty members from our partner, the John Felice Rome Center of the Loyola University School of Law in Chicago. The training was designed to prepare judges from the Lahore High Court to conduct further ADR trainings of judges and lawyers in Punjab.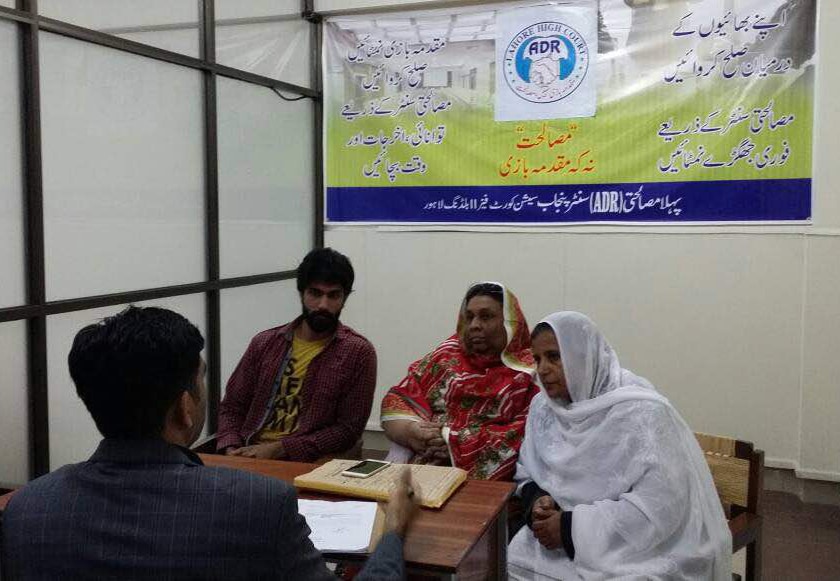 Finally, for ADR mechanisms to be effective, both the public and the legal profession must understand and embrace them. The Foundation has launched an ADR awareness campaign, employing print, electronic, and social media, that provides updates on the progress of the project and highlights ADR success stories.
Abdul Hamid Khan is one of those success stories. When all else had failed, he secured a referral to a local ADR center, where his case was resolved within a week. Under the terms of the settlement, four acres of land that he had previously transferred to his sons were restored to Khan for his personal livelihood.
Syed Abbas Hussain is a program officer for The Asia Foundation in Pakistan. He can be reached at [email protected]. The views and opinions expressed here are those of the author and not those of The Asia Foundation.
About our blog, InAsia
InAsia
is a bi-weekly in-depth, in-country resource for readers who want to stay abreast of significant events and issues shaping Asia's development, hosted by
The Asia Foundation
. Drawing on the first-hand insight of renowned experts,
InAsia
delivers concentrated analysis on issues affecting each region of Asia, as well as Foundation-produced reports and polls.
InAsia
is posted and distributed every other Wednesday evening, Pacific Time. If you have any questions, please send an email to
[email protected]
.
Contact
For questions about
InAsia
, or for our cross-post and re-use policy, please send an email to
[email protected]
.
The Asia Foundation
465 California St., 9th Floor
San Francisco, CA 94104
2023 Leaders on the Frontlines
Join us in San Francisco on October 12, 2023, to honor Niwat Roykaew.