The Asia Foundation Signs Green Economy MOU with Cambodia's Ministry of Environment
Phnom Penh, October 4, 2018 — Today, The Asia Foundation and Cambodia's General Secretariat of the National Council for Sustainable Development (GSSD) signed a Memorandum of Understanding (MOU) on Collaboration and Capacity Building on Green Economy. The objective of the MOU is to strengthen, promote, and develop cooperation in solar energy, solid waste management, and other policy needs to support sustainable development and the Kingdom of Cambodia's green economy.
Over the next two years, the General Secretariat of the National Council for Sustainable Development and The Asia Foundation will work together on developing human capacity through training and providing fellowship opportunities to Ministry staff regarding green growth. This partnership will also establish a dedicated co-working space to advance policy research and innovative, environmentally-conscious efforts in support of the Royal Government of Cambodia's sustainable development goals.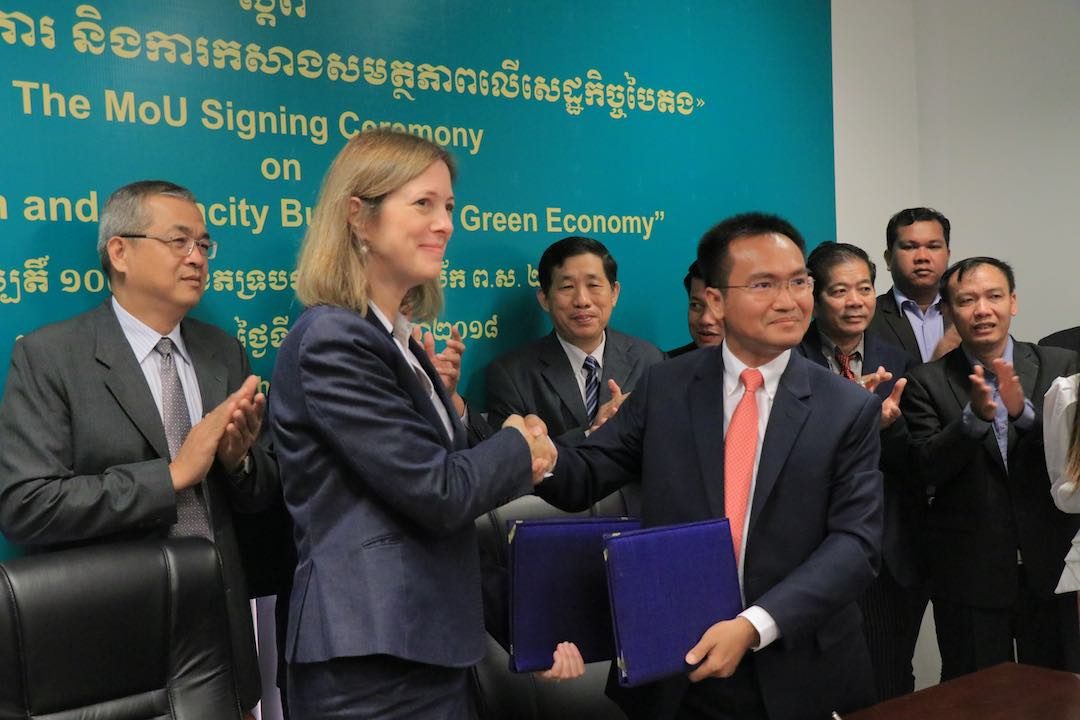 Meloney Lindberg, The Asia Foundation's country representative in Cambodia said, "I look forward to cooperating with The General Secretariat of the National Council for Sustainable Development to pilot practical and innovative solutions to advance Cambodia's green development policies and plans."
GSSD and The Asia Foundation will explore off-grid solar energy for underserved and unreached communities, and urban, solid-waste management as potential program areas. H.E Sao Sopheap, secretary of State of the Ministry of Environment and the representative of the National Council for Sustainable Development (NCSD) remarked that "GSSD cooperates with The Asia Foundation to pledge the promotion of sustainable development for supporting capacity strengthening, clean energy business initiatives, and green economy development aligning with the Royal Government of Cambodia's strategy in advancing sustainable development and green economy in the Kingdom of Cambodia."
The NCSD was established in 2015 and consists of 62 high-level representatives (secretaries and under-secretaries of State) from relevant government ministries and agencies. The prime minister serves as honorary chair, and the minister of Environment serves as chair. GSSD coordinates and implements NCSD's daily operations by supporting the development of legal documents, policies, strategic plans, action plans, programs, and projects related to sustainable development. NCSD focuses on promoting green economy, climate change response, biodiversity conservation, and science and green technology.
The Asia Foundation is a nonprofit international development organization committed to improving lives across a dynamic and developing Asia. Informed by six decades of experience and deep local expertise, our work across the region addresses five overarching goals—strengthen governance, empower women, expand economic opportunity, increase environmental resilience, and promote regional cooperation.
Read more about the Foundation's work.
For more media inquiries, please visit our News Room. Engage with us on Facebook, Twitter, LinkedIn, and Instagram.
Mobilizing Changemakers for our Sustainable Future
Meet Akshat Singhal and Sohara Mehroze, two of our 2019 Asia Foundation Development Fellows.
Mobilizing Changemakers for our Sustainable Future