Announcing the participants of the 2018 YSEALI Summit

November 16, 2018 — The Asia Foundation is pleased to announce the participants of the 5th annual Young Southeast Asian Leadership Initiative (YSEALI) Summit! The 2018 YSEALI Summit, a program of the U.S. Department of State, will take place December 3-5, 2018 in Singapore at the Carlton Hotel, bringing together 150 participants from ASEAN countries and the United States. Learn more at ysealisummit2018.org.
Southeast Asian YSEALI Alumni
Angel Allyne Abellana
Philippines
Nur Azrin Abu Bakar
Malaysia
Evilita Adriani
Indonesia
Mary Rose Juliet Guevara Anatalio
Philippines
Kimberly Bongon Ante
Philippines
Junver Desoy Arcayna
Philippines
Htet Mon Aung
Myanmar
Risma Ayu
Indonesia
Ngoc Thi Minh Bui
Vietnam
Shan Chun Chak
Malaysia
Chetsada Changmai
Thailand
Vitak Cheav
Cambodia
Janine Mikaella Lim Chiong
Philippines
Ravin Chobchai
Thailand
Mark Anthony Santos Colentava
Philippines
Gil Ganzon Cruz
Philippines
Mary Joie Cruz Cruz
Philippines
Hang Thi Thuy Dinh
Vietnam
Huong Thi Lan Dinh
Vietnam
Thanh Thi Thanh Doan
Vietnam
Fahmi Dwilaksono
Indonesia
Nicholas Eng
Singapore
Novita Dyah Forentina
Indonesia
Francis Josef Cruz Gasgonia
Philippines
Aye Chan Hein
Myanmar
Irvandias Sanjaya Herlambang
Indonesia
Lucia Kusolo Herwening
Indonesia
Rachmat Hidayat
Indonesia
Salai Thawng Hlaing Lung
Myanmar
Binh Thai Ho
Vietnam
Trang Thu Hoang
Vietnam
Naw Thazin Hpway
Myanmar
Khin Yadanar Htay
Myanmar
Zaw Win Htet
Myanmar
Somchay Indavong
Laos
Firdaus Ismail
Brunei
Chonlada Janpum
Thailand
Luh De Dwi Jayanthi
Indonesia
Vimaljit Kaur
Singapore
Saw Kyaw Zin Khay
Myanmar
Kelvin Zhi Shern Koay
Malaysia
Adrian Yong Wei Koh
Brunei
Cheryl Lee
Singapore
Pin Qi Lee
Singapore
Maporn Lertsuridej
Thailand
Chakorn Loetnithat
Thailand
Porhour Ly
Cambodia
Katherine Mistica Maguad
Philippines
Rahmah Masturah
Indonesia
Ohnmar Aung Min
Myanmar
Maria Pia Carmela Reyes Miraflores
Philippines
Ainu Shazwani Binti Mohd Yusof
Malaysia
Liezl Ann Oro Motilla
Philippines
Musawwir Muhtar
Indonesia
Le Hua Thanh Nguyen
Vietnam
Nam Phuong Nguyen
Vietnam
Nam Hoang Nguyen
Vietnam
Quan Ha Nguyen
Vietnam
Thuc Minh Thi Nguyen
Vietnam
Chitsanupong Nithiwana
Thailand
Paundra Noorbaskoro
Indonesia
Zar Ti Nwe Nu Aung
Myanmar
Channita Ouk
Cambodia
Evandri Guliano Pantouw
Indonesia
Thansuda Pantusa
Thailand
Phaiboun Panyasavath
Laos
Chanintorn Pensute
Thailand
Bunnath Phann
Cambodia
Diane Phomsoupha
Laos
Hnin Wit Yee Phyo
Myanmar
Sreyneang Pok
Cambodia
Prandwinata
Indonesia
Dhimas Handhi Putranto
Indonesia
Vidya Spay Putri Ayuningtyas
Indonesia
Indira Nurul Qomariah
Indonesia
Siti Aisyah Rachmawati
Indonesia
Noorhafizah Rashid
Brunei
Odom Rithy
Cambodia
Tisha Eulean Cybill Rumbewas
Indonesia
Numan Afifi Bin Saadan
Malaysia
Thepmala Sadettan
Laos
Ratchamongkol Saenwandee
Thailand
Muharram Alifaturrakhman Salim
Indonesia
Anissa Megia Sari
Indonesia
Rachael Abigail Saveria
Indonesia
Viseth Sean
Cambodia
Gyaw Shine Oo
Myanmar
Angeli Monique Gregori Siladan
Philippines
Hnin Phyu Sin
Myanmar
Chanavee Suwanasri
Thailand
Veerappan Swaminathan
Singapore
Bunhourng Tan
Cambodia
Joe Tan
Singapore
Emil Benjamin Barbin Tapnio
Philippines
Ee Lynn Tee
Malaysia
Sakulthong Thongnongbua
Thailand
Chit Aein Thu
Myanmar
Si Thu
Myanmar
Yoke Pean Thye
Singapore
Pheakdey Tous
Cambodia
Trang Khanh Tran
Vietnam
Lemuel Clark Paras Velasco
Philippines
Mrinalini Venkatachalam
Singapore
Val Amiel Vestil
South Korea
Tien Thi Ngoc Vo
Vietnam
Souphanith Vongsengthong
Laos
Wanraimee Waedoloh
Thailand
Prued Wahachart
Thailand
Arief Wibowo
Indonesia
Lai Cheng Wong
Malaysia

United States Entrepreneurs
Michael Scott Peters
UN Youth Ambassador
Isabela Acenas
Student at NYU
Rishi Ahuja
PaySense
Paul Applegate
Synced Smiles
Dominique Carter
National Science Fundation (NSF)
Ololade Fatunmbi
Separation Methods Technologies, Inc. (SMT)
Oluwatobi Fatunmbi
Mami Wata
Katie Fogarty
Reboot
Yongjun Heo
Midwest Design Lab LLC
Kyle Horton
BabLab
Hetal Jani
SPEAK MENTORSHIP
Darren Joe
Touch MBA
Julie Joseph
New York Medical College School of Public Health
Monica Kang
InnovatorsBox
Erin Little
RxHackers
Matthew LoCastro
Economic Research Institute for ASEAN and East Asia (ERIA)
Andrew Maguire
Fulbright University Vietnam
Jerusha Matthews
Kansas State Veterinary Diagnostic Laboratory
Ciara May
Johnson C. Smith University
Widya Mulyasasmita
Venn Biosciences
Jonathan Quarles
The BTL Group
Shraddha Rathod
Freshspire
Marium Raza
Elixir
Brian Reale
ProcessMaker
Steven Rodriguez
SUEGO LLC
Surya Sayed-Ganguly
World Bank (IDA)
Brendan Shultz
Kamille Tynes
TYNES CO LLC
Marlon Williams
Living Cities
Julie Yelle
University of Maryland

United States-YSEALI Reverse Exchange Program Alumni
James Birkemeier
Spring Green Timber Growers
Adam Brown
City of Ontario, Oregon
Allan Ekberg
City of Tukwila
Jerald Johnson
MassChallenge and Empower Success Corps
Deborah Muramoto
California Capital Financial Development Corporation
Colleen Rudio
Cascadia Business Development
Amy Snyder

About the Summit
Launched in 2013, the Young Southeast Asian Leaders Initiative (YSEALI) is the U.S. Department of State's signature program to strengthen leadership development and networking in Southeast Asia. Through a variety of programs and engagements, YSEALI seeks to build the leadership capabilities of youth in the region, strengthen ties between the United States and Southeast Asia, and nurture an ASEAN community of leaders who work across borders to solve common issues.
The 2018 YSEALI Summit, which marks YSEALI's fifth anniversary, will gather participants around the theme "The United States and ASEAN: Partners in Growth and Innovation." The summit will showcase innovative approaches to economic cooperation and growth by U.S. companies, organizations, and institutions present in ASEAN and allow young innovators and entrepreneurs from both the United States and ASEAN to connect with each other and with participating experts. Throughout the summit, participants will showcase projects, receive mentorship, explore opportunities to expand their work, exchange ideas on how to foster economic growth in their communities, and find avenues for stronger economic cooperation between the United States and ASEAN. The summit will also explore topics such as: best practices in innovation and partnership; the role of public private partnerships and corporate social responsibility in spurring economic growth; incubators; expanding digital literacy; entrepreneurship as a driver for community development; and healthy start-up ecosystems.
The Asia Foundation is implementing the 2018 YSEALI Summit, in partnership with the U.S. Embassy Singapore and the American Chamber of Commerce Singapore. The Asia Foundation is a nonprofit international development organization committed to improving lives across a dynamic and developing Asia. Informed by six decades of experience and deep local expertise, our work across the region addresses five overarching goals: strengthen governance, empower women, expand economic opportunity, increase environmental resilience, and promote regional cooperation.
Please direct any inquiries to The Asia Foundation by emailing [email protected]. Read more information on YSEALI.
Supported by: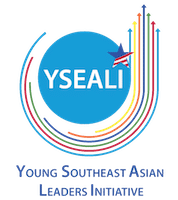 Read our latest news, or insights from our blog.
Media contacts
Amy Ovalle, Vice President, Global Communications
[email protected]
415-743-3340
Eelynn Sim, Director, Media & Strategy
[email protected]
415-743-3318
The Asia Foundation Supports Leaders for a Better World