The Asia Foundation and the Confederation of Indian Industry Host Annual South Asia Power Summit
New Delhi, November 28, 2018 — The Asia Foundation, in partnership with the Confederation of Indian Industry, organized the second annual South Asia Power Summit on November 16 in New Delhi. The event was organized as part of The Asia Foundation's Sustainable Development Integrated Portfolio program in India; this program is supported by Australia's Department of Foreign Affairs and Trade.
Ministry of Power representatives from Bangladesh, Bhutan, India, and Nepal (BBIN) shared current transboundary energy portfolios, plans for domestic renewable energy integration, and discussed policy and market implications of further strengthening transboundary energy trading in Southeast Asia. The summit provides a diverse group of strategic partners throughout the BBIN region with an opportunity to share success stories, challenges faced, and areas for future collaboration in strengthening and expanding transboundary energy trade.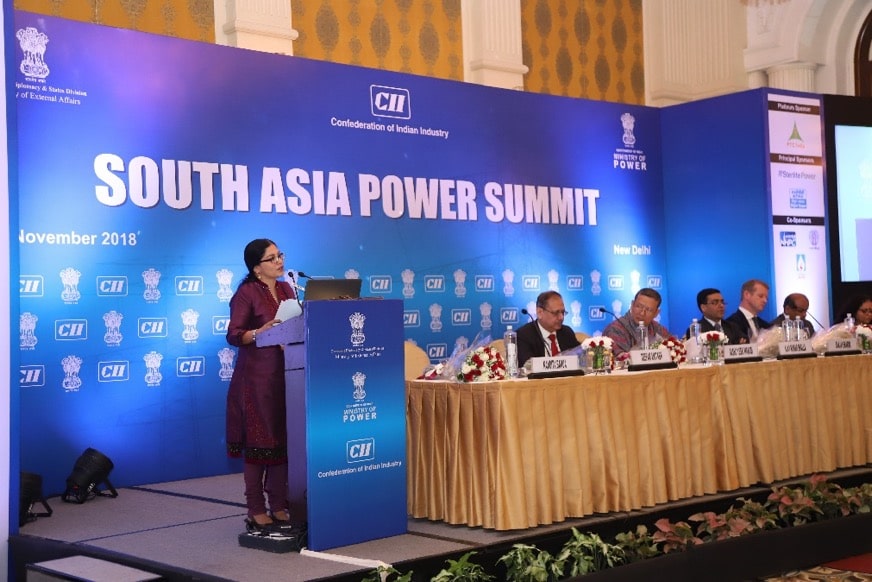 The panels focused on the future of seamless energy trade in the BBIN region, the importance in identifying innovative business models for open and competitive energy markets, and technology that upgrades both infrastructure and operations, specifically – improved battery technologies for enhanced storage, digitization and security of national/regional grids.
The aim of the summit is to encourage and enhance intergovernmental dialogue and the strategic execution of transboundary energy trading, including renewable energy generation, transmission, and trade.
The Asia Foundation supports cross-country and regional dialogues throughout Asia to enable government and non-governmental leaders to share lessons and best practices relate to governance and common developmental issues. The Asia Foundation works to strengthen relations among Asian nations in the efforts to foster peace, stability, prosperity, and effective governance.
Read more about the Foundation's work.
For media inquiries, please visit our News Room. Engage with us on Facebook, Twitter, LinkedIn, and Instagram.
Read our latest news, or insights from our blog.
Media contacts
Amy Ovalle, Vice President, Global Communications
[email protected]
415-743-3340
Eelynn Sim, Director, Media & Strategy
[email protected]
415-743-3318
2023 Leaders on the Frontlines
Join us in San Francisco on October 12, 2023, to honor Niwat Roykaew.