The Asia Foundation Selects 2019 Development Fellows
San Francisco, February 20, 2019 — The Asia Foundation today announced the 2019 class of Asia Foundation Development Fellows: Emerging Leadership for Asia's Future following a highly competitive selection process. Representing 12 Asian countries and a wide range of disciplines, the 2019 Development Fellows—6 women and 6 men—are emerging leaders in their fields, bringing bold, innovative thinking and a deep commitment to addressing Asia's most complex issues. The 12 fellows selected for the 2019 class are from Afghanistan, Bangladesh, China, India, Indonesia, Korea, Laos, Mongolia, Myanmar, Singapore, Sri Lanka, and Vietnam.
The Development Fellows program is at the heart of The Asia Foundation's mission, bringing exceptional individuals into a powerful network of emerging leaders working to improve lives across a dynamic and developing Asia. Now in its 6th year, the program includes 70 current and alumni Fellows across Asia, forming an active and inspirational network of the region's most promising leaders.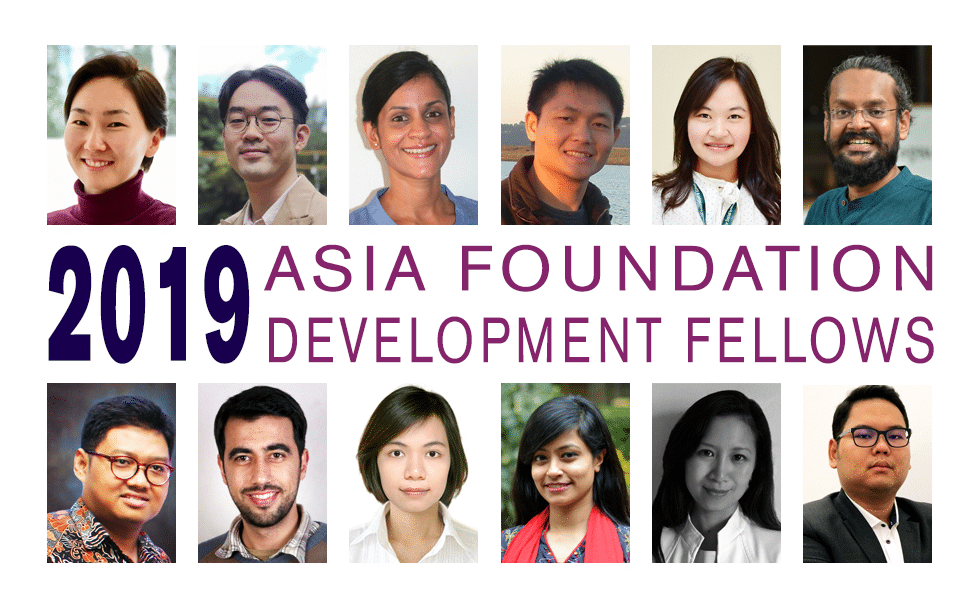 Across the region, a new generation of young leaders are creating positive impact, drawing from their experiences locally and globally. The 2019 Development Fellows, in particular, are an accomplished group of emerging leaders from diverse cultures, country contexts, and work environments, including government, civil society, philanthropy, social enterprise, and the media.
Meet the 2019 Development Fellows:
Stacey Choe (Singapore) is director at the Asia Philanthropy Circle and passionate about leveraging networks and expertise to maximize change and impact in marginalized communities.
Muhammad Darraz (Indonesia) is executive director at the MAARIF Institute for Culture and Humanity, where he focuses on countering violent extremism and peace-building through inter-faith dialogue and collaboration.
Kihyon Kim (South Korea) manages economic development projects at the Korea International Cooperation Agency (KOICA) and passionate about incorporating behavioral insights into development projects.
Thuy Anh Nguyen (Vietnam) is a division head at Vietnam's Ministry of Industry and Trade working on legal frameworks for digital economies to make businesses more innovative, efficient, and agile.
Sanva Saephan (Laos) is an author, social entrepreneur, and UNDP consultant with a firm belief in the power of education.
Sohara Mehroze Shachi (Bangladesh) works on climate finance UNDP and was the first Bangladeshi to win the Asian Young Environmental Journalist of the Year award.
Akshat Singhal (India) is co-founder of The Blue Ribbon Movement, an ecosystem of social initiatives building leadership for a better world and a Global Shaper selected by the World Economic Forum.
Htin Thu (Myanmar) is a doctor and public health specialist at Save the Children International, leading the Global Fund's largest multilateral health fund tackling atemisinin-resistant malaria.
Aldarsaikhan Tuvshinbat (Mongolia) is an urban planner and the co-creator of Felt City podcast, a platform that contributes thoughtful discussions to the public dialogues on urbanization in Mongolia.
Chaturangi Wickramaratne (Sri Lanka) is an environmental scientist at the Environmental Foundation committed to the conservation of Sri Lanka's natural environment through scientific and legal means.
Boya Yang (China) is an education advocate and a Forbes China's 30 under 30 most influential young industry leaders.
The Asia Foundation is a nonprofit international development organization committed to improving lives across a dynamic and developing Asia. Informed by six decades of experience and deep local expertise, our work across the region addresses five overarching goals—strengthen governance, empower women, expand economic opportunity, increase environmental resilience, and promote regional cooperation.
Read more about the Foundation's work.
For media inquiries, please visit our  News Room. Engage us with #AsiaDevFellows on Facebook, Twitter,  LinkedIn, and Instagram.
Read our latest news, or insights from our blog.
Media contacts
Amy Ovalle, Vice President, Global Communications
[email protected]
415-743-3340
Eelynn Sim, Director, Media & Strategy
[email protected]
415-743-3318
2023 Leaders on the Frontlines
Join us in San Francisco on October 12, 2023, to honor Niwat Roykaew.