The Asia Foundation Works with Community to Add Balinese to Free Digital Library for Children
Bali, February 27, 2019 — This month, The Asia Foundation partnered with BASAbali to host a translation event at Balai Bahasa, the national language agency. The event brought together 25 government language ambassadors, professional teachers of Balinese, and BASAbali's linguists to translate, edit, and publish 50 children's books created by Let's Read communities across Asia. This event marked the addition of Balinese to the Let's Read free digital library which now contains more than 2,000 stories translated by communities into 20 languages and read by children and families across Asia. The free digital library also includes books in Bahasa Indonesia, Minang, Javanese, and Sundanese.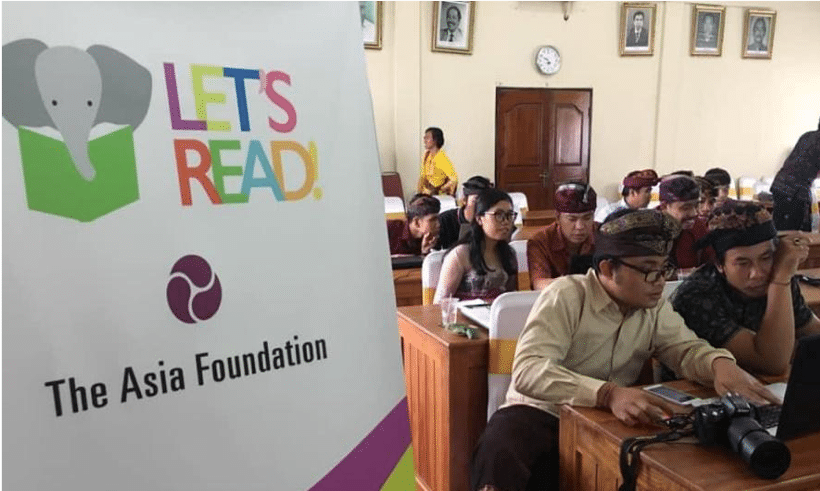 This partnership brings together BASAbali's commitment to strengthening the Balinese language and The Asia Foundation's commitment to creating meaningful reading opportunities for children across Asia. The translated books are available on the Let's Read digital library now. The books are also featured on the BASAbali Balinese-English-Indonesia Wiki Dictionary and Virtual Library where readers can learn more about the Balinese words that bring each story to life. In the coming months, BASAbali will further engage their rich networks in Bali to develop a community-driven, female character that will harness her inner superhero to address social issues in three forthcoming children's books that will be created by a team of local authors and illustrators specifically for the Let's Read digital library.
The children's books that were translated into Balinese were originally created by authors and illustrators in Let's Read BookLabs in Cambodia, Nepal, and Indonesia. Let's Read draws on The Asia Foundation's collaboration with communities in Asia to rapidly build sustainable networks of book creators committed to supporting children and families with free online and offline opportunities to read anytime, anywhere.
The addition of books in Balinese means that children, families, and communities in Bali will be better able to experience the Book Effect; children will be more likely to reach developmental milestones on time, families will share stronger connections to each other and their cultures, and the future of Bali will benefit from a growing network of reading ambassadors and the increased capacity of young generations to contribute to a more thriving society.
Let's Read builds a world where curious and educated readers create thriving societies. We bring together the talent of local partners and the power of technology to create and translate relatable children's books while nurturing reading habits that enable children to reach important developmental milestones, families to share stories that affirm their culture, and communities to benefit from the contributions of all of their members. Learn more about Let's Read today.
Since 1954, The Asia Foundation's Books for Asia program has donated print books to thousands of under-resourced educational institutions in 21 Asian countries. While print remains the most effective means of delivering information in many parts of the developing world, mobile technology's increasing affordability suggests e-books hold the promise of becoming a cost-effective, scalable model.
Read more about the Foundation's work.
For media inquiries, please visit our News Room. Engage with us on Facebook, Twitter, LinkedIn, and Instagram.
Read our latest news, or insights from our blog.
Media contacts
Amy Ovalle, Vice President, Global Communications
[email protected]
415-743-3340
Eelynn Sim, Director, Media & Strategy
[email protected]
415-743-3318
The Asia Foundation Supports Leaders for a Better World