Curbing Sexual Harassment in China's Garment Industry
March 13, 2019
Garment and textile workers are among the most vulnerable populations in China, with difficult working conditions, insecure jobs, and low wages exacerbated by a culture of gender-based discrimination and harassment with few institutional protections. A study by China's Sunflower Women Workers Centre of 134 women workers in China's Guangzhou garment factories found that 70 percent had experienced sexual harassment on the job. But sexual harassment is drawing increased attention in Chinese society, as survivors have begun to stand up in solidarity with movements around the globe to expose harassers and demand justice.
In a recent partnership with the Levi Strauss Foundation, The Asia Foundation's Beijing office designed a program to systematically address sexual harassment in China's textile and apparel industry by equipping workers and employers with tools to prevent and respond to it. Built on The Asia Foundation's years of work protecting garment workers' rights, the two-year program, Harassment-Free Workplaces in China's Textile and Apparel Industry, enlisted local partners at the China National Textile and Apparel Council, the largest association of textile and apparel companies in China, and the Beijing Yuanzhong Gender Development Center, also known simply as Yuanzhong, a support center for survivors of harassment and abuse. The project worked on three fronts: promoting industry-wide guidelines to stop workplace sexual harassment, developing stronger legal protections for survivors, and instituting employee education programs.
Industry-wide guidelines
In addition to their ethical responsibility, the project presented employers with a data-based rationale for protecting their employees and promoting gender equality in the workplace, stressing both legal requirements and the real costs and benefits to business. Sexual harassment damages morale and leads to lost productivity and high employee turnover. In an industry with over 10 million workers in 2015, small costs from lost productivity can add up fast.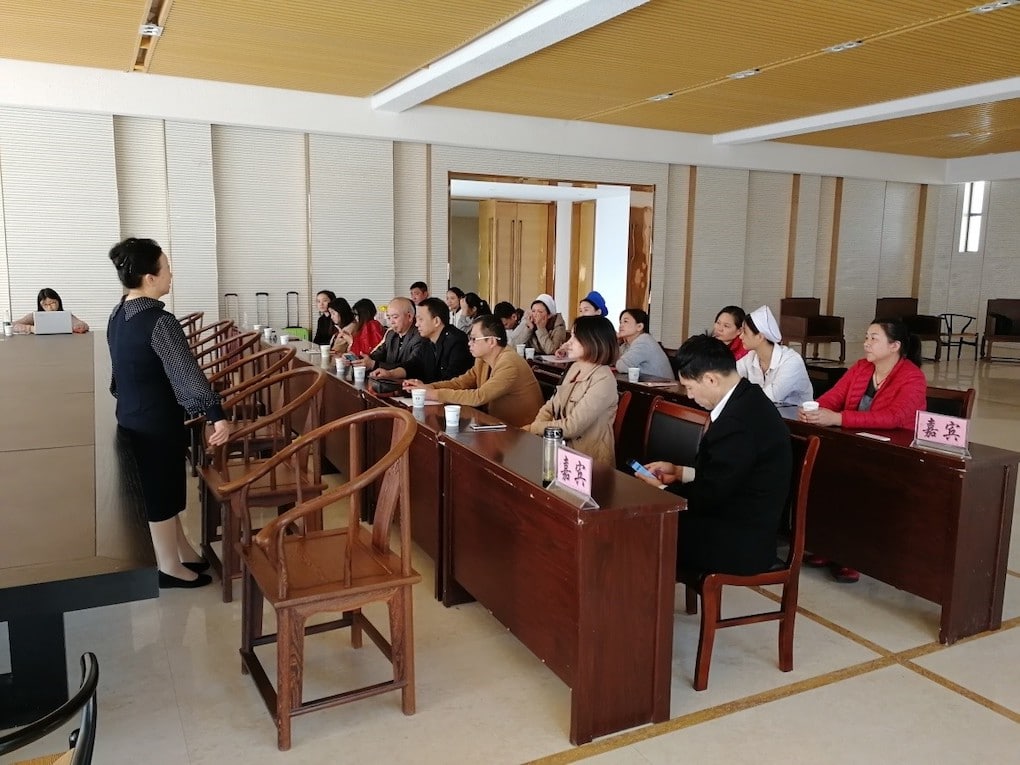 A coalition of legal and labor rights experts, gender experts, and company representatives developed strategies and protocols to promote gender equality and create nondiscriminatory and harassment-free workplaces, which were then instituted in five pilot enterprises in Fujian and Hubei Provinces. Training and mentoring sessions for senior management introduced concepts of gender equality and discussed common discriminatory practices and interventions. By the end of the project, all five pilot sites had established formal gender equality protocols, including promoting women's leadership, establishing "women workers committees" to represent female employees' rights and welfare, introducing and enforcing gender equitable human resource policies, and establishing reporting mechanisms that guarantee penalties for harassers and confidentiality for survivors.
Enhanced legal protections
While sexual harassment is illegal in China, and employers are required by law to prevent sexual harassment in the workplace, these laws have some shortcomings that limit their effectiveness, including unclear definitions of sexual harassment and employer liability, and uncertain penalties for offenders. The Asia Foundation and Yuanzhong studied how workplace sexual harassment is addressed in the judicial system, identifying legal and procedural weaknesses in cases and court trials and suggesting reforms to encourage more survivors to take action.
The team shared its findings from the study, and formal recommendations for legislation, online and in a series of workshops. Legislative proposals developed from the report were also submitted to government agencies, including recommendations that the Ministry of Human Resources and Social Security enact new workplace regulations and add provisions to the Labor Contract Law, and recommendations that the Supreme People's Court provide judicial interpretation of sexual harassment in the workplace.
It is noteworthy that special attention was paid to male survivors of sexual harassment, whose needs tend to be overlooked, and to the existence of same-sex case files that speak to the needs of the LGBTI community.
Employee education
Addressing sexual harassment is not just a technical legal matter. There are complicated dynamics at work. Research shows that survivors are often shamed or blamed by coworkers and management when they report an incident, and while employers should be the first to respond to complaints, workplace culture is often inhospitable to grievances, subjecting survivors to further stigma and discouraging reporting. In order for workers to effectively oppose gender discrimination, more than just the laws have to change. Attitudes and behaviors have to be changed, as well.
The project team held leadership trainings for more than 100 line workers and managers in the pilot garment factories. In addition to workplace sexual harassment, sessions covered practical information and confidence-building skills, including stress and conflict management and gender sensitive communication, and provided guidance on instituting the new operational guidelines. Training recipients then went on to conduct peer education workshops for over 1,800 fellow employees.
While there is still significant progress to be made, it's important to focus on how working communities can come together to champion gender equality and build momentum for a more gender equitable world. With discreet pressure and persuasive economic arguments for businesses themselves to protect workers, increased legal protections, and an educated workforce that knows their rights, China will be one step closer to harassment-free work environments.
Harassment-Free Workplaces in China's Textile and Apparel Industry was made possible by a generous grant from The Levi Strauss Foundation (LSF). For over 15 years, LSF has partnered with The Asia Foundation to provide training to thousands of workers in China in the areas of labor rights, discrimination and abuse, communication skills, sexual and reproductive health, wellness, and stress management.
Lesley Wynn is a project grants associate in The Asia Foundation's Resource Development Department in San Francisco. She can be reached at [email protected]. The views and opinions expressed here are those of the author, not those of The Asia Foundation.
About our blog, InAsia
InAsia
is a weekly in-depth, in-country resource for readers who want to stay abreast of significant events and issues shaping Asia's development, hosted by
The Asia Foundation
. Drawing on the first-hand insight of over 70 renowned experts in over 20 countries,
InAsia
delivers concentrated analysis on issues affecting each region of Asia, as well as Foundation-produced reports and polls.
InAsia
is posted and distributed every other Wednesday evening, Pacific Time. If you have any questions, please send an email to
[email protected]
.
Contact
For questions about
InAsia
, or for our cross-post and re-use policy, please send an email to
[email protected]
.
The Asia Foundation
465 California St., 9th Floor
San Francisco, CA 94104
Mailing Address:
PO Box 193223
San Francisco, CA 94119-3223