The Asia Foundation Convenes Experts to Advance Legal Education in the Philippines
Manila, June 7, 2019 — The Asia Foundation, with support from the International Narcotics and Law Enforcement Affairs Office of the U.S. Department of State, has been working in close partnership with the Supreme Court and the Philippine Association of Law Schools on the Strengthening Rule of Law Through Legal Aid Clinics in the Philippines project. The project aims to open dialogues on the state legal education and legal aid in the Philippines in efforts to increase access to justice.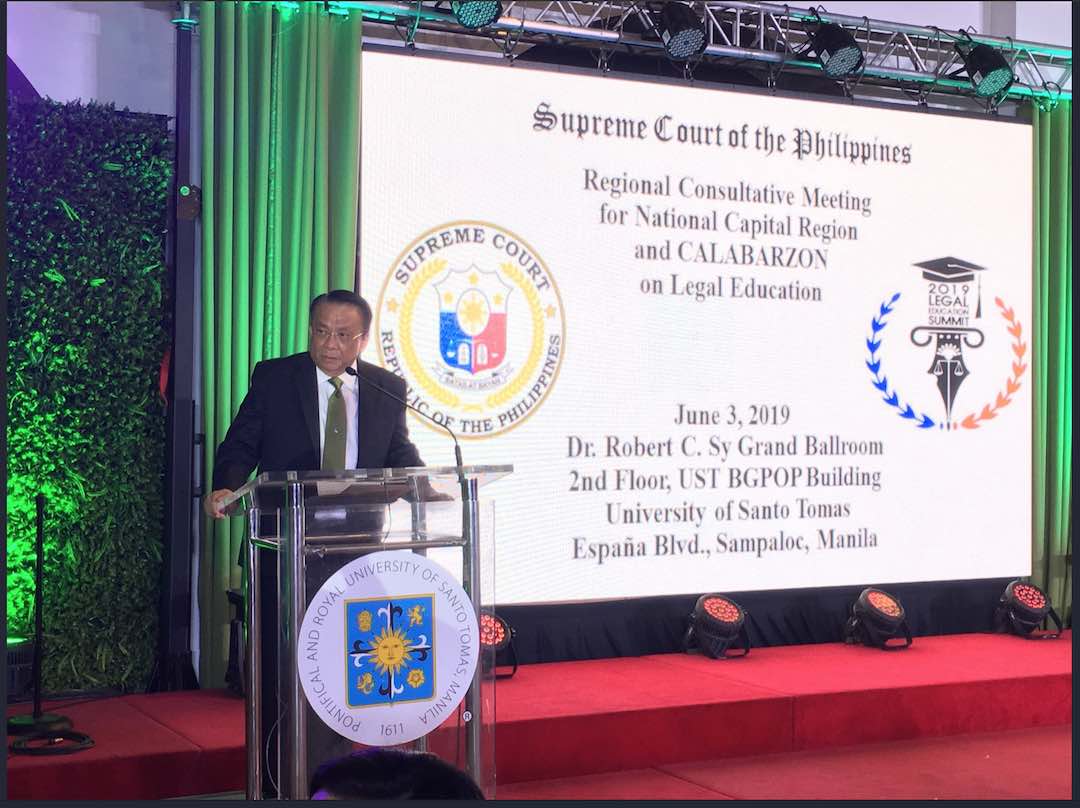 Since April 2019, members of the Supreme Court Organizing Committee, chaired by Supreme Court Associate Alexander Gesmundo and with The Asia Foundation's Carolyn Mercado, have been traveling the country conducting regional consultative meetings (RCMs) in preparation for the National Summit on Legal Education. The committee convened stakeholders from across the country to discuss concerns on the status of legal education in their respective areas, the challenges they face, and potential solutions. Findings and results from these consultations will be presented at the National Legal Education Summit in July 2019.
The seventh and last of the RCMs was held on Monday, June 3, 2019 at the University of Santo Tomas in Manila. Over 200 representatives from law schools and the Integrated Bar of the Philippines, trial court judges, and justices from appellate courts in the National Capital Region and Region IV-A attended the event. The event was attended by Supreme Court Chief Justice Lucas Bersamin, Associate Justice Alexander Gesmundo, Supreme Court officials, and representatives from the U.S. Embassy in Manila.
In their speeches, U.S. Embassy in Manila Deputy Head of Mission John C. Law, The Asia Foundation Philippines Country Representative Sam Chittick, and Supreme Court Chief Justice Lucas Bersamin acknowledged the successful partnership of the three institutions in pushing forward reforms for legal aid and legal education in the Philippines.
Prior consultative meetings gathered stakeholders from Central and Northern Luzon, the Bicol Region, Visayas, Northern and Southern Mindanao, and the cities of Angeles, Baguio, Manila, Cebu, Cagayan De Oro, and Davao.
The Asia Foundation is a nonprofit international development organization committed to improving lives across a dynamic and developing Asia. Informed by six decades of experience and deep local expertise, our work across the region addresses five overarching goals—strengthen governance, empower women, expand economic opportunity, increase environmental resilience, and promote regional cooperation.
Read more about the Foundation's work.
For media inquiries, please visit our News Room. Engage with us on Facebook, Twitter,  LinkedIn, and Instagram.
Read our latest news, or insights from our blog.
Media contacts
Amy Ovalle, Vice President, Global Communications
[email protected]
415-743-3340
Eelynn Sim, Director, Media & Strategy
[email protected]
415-743-3318
2020 Annual Report
Addressing the global crisis