Asia Foundation Launches Modern Reading Challenge in Indonesia
Jakarta, June 26, 2019 — We know that a child's passion for reading better predicts their academic success than their family's socioeconomic status. Children who develop a love of reading are more likely to read better, write better, build their vocabulary, and comprehend more in their reading. Sharing books in a household and talking with children about these stories helps children be safe and successful and supports their emotional, behavioral, cognitive, and social health. People who develop a love of reading at an early age see lifelong benefits and are better able to care for themselves and their families as adults. Even more, reading children become reading adults who are more likely to be employed and able to contribute to local economies. This is the Book Effect that inspires the Let's Read Aloud Challenge taking place in Indonesia.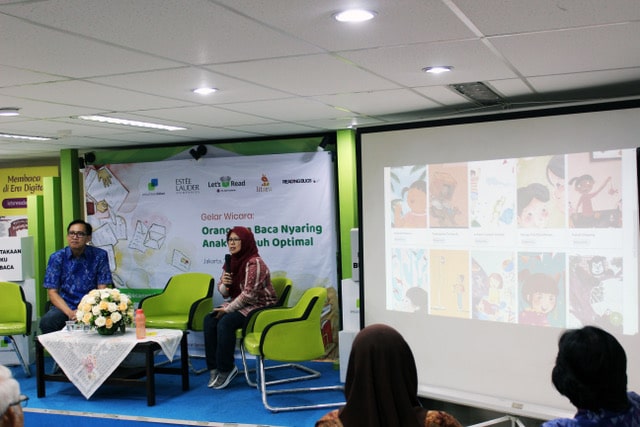 The Asia Foundation's Let's Read Initiative brought together representatives from local nonprofit organizations and media institutions to launch a six-week Read Aloud challenge. For the next six weeks, adults and teenagers will work together to read books with more than 200,000 children across Indonesia. The Asia Foundation worked with its vast network of partners and local nonprofit Reading Bugs to train teachers, parents, librarians, and community members to read with children and spread the Book Effect across the country with its massive collection of free books available in Bahasa Indonesia, Minang, Javanese, Sundanese, and Balinese.
The launch featured remarks from Roosie Setiawan, founder and director of Reading Bugs; Tati Ward, Ph.D. from Universitas Islam Indonesia; Lukman Solihin, M.A. researcher at the Ministry of Education; Nina Anna Surti Ariana, M. Psy; and Tenik Hartono, previous editor in chief of Ayahbunda magazine (focused on digital media and parenting). The event also introduced 15 brand new storybooks with gender balance created in partnership with Litara Foundation. Finally, the event introduced a Balinese superhero who will star in three comic book style children's books created by Balinese language organization BASAbali.
While national literacy is growing in Indonesia, Lukman Solihin of the Ministry of Education explained that there are significant disparities in literacy rates and appreciation of reading between urban and rural communities across Indonesia's 17,000 islands. Roosie Setiawan explained that read aloud with children is the most effective path to boosting the nation's literacy rates as it inspires a love of reading and builds a stronger connection between children and their reading role models. The panel had a rigorous discuss about strategies to match the nation's enthusiasm about reading with effective actions focused on impact.
The Let's Read Aloud challenge includes three ways for everyone to use the power of books to help children thrive. First, they can visit www.letsreadaloud.org and pledge to read with children. Second, using the #LetsReadAloud on Facebook and Instagram will help to grow the movement and reach even more children. Finally, for National Children's Day on July 23rd, The Asia Foundation will broadcast a 12-hour Read A Thon on Facebook and Instagram live that will feature local community members and celebrities reading their favorite children's books.
The challenge is made possible by the generous support of the Estée Lauder Companies and is supported by the Asia Foundation's library of free children's books created by local communities in Indonesia, Cambodia, and Nepal and donated by partners around the world. More than 2,000 children's books are available to read, download, print and share for free in 23 languages including Bahasa Indonesia, Minang, Javanese, Sundanese, and Balinese on the Let's Read website.
A special thanks to The Asia Foundation's local partners in the Read Aloud Challenge including Education Quality Assurance Office, Ministry of Education, Reading Bugs, BASAbali, Litara Foundation, Himpaudi, Community Library Forum, and the Local Library of Surabaya.
Learn more about the challenge and find reading resources such as children's books, video tutorials, and social media content at www.letsreadaloud.org.
Let's Read builds a world where curious and educated readers create thriving societies. We bring together the talent of local partners and the power of technology to create and translate relatable children's books while nurturing reading habits that enable children to reach important developmental milestones, families to share stories that affirm their culture, and communities to benefit from the contributions of all their members.
The Asia Foundation is a nonprofit international development organization committed to improving lives across a dynamic and developing Asia. Informed by six decades of experience and deep local expertise, our work across the region addresses five overarching goals—strengthen governance, empower women, expand economic opportunity, increase environmental resilience, and promote regional cooperation.
Read more about the Foundation's work.
For media inquiries, please visit our News Room. Engage with us on Facebook, Twitter, LinkedIn, and Instagram.
Read our latest news, or insights from our blog.
Media contacts
Amy Ovalle, Vice President, Global Communications
[email protected]
415-743-3340
Eelynn Sim, Director, Media & Strategy
[email protected]
415-743-3318
Leaders on the Frontlines:
Leaders for a Better World
Tuesday, November 9, 2021, 6PM PT