Women Deliver 2019: Delivering a Better World for All
July 31, 2019
"By denying women and girls their fundamental rights, we are preventing societies from reaching their full potential," said Sophie Gregoire Trudeau. The gender-equality advocate and wife of the Canadian prime minster was addressing her call to action to Women Deliver, in Vancouver, Canada, the world's largest international conference on gender equality, with more than 8,000 participants from 165 countries, including 1,400 youth delegates.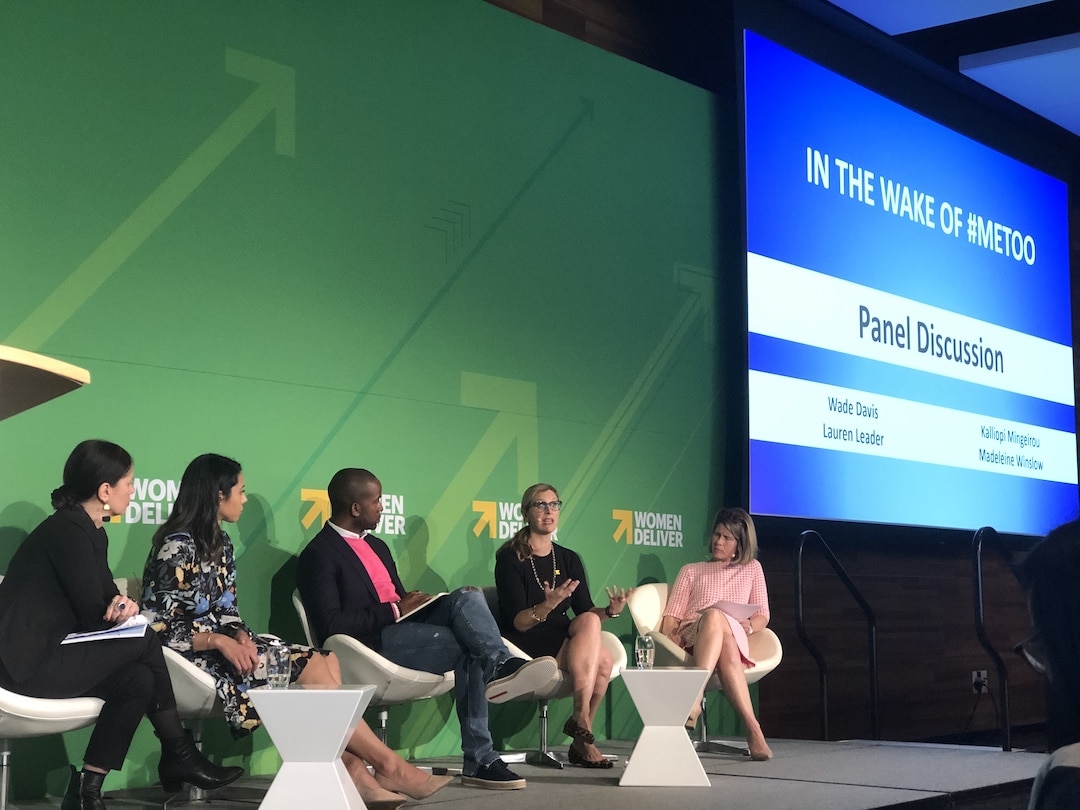 World leaders, academics, activists, and journalists joined together to advance gender-equality commitments around the world. As gender specialists from Asia Foundation offices in India, Mongolia, and the United States, we returned from Vancouver with four clear takeaways:
1. The future of work and the future of women must converge.
The nature of work is rapidly evolving as information technology and artificial intelligence permeate the world economy. Women's access to technology is inseparable from their access to economic empowerment in a broader sense. At Women Deliver, McKinsey Global Institute released a new report, The Future of Women at Work, which focuses on the gendered impact of automation on the world's workforce. The research found that the right support could put women securely on a path to more productive, better-paid work and greater gender equality, but that without this support, automation will widen gender disparities.
2. Men and boys must change for women and girls to advance.
Women in Asia do four times more unpaid care work than men. One of the more interesting presentations at Women Deliver came from Promundo, an organization that works with men and boys to promote gender equality and prevent violence. Promundo was an emphatic presence at Women Deliver, where they released a data-heavy report, State of the World's Fathers: Unlocking the Power of Men's Care. Interestingly, the report found that in most countries, men surveyed believe that men should have the final say in household decisions. Notable exceptions were China, Sri Lanka, and Nepal, where less than half of male respondents agreed that men should have the final word. For women to continue to advance, increased decision-making power in their families and communities is critical.
3. Women's organizations are key and need investments
Grassroots women's organizations in Asia have made gains on issues that affect all of society–-gender-based violence, women's rights, the gender pay gap, sexual harassment—issues that others have neglected. A theme heard repeatedly throughout the conference was the need for organizations that focus specifically on these issues, such as women's civil society organizations (CSOs) and women's business associations and chambers of commerce. With adequate resources, these organizations can and do create measurable impact. For example, women-focused CSOs in Mongolia have made enormous progress since the 1990s addressing gender-based violence, advancing women's rights, closing the gender pay gap, and reducing sexual harassment in the workplace, issues chronically neglected or dismissed by government agencies, public institutions, and the general public. To support the work of similar women-focused CSOs around the world, Prime Minister Justin Trudeau announced at Women Deliver that Canada would increase its global support for women's health by $1.4 billion.
4. After #MeToo, better policies and practices must follow.
Experts consistently underscored that combatting sexual harassment is central to women's economic empowerment and equality, and to greater economic growth and stability. The #MeToo movement has brought vital attention to sexual harassment, and the conference heard repeated calls for policies to make workplaces safe and welcoming for all. Having transparent sexual harassment policies that are understood and enforced, including clear reporting mechanisms, stands out as a promising approach. Promoting a culture of gender equality within an organization is central to combatting harassment and creating healthy, productive workplaces.
In her closing remarks, Katja Iverson, president of Women Deliver, made it clear that one conference on gender equality, even the world's largest, could not be an end in itself, and she handed out some assignments: collect and analyze more disaggregated data, conduct more gender analyses, work with grassroots CSOs, continue to work for equal pay and safe work environments, and engage more men. "Gender equality is everyone's business," she said, and the call to action is for everyone. Doing nothing or being quiet is not an option.
Elizabeth Silva is assistant director of The Asia Foundation's Women's Empowerment Program, Diya Nag is senior program officer at The Asia Foundation's New Delhi office, and Saranzaya Gereltod is a project officer and gender specialist at The Asia Foundation's Mongolia office. They can be reached at [email protected], [email protected], and [email protected], respectively. The views and opinions expressed here are those of the authors, not those of The Asia Foundation.
About our blog, InAsia
InAsia
is a bi-weekly in-depth, in-country resource for readers who want to stay abreast of significant events and issues shaping Asia's development, hosted by
The Asia Foundation
. Drawing on the first-hand insight of renowned experts,
InAsia
delivers concentrated analysis on issues affecting each region of Asia, as well as Foundation-produced reports and polls.
InAsia
is posted and distributed every other Wednesday evening, Pacific Time. If you have any questions, please send an email to
[email protected]
.
Contact
For questions about
InAsia
, or for our cross-post and re-use policy, please send an email to
[email protected]
.
The Asia Foundation
465 California St., 9th Floor
San Francisco, CA 94104
The Asia Foundation Supports Leaders for a Better World