The Asia Foundation Renews MOU with Myanmar Government
Nay Pyi Taw, September 3, 2019 — The Asia Foundation renewed a Memorandum of Understanding (MOU) with the Government of the Republic of the Union of Myanmar in Nay Pyi Taw on September 2, 2019, to support the country's democratic transition and efforts to address its development challenges.
Permanent Secretary and Director-General at the Political Department of the Ministry of Foreign Affairs U Soe Han and The Asia Foundation's Executive Vice President and Chief Operating Officer Suzanne Siskel participated in a signing ceremony and discussed the importance of the partnership. The ceremony was also attended by directors general, deputy directors general, and officials from the Ministry of Foreign Affairs, and representatives from The Asia Foundation.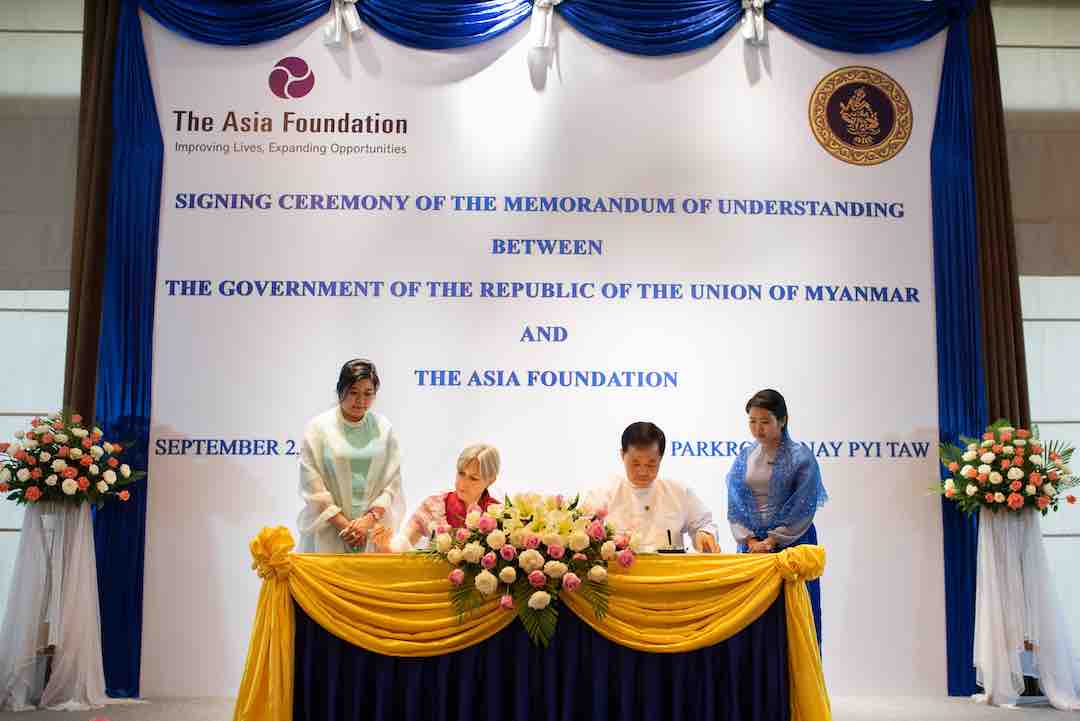 This week's signing extends the 2013 and 2016 MOUs between the government and The Asia Foundation. The Foundation re-established a resident country office in Yangon in 2013, working with partners in government, the private sector, and civil society to build the country's capacity for regional and global integration, strengthen institutions and processes of democratic governance, support initiatives for inclusive economic development, promote women's empowerment and political participation, and increase public access to information. Previously, the Foundation had a resident office in Myanmar between 1958 to 1962 which provided support to a range of intellectual and educational institutions in the country.
Suzanne Siskel remarked, "This is the third time we sign an MOU with Ministry of Foreign Affairs and we sincerely welcome and acknowledge this memorandum as another significant step forward. The signing of this MOU between our two institutions today symbolizes a strong partnership and a successful cooperation which we believe will lead to many new initiatives to support the country's historical reform process and development for the people of Myanmar."
"We hope the cooperation activities between Myanmar Government and The Asia Foundation will continue bring fruitful results which will contribute to our endeavors in building a peaceful and prosperous democratic society," said U Soe Han.
The Asia Foundation is a nonprofit international development organization committed to improving lives across a dynamic and developing Asia. Informed by six decades of experience and deep local expertise, our work across the region addresses five overarching goals—strengthen governance, empower women, expand economic opportunity, increase environmental resilience, and promote regional cooperation.
Read more about the Foundation's work.
For media inquiries, please visit our News Room. Engage with us on Facebook, Twitter, LinkedIn, and Instagram.
Read our latest news, or insights from our blog.
Media contacts
Amy Ovalle, Vice President, Global Communications
[email protected]
415-743-3340
Eelynn Sim, Director, Media & Strategy
[email protected]
415-743-3318
The Asia Foundation Supports Leaders for a Better World