The Asia Foundation Presents Public-Private Dialogue on Financial Inclusion for Rural Women SMEs in Bangladesh
November 27, 2019 — This week, the Women's Economic Empowerment through Strengthening Market Systems program, funded by the Embassy of Sweden and implemented by iDE Bangladesh and The Asia Foundation, organized a successful public-private dialogue in Dhaka, Bangladesh. Examining the challenges rural women entrepreneurs face in accessing loans, the discussion brought together central bank representatives, commercial bank representatives, private sector, public sector, and other stakeholders to explore pathways to improve the effectiveness of small and medium enterprises (SME) policies for rural women.
Dr. Atiur Rahman, former governor of Bangladesh Bank attended as a chief guest and Shitangshu Kumar Sur Chowdhury, deputy governor of Bangladesh Bank attended as a special guest.
The Honorable Ambassador of Embassy of Sweden H.E. Ms. Charlotta Schlyter opened the event by saying, "Today, 80% of the Swedish women work outside the home, but it was not always like that. Reforms over time have made it easier for women to work with affordable child care services and proactive support from the men in sharing their household work."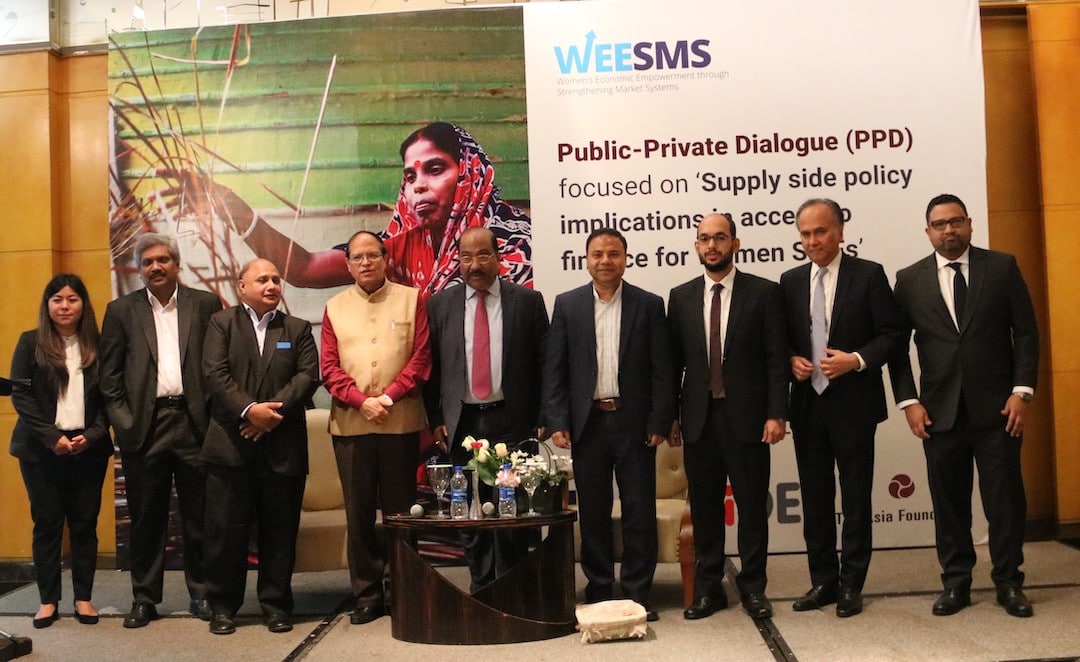 Dr. Mohammed Abu Eusuf, professor at Dhaka University, presented his analysis on "Bangladesh Bank's SME Development Strategy and its Effectiveness in Promoting Institutional Financial Facilities for Women Entrepreneurs."
The special guest for the event Shitangshu Kumar Sur Chowdhury highlighted: "We consider women entrepreneurs to be an important part of our profit generating portfolio. Women SMEs are not to be considered lightly." He also stressed: "If women have been denied a loan without collateral under the Bangladesh Bank guidelines, are encouraged to file a complaint to the central bank which will be dealt with legal severity."
The dialogue event concluded with closing remarks by former Bangladesh Bank Governor Atiur Rahman, who talked about Bangladesh Bank's standing in the global arena as a champion of green financing, inclusive financing, and an exemplar development-centric regulator. In his ending note, he added, "The most important element of digital transformation is partnership. In development partnerships, it's not only social development, it's a change in mindset, and how we make an impact on society should be our area of focus." He also accentuated the need of monitoring for existing policy implementation and how anecdotal evidence can encourage more women entrepreneurs to get enrolled in the SME sector.
The Asia Foundation is a nonprofit international development organization committed to improving lives across a dynamic and developing Asia. Informed by six decades of experience and deep local expertise, our work across the region addresses five overarching goals—strengthen governance, empower women, expand economic opportunity, increase environmental resilience, and promote regional cooperation.
Read more about the Foundation's work.
For media inquiries, please visit our News Room. Engage with us on Facebook, Twitter, LinkedIn, and Instagram.
Read our latest news, or insights from our blog.
Media contacts
Amy Ovalle, Vice President, Global Communications
[email protected]
415-743-3340
Eelynn Sim, Director, Media & Strategy
[email protected]
415-743-3318
Support Women Forest Defenders
Join us this holiday season to help untapped leaders like Sumini and the Women Forest Defenders battle rampant deforestation in Indonesia.