The Asia Foundation Hosts "Safety for She" Conference with SafetiPin, KOICA, and CSR
December 9, 2019 — The Asia Foundation, with support from the Korea International Cooperation Agency (KOICA) and in partnership with SafetiPin and the Centre for Social Research (CSR), held a national conference, Safety for She: Building Equitable Urban Spaces. The conference brought together experts and stakeholders and facilitated discussions on how to improve women's access to all public places by creating an enabling public ecosystem in cities.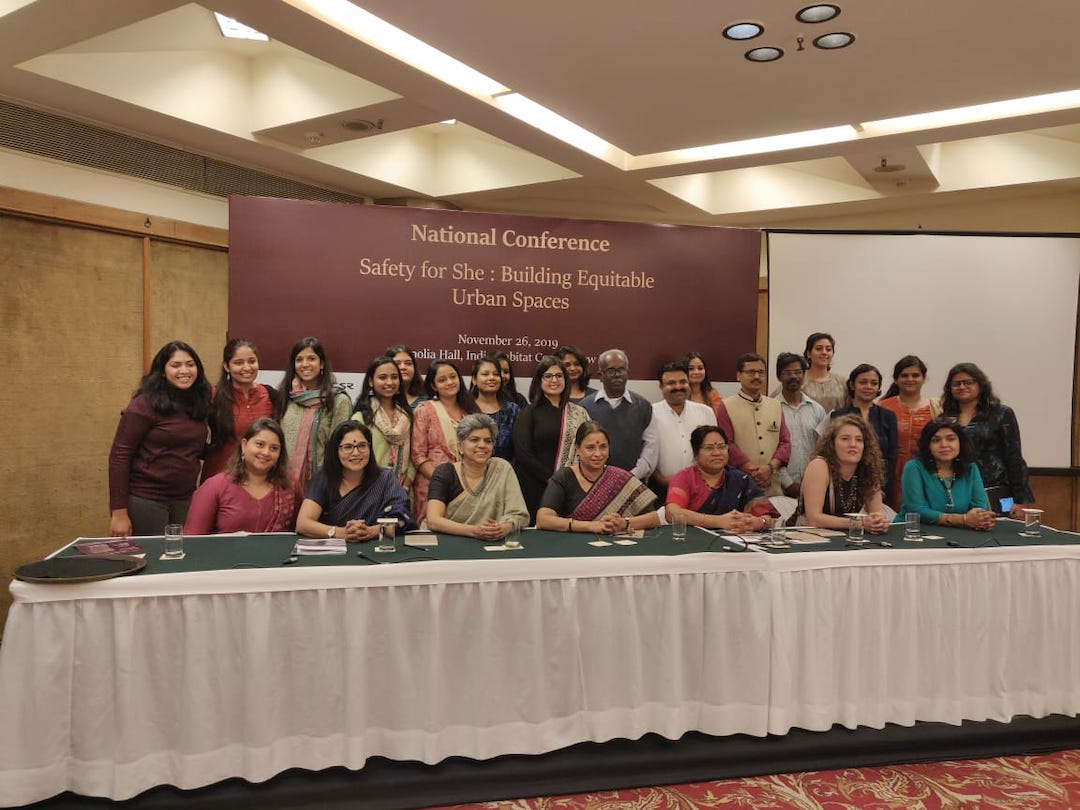 The Foundation's Country Representative in India Nandita Baruah set the tone for the day by urging participants to identify specific actions which improve women's access and safety in public places. The sessions covered women's rights to access and enjoy cities, breaking gender stereotypes, accounting for women's intersectional identities, and the importance of public transportation in women's mobility.
The "Women Have the Right to Access and Enjoy Their City" session emphasized the need for stakeholders such as government, police, and civil society stakeholders to ensure that women do not face violence while accessing the city. This was a pertinent contribution to the global conversation during the 16 days of Activism Against Gender-Based Violence. During this session Dr. Kalpana Viswanath, co-founder and CEO of SafetiPin, presented the SafetiPin mobile app and how it is used along with a survey of women and discussions with transportation service providers to help civic bodies and the police make informed decisions to improve women's safety.
Guest of honor H.E. Shin Bongkil, the Republic of Korea's ambassador to India shared how initiatives focused on the needs and rights of women were rolled out by the Seoul metropolitan corporation—from walk paths that are high heel friendly to reserved seats in public transport for pregnant women. Transport & Environment Minister for Delhi Kailash Gahlot spoke about the pink ticket initiative that makes bus travel free for all women in Delhi.
Key takeaways from the sessions include:
A strong case was made in favor of working with men and boys to create allies for empowered women. Experts insisted on sustainable initiatives instead of one-time interventions.
Public places are made up of women with different social and economic vulnerabilities; panelists highlighted the importance of staying away from a one size fits all narrative when looking at public place safety.
Safe, affordable, and clean public transportation is a key step to increasing women's mobility, and thereby improving access to economic and social opportunities.
Measurement is critical to intervention. Panelists underscored that collecting data is a political act, noting that availability and quality of data is a concern in India.
The Asia Foundation is a nonprofit international development organization committed to improving lives across a dynamic and developing Asia. Informed by six decades of experience and deep local expertise, our work across the region addresses five overarching goals—strengthen governance, empower women, expand economic opportunity, increase environmental resilience, and promote regional cooperation.
Read more about the Foundation's work.
For media inquiries, please visit our News Room. Engage with us on Facebook, Twitter, LinkedIn, and Instagram.
Read our latest news, or insights from our blog.
Media contacts
Amy Ovalle, Vice President, Global Communications
[email protected]
415-743-3340
Eelynn Sim, Director, Media & Strategy
[email protected]
415-743-3318
Leaders on the Frontlines:
Leaders for a Better World
Tuesday, November 9, 2021, 6PM PT