100 Female Scholars in Rural Cambodia Complete Girls Learning & Leading Program
Phhom Penh, December 17, 2019 — Shiseido Asia Pacific and The Asia Foundation have successfully concluded the inaugural Girls Learning & Leading (GLL) program, a scholarship program empowering marginalized young women at a critical time when many drop out of school to find paying jobs. The first cohort of 102 female scholars in Cambodia completed the eight-month program with impressive academic results and critical soft skills development. With the success of the pilot GLL program, plans are underway in 2020 to expand the program to more high schools in Cambodia; as well as other Southeast Asian countries in the longer term. Read more about the program launch.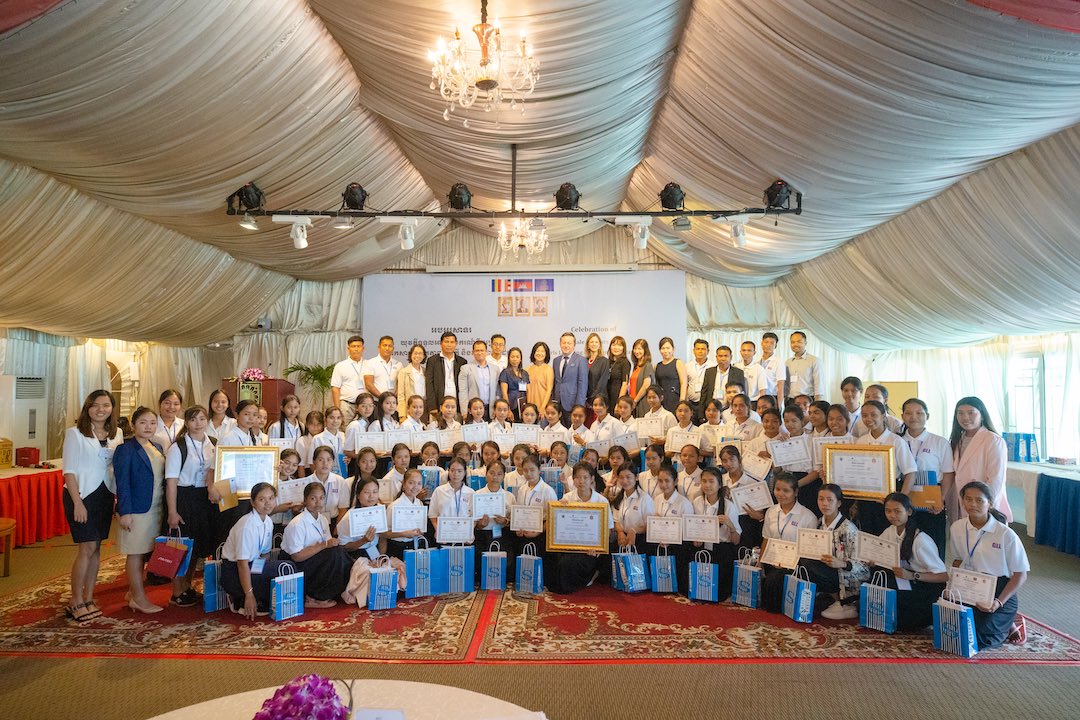 The pilot program, which ran from May to December 2019 in grades 10–12 at Norodom Secondary School in the rural Prey Veng province, saw notable outcomes, including:
94% of the Grade 12 students passed the National Baccalaureate examination compared to the national average of 68%
20% of the Grade 12 students have already been offered scholarships to international universities
100% of the Grade 10 and 11 scholars have successfully moved up to the next grade
In addition to academic support, the GLL program proactively focused on developing critical soft skills, an area identified by employers in Cambodia as necessary for young people in gaining meaningful employment.
The scholars were encouraged to cultivate these soft skills, including problem solving, critical thinking, leadership, communication skills and teamwork, through real-life scenarios or action projects designed to bring positive change to their school and local communities. At the recent graduation ceremony, the female scholars presented their action projects and were mentored by key senior Shiseido leaders, including Jean-Philippe Charrier, president & CEO of Shiseido Asia Pacific.
The winning action project "Club Study" was comprised of a team of 10 scholars providing tutoring sessions in subjects such as math, science, reading and writing to 70 fellow secondary school students and to younger children in the larger community. Over two and a half months, the female scholars exceeded their target goal and completed a total of 110 tutoring sessions or approximately 220 hours. Other notable action projects include a recycling system to turn plastic waste into materials for a school gardening project and a creative initiative that leverages art to convey educational messages.
Pao Makara, leader of the winning action project, said: "My team members and I are so excited to win first place. We will continue to volunteer our time to tutor children in the community and our peers in school. The GLL program is truly inspirational; it has provided young women such as me with hope, courage and helped us to achieve our goals. I hope that the GLL program will be continued in my school and implemented in other schools across Cambodia."
With the completion of this pilot program, the teachers and scholars have seen a noticeable difference in their leadership abilities, public speaking skills and self-confidence. Together, Shiseido Asia Pacific and The Asia Foundation will continue to empower young women and make a meaningful impact in Cambodia in 2020.
The Asia Foundation is a nonprofit international development organization committed to improving lives across a dynamic and developing Asia. Informed by six decades of experience and deep local expertise, our work across the region addresses five overarching goals—strengthen governance, empower women, expand economic opportunity, increase environmental resilience, and promote regional cooperation.
Read more about the Foundation's work.
For media inquiries, please visit our News Room. Engage with us on Facebook, Twitter, LinkedIn, and Instagram.
Read our latest news, or insights from our blog.
Media contacts
Amy Ovalle, Vice President, Global Communications
[email protected]
415-743-3340
Eelynn Sim, Director, Media & Strategy
[email protected]
415-743-3318
Support Women Forest Defenders
Join us this holiday season to help untapped leaders like Sumini and the Women Forest Defenders battle rampant deforestation in Indonesia.