The Asia Foundation Receives Pacific Century Institute 2020 Building Bridges Award
San Francisco, February 28, 2020 — The Asia Foundation, an international development nonprofit addressing Asia's most critical issues, recently received Pacific Century Institute's 2020 Building Bridges Award. President David D. Arnold accepted the Institutional award on behalf of the Foundation at the 2020 PCI Annual Award Dinner on Thursday, February 27 in Los Angeles. Dr. Siegfried S. Hecker of Stanford University received the Individual award.
PCI President, Ambassador Raymond F. Burghardt served as master of ceremonies. PCI chair and Asia Foundation trustee Ambassador Kathleen Stephens provided welcome remarks. PCI vice president, Professor Tom Plate led a panel discussion with David Arnold and Dr. Siegfried S. Hecker. David's remarks emphasized global and regional trends along with The Asia Foundation and PCI's overlapping areas, including leadership exchanges and education programs that address these challenges. "What happens in Asia impacts the entire globe. Unprecedented urban migration, rising inequality, potent ethnic conflicts, dramatic environmental changes and disasters, and rapid shifts in leadership and policies."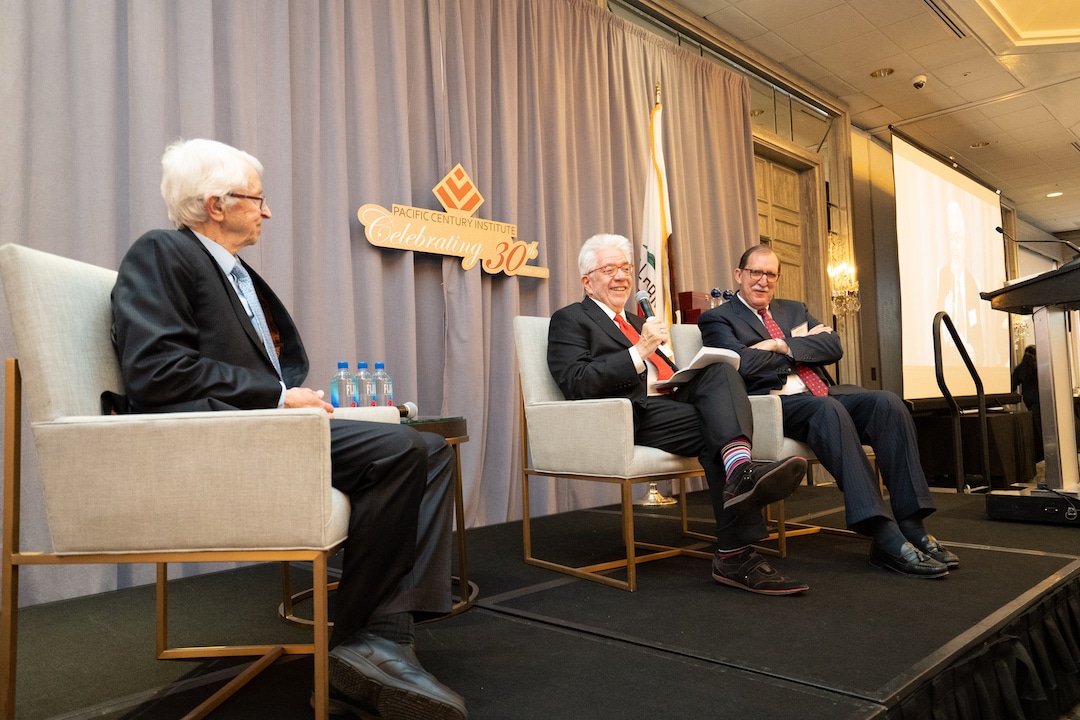 The Asia Foundation is taking on these mounting development challenges through a number of programs and impacts. The Foundation invests in the human capital needed for Asian societies to develop and flourish, and has long worked to identify, equip and develop leaders of consequence—from emerging, next generation development and policy leaders in Asia, to highly accomplished leaders who seek to do more.
The Asia Foundation Development Fellows program enhances leadership skills, Asian development knowledge, professional networks, and international exposure for Asian professionals under age 40, who have demonstrated outstanding commitment, integrity, and leadership potential within their professional fields and within their larger community. With support from the Henry Luce Foundation, the Young Asian Diplomats Program promotes leadership development for the next generation of Asian diplomats and builds networks and prospects for multilateral cooperation in the region.
In areas that are remote, impoverished, or torn by the tumult of war, getting books to children is almost impossible. These young people have limited opportunities for education, making it hard for them to move from poverty to self-sufficiency. Our Books for Asia program has donated 52 million books to students in need, and their lives were changed forever. Now, we can reach even more thanks to our free digital library, Let's Read, which will provide more than 8,000 titles in 40 languages across Asia by 2020.
The Pacific Century Institute (PCI) is a nonprofit 501(c) organization based in Los Angeles, California with its focus in "building bridges between countries and people." The Pacific Century Institute established the Building Bridges Award in 2000 to honor people who have enhanced relations between Americans and Asians and who exemplify PCI's commitment to building bridges to a better future. Every year, academics, policy makers, journalists and interested individuals come together at an annual dinner to present the award. Find out about past awardees.
The Asia Foundation is a nonprofit international development organization committed to improving lives across a dynamic and developing Asia. Informed by six decades of experience and deep local expertise, our work across the region addresses five overarching goals—strengthen governance, empower women, expand economic opportunity, increase environmental resilience, and promote regional cooperation.
Read more about the Foundation's work.
For media inquiries, please visit our  News Room. Engage us with #AsiaDevFellows on Facebook, Twitter,  LinkedIn, and Instagram.
Read our latest news, or insights from our blog.
Media contact
Eelynn Sim, Director, Media & Strategy
[email protected]
415-743-3318
The Asia Foundation Supports Leaders for a Better World