Asia Foundation and VWEC Organize ASEAN Women CEO Summit
November 17, 2020 — On November 9, 2020, the Vietnam Women Entrepreneur Council (VWEC), focal point for the ASEAN Women Entrepreneur Network, organized the ASEAN Women CEO Summit themed "Making changes for stronger and more responsive women entrepreneur community." The event is part of related activities leading up to the 37th ASEAN Summit, November 12-15.
The summit was opened by the vice president of Vietnam and gathered more than 500 participants both on and offline, including representatives from Vietnamese ministries, the ASEAN Secretariat, ASEAN Women's Committee, embassies in Hanoi, international organizations, business associations, and women entrepreneurs from different ASEAN countries. The summit featured four sessions on the response to Covid-19, the acceleration of digital transformations and the comprehensive recovery of female-owned businesses, gender-smart investment, and the promotion of effective cooperation via women-to-women networks.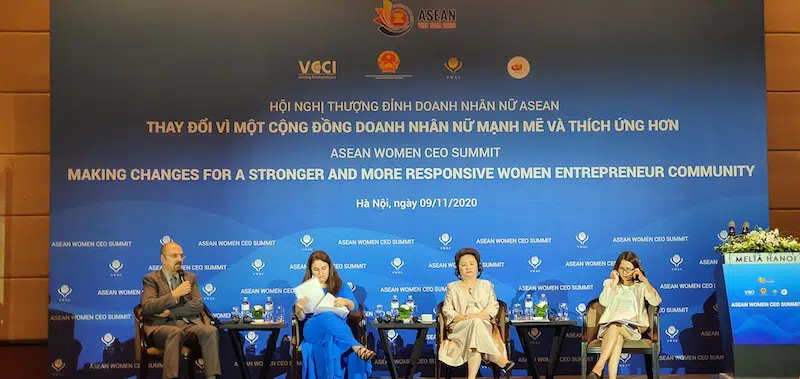 Michael DiGregorio, The Asia Foundation's country representative in Vietnam, presented during the Gender Smart Investing session together with the country representative of UN Women in Vietnam, deputy director general of the Ministry of Planning and Investment's Enterprise Development Bureau, chairwomen of Philippines National Bank and chairwomen of BRG Group.
At the summit, a number of recommendations were approved on improving businesswomen's access to support resources from governments, credit institutions, and social organizations; developing human resources, capacity, access to new technologies, and digital literacy; boosting digital transformation in women-owned enterprises; and building a gender-responsive ecosystem to nurture enterprises. DiGregorio noted that gender-smart investing is a shared value opportunity that integrates women's life experiences and capacities into investment analysis and strategy in order to increase profits while reducing gender inequalities.
The Asia Foundation Vietnam office has collaborated with VWEC since 2014 on different research and advocacy efforts. Through VWEC, The Asia Foundation supported activities of AWEN, especially during 2014-2016 when it was newly established; as well as this 2020 Summit which is a part of The Asia Foundation/VWEC partnership to support VWEC in fulfilling its role as Vietnam focal point for AWEN while Vietnam assumes the role as chair of ASEAN.
The Asia Foundation is a nonprofit international development organization committed to improving lives across a dynamic and developing Asia. Informed by six decades of experience and deep local expertise, our work across the region addresses five overarching goals—strengthen governance, empower women, expand economic opportunity, increase environmental resilience, and promote international cooperation.
Read more about the Foundation's work.
For media inquiries, please visit our News Room. Engage with us on Facebook, Twitter, LinkedIn, and Instagram.
Read our latest news, or insights from our blog.
Media contacts
Amy Ovalle, Vice President, Global Communications
[email protected]
415-743-3340
Eelynn Sim, Director, Media & Strategy
[email protected]
415-743-3318
2023 Lotus Leadership Awards
Join us in New York on April 26, 2023, to honor Gloria Steinem, Google.org, and HAkA.