Virtual Event – The Economist's Technology for Change Week Asia
Event: March 8-12, 2021, Singapore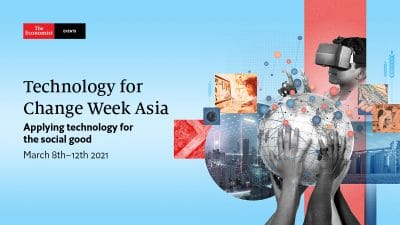 The Covid-19 pandemic alone has plunged over 490 million people back into poverty, magnifying inequalities around the world. How can Asia lead the world in harnessing the power of technology for change?
The Asia Foundation is pleased to support The Economist's inaugural Technology for Change Week Asia, a virtual summit bringing together 700+ leading policymakers, entrepreneurs, and decision-makers from major corporations, big tech, finance and NGOs. The week-long event will explore the issues affecting over five billion citizens in Asia and discuss how technology and data-driven solutions can mitigate the growing divide between the connectivity haves and have nots.
Please join us for a special Asia Foundation presentation on Go Digital ASEAN in the "Action Hour: Case Studies" as part of Day three's theme on "education and re-skilling: digital inclusivity for disadvantaged youth and future-proofing jobs." Please check your local time/day for our presentation on March 11, 11:00 AM – 12:00 PM HKT (GMT+8h.)
Go Digital ASEAN is a digital skills training initiative to unlock economic opportunity and help minimize the negative impact from the Covid-19 crisis across the region. Endorsed by all 10 Member States and the ASEAN Secretariat, and supported by Google.org, the project will reach 200,000 micro-entrepreneurs, women, and youth in rural and isolated communities.
Featuring
Meloney C. Lindberg, Country Representative, Cambodia, The Asia Foundation
Marion Neubronner, Senior assistant director, National University of Singapore
Support Women Forest Defenders
Join us this holiday season to help untapped leaders like Sumini and the Women Forest Defenders battle rampant deforestation in Indonesia.