Sustainable Fashion Pioneer Eileen Fisher and Sri Lanka's Women In Need to be Honored at 2021 Lotus Leadership Awards
San Francisco, April 20, 2021 — The 2021 Lotus Leadership Awards will honor Eileen Fisher for her pioneering leadership in women's economic empowerment and sustainability, and Women In Need (WIN), a nonprofit partner working to end gender-based violence in Sri Lanka. The celebration will take place virtually on Wednesday, April 28th and features appearances by ABC "Nightline's" Juju Chang and "Law and Order: SVU" actor Mariska Hargitay.
The Asia Foundation salutes longtime partner Women In Need, an organization that in the last decade has supported 500,000 women and girls throughout Sri Lanka in living their lives free of violence, and Eileen Fisher, who has defined her business through her commitment to collaboration, sustainability, and advancing women's empowerment and leadership.
"Both Eileen Fisher and Women In Need share an extraordinary view of improving society through their work. They are making lasting change, improving lives, expanding opportunities for women and helping societies flourish. These are the very characteristics that define The Asia Foundation and we are thrilled to honor them both," remark Lotus Leadership Awards co-chairs Winnie C. Feng and Lin Jamison.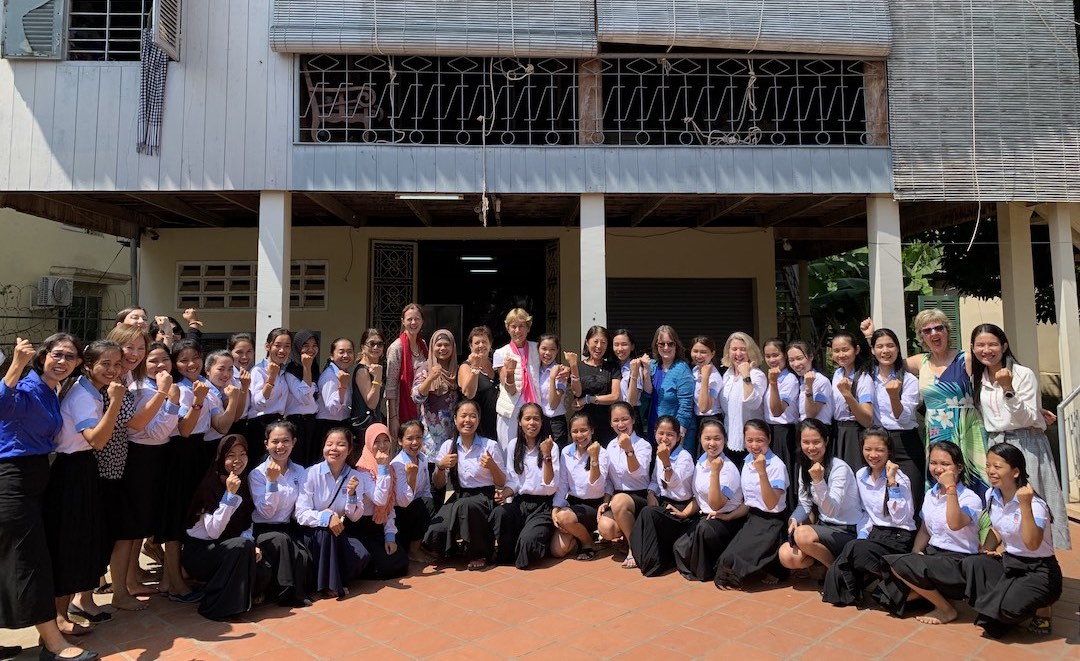 Proceeds from the Lotus Leadership Awards will go to the Foundation's Women's Empowerment Fund, providing vital support to projects that advance gender equality and address women's rights and security, promote women's economic empowerment and girls' education, and amplify women's voice and leadership in Asia and the Pacific.
Eileen Fisher notes her affiliation with the Lotus Circle as particularly fitting: "A circular model means there's a future that's different from the one in the forecast right now. A future where we make and consume the right things, not everything. And it means doing business in a way that improves the lives of the people who make our clothes."
EILEEN FISHER Inc. recycles resources by working with farmers who regenerate landscapes and adopting a manufacturing process that eliminates waste, a unique perspective in a time of disposable fashion, one of the most destructive industries in the world.
When the pandemic and lockdowns hit Sri Lanka, Women In Need (WIN) conducted a rapid assessment of women's needs. WIN quickly established telephone counseling, legal advice services, psychosocial support, and relief packages, all while advocating for protocols, policies, and resources to address the gendered impacts of the pandemic.
WIN executive director Savithri Wijesekara says: "I realized as a very young lawyer that domestic violence is common, hidden, and affects all parts of society. WIN's motto is 'Break the silence and win against violence.' Realizing the impact of not only saving someone's life, but showing her options, so that she can come out of an abusive relationship and start a whole new productive life, that's the biggest happiness for me."
Funding from the Lotus Circle—a community of philanthropists committed to advancing women's rights and opportunities in Asia—allows the Foundation's Women's Empowerment and Gender Equality Program to seed and sustain innovative projects that make a real difference in the lives of women and girls in Asia.
The Asia Foundation thanks our generous supporters: Premier Sponsors Bank of America and Mastercard; Golden Benefactor Kirkland and Ellis; Benefactors China Guardian Auctions and EILEEN FISHER Foundation; Patrons Christie's, Gilead, and McCormick; and Promotional Sponsor Modern Luxury Media.
The Asia Foundation is a nonprofit international development organization committed to improving lives across a dynamic and developing Asia. Informed by six decades of experience and deep local expertise, our work across the region addresses five overarching goals: strengthen governance, empower women, expand economic opportunity, increase environmental resilience, and promote international cooperation.
Register for the virtual 2021 Lotus Leadership Awards and learn more about the Lotus Circle.
For media inquiries, please visit our News Room. Engage with us on Facebook, Twitter, LinkedIn, and Instagram.
Read our latest news, or insights from our blog.
Media contacts
Amy Ovalle, Vice President, Global Communications
[email protected]
415-743-3340
Eelynn Sim, Director, Media & Strategy
[email protected]
415-743-3318
Support Women Forest Defenders
Join us this holiday season to help untapped leaders like Sumini and the Women Forest Defenders battle rampant deforestation in Indonesia.