Local Leaders Mentored on "Politically Smart" Policy Reform in Philippines
July 30, 2021 — The inaugural cohort of The Asia Foundation's Coalitions for Change (CfC) Mentoring Program was launched in January 2021. Selected leaders were trained in the art of development entrepreneurship (DE), CfC's adaptive and politically smart methodology. DE means being entrepreneurial in the approach to development: start with resources available, make small bets, and learn by doing. DE recognizes the value of networks while continually adapting to the context of development.
This approach is the cornerstone of CfC, supported by the Australian Embassy in the Philippines. The program identifies and pursues policy reforms in the Philippines. Through the mentoring program, participants learn from veteran policy experts and widely recognized development entrepreneurs. Mentors coach mentees based on their knowledge, skill levels, and the individual reform goals set. CfC Program Leader Erika Geronimo shares: "We got the best of our partners to train interested and committed leaders who are eager to apply development entrepreneurship in their own reforms. We wanted to go deeper and build the capacities of leaders to not just learn DE in theory but apply it in practice."
The first cohort was composed of leaders with different backgrounds. Some came from the national government, others from civil society organizations working on local reforms, and some were influencers seeking to change the internal workings of their respective organizations.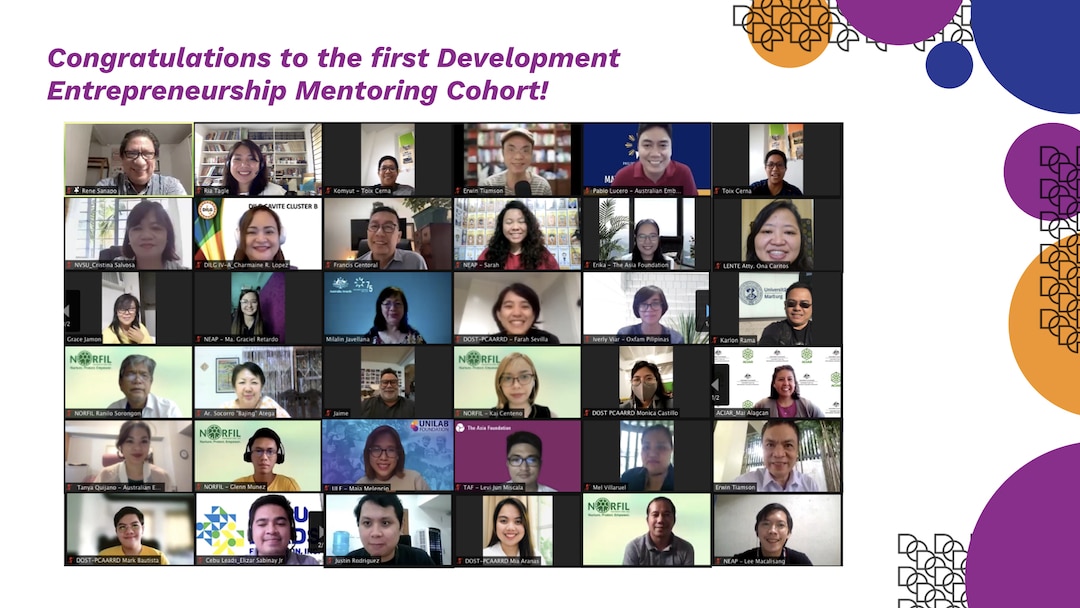 To promote reflection and learning, CfC held a Mentoring Culmination from July 23 to 24. Panel discussions among the mentees highlighted the value of the DE approach, given the mentees' various reform contexts. The event showcased their achievements, from developing problem diagnostic tools to presenting advocacy pitches. While outputs were varied and goals were recalibrated during the program, mentoring proved effective in teaching DE. Mentees shared that they were able to learn and unlearn approaches to selecting and pursuing politically feasible policy reforms. Mentees were able to learn at their own pace, act on their policies in real-time, and most importantly, apply DE to their respective contexts.
Iverly Viar of Oxfam Pilipinas learned to re-examine the problem of improving sexual rights by taking note of the social and political factors hampering previous reform efforts. With mentoring, she has now identified new reform routes. The Cebu Leads Foundation, Inc. has been passionate about improving access and resources to clean water, but efforts were stalled for years. Mentoring allowed them to take a step back, and they are now exploring new public-private partnership models.
"The DE Mentoring Program has shown me that the effective mentor-mentee relationship is anchored on reciprocity and collaboration. My mentor emphasized that our learning is a collegial exchange, and it helped to know that we are both learning from each other, taking on different vantage points." – Charmaine Lopez, Department of Interior and Local Government Region IV-A.
"I would recommend DE because, for one, it's really liberating. We reached out to a lot of people that we don't normally connect with. We asked questions that we don't normally ask and probed those issues. It's empowering to make that decision and be accountable for the decisions that we took as a team." – Mia Barbara Aranas, Department of Science and Technology Philippine Council for Agriculture, Aquatic, and Natural Resources Research and Development.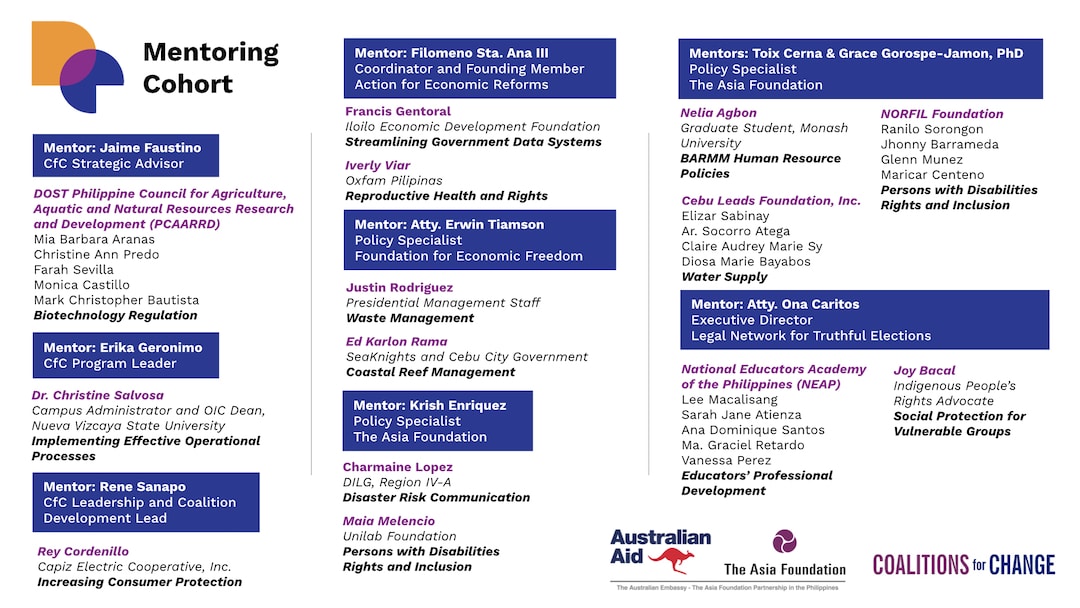 CfC Strategic Advisor Jaime Faustino emphasized: "the model of Development Entrepreneurship is based on leaders who provide the energy, passion, and dynamism to make things happen." He congratulated the mentees on being "new champions in reform and making the Philippines a better place."
Pablo Lucero, Australian Embassy in the Philippines portfolio manager for Governance, also congratulated the first mentoring cohort. "Australia remains committed to working together with Philippine leaders, especially with advocates who work to advance reforms that are beneficial to the welfare of Filipinos, particularly the poor and vulnerable," he said. Pablo encouraged mentees to continue pursuing reforms and asking hard questions beyond the program.
CfC's mentoring program established a new pathway for introducing DE skills to local reform leaders. "I was happy to hear my mentees talking about their experience and their learning in the past six months. The two points that they raised are that they learned to be consultative in their work, and they learned to network and collaborated with other organizations—those are really the two things that I wanted them to learn in our six-month DE journey," remarked Atty. Ona Caritos, one of the mentors and currently the executive director of Legal Network for Truthful Elections Development Practitioners, can continue learning about DE through its website and Facebook page.
Coalitions for Change is a program of the Australian Government and The Asia Foundation partnership in the Philippines. CfC's support for local leaders and organizations has helped introduce policy reforms that improve the lives of Filipinos. The program uses the development entrepreneurship approach and provides training and mentoring support for leaders to pursue policy reforms more effectively.
Read more about the Foundation's work.
For media inquiries, please visit our News Room. Engage with us on Facebook, Twitter, LinkedIn, and Instagram.
Read our latest news, or insights from our blog.
Media contacts
Amy Ovalle, Vice President, Global Communications
[email protected]
415-743-3340
Eelynn Sim, Director, Media & Strategy
[email protected]
415-743-3318
Support Women Forest Defenders
Join us this holiday season to help untapped leaders like Sumini and the Women Forest Defenders battle rampant deforestation in Indonesia.