The Asia Foundation Selects Inaugural Class of LeadNext Fellows
San Francisco, January 10, 2022 — The Asia Foundation welcomes the inaugural class of LeadNext Fellows: Ambassadors for a Global Future, a new program focused on global citizenship for the 21st century. The 2022 program begins this week and brings together its first cohort of emerging changemakers, each with the potential to move ideas and action forward and empower communities most vulnerable and insecure. The 20 fellows hail from ten countries in the Asia-Pacific region (Bangladesh, Cambodia, India, Indonesia, Mongolia, Papua New Guinea, the Philippines, Sri Lanka, Timor-Lester, Tonga) and ten cities across six states in the U.S. (California, Illinois, Maryland, New York, Ohio, Oregon).
The LeadNext Fellows are dynamic emerging leaders aged 18-25 from diverse sectors committed to addressing issues such as climate change, inequality, injustice, poverty, and other pressing issues. Over the course of the new Asia Foundation leadership program, the fellows will collaborate, share best practices, provide new insights from their respective country contexts and applications of their work, and grow as leaders alongside one another.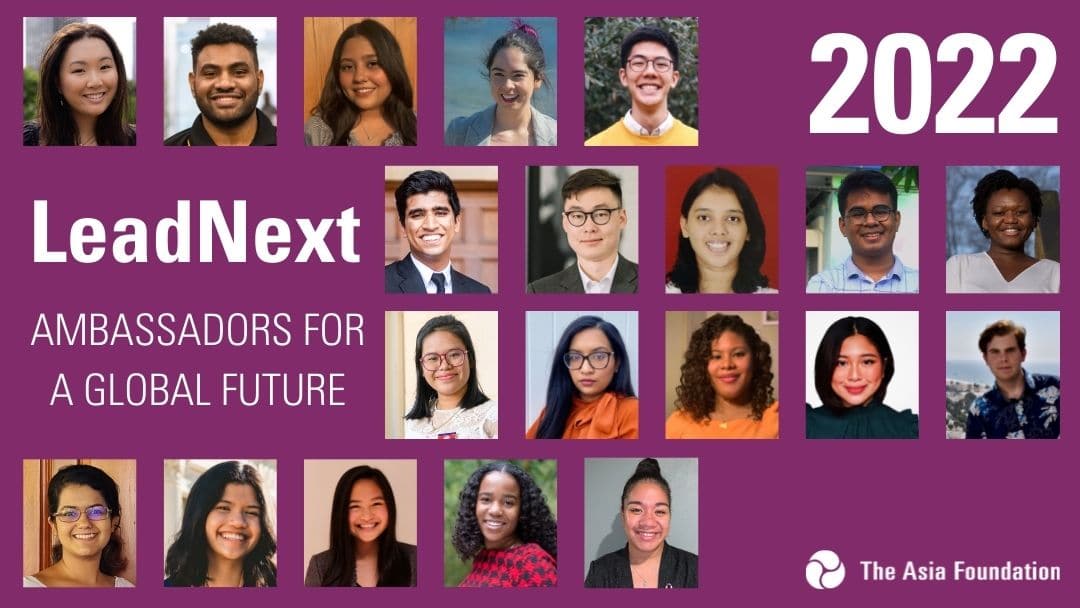 The program begins this week with a Leadership Training Intensive. From January-February, the Fellows will meet regularly to build competencies in global citizenship and effective leadership. From March-July, they meet once a month for Virtual Masterclasses with global experts tackling a range of social issues in the U.S. and Asia. During this time, each fellow will be paired with a professional mentor to support their growth and development. A Global Leaders Summit, the program's capstone convening, is scheduled for the week of August 8th. Fellows will gather in the San Francisco Bay Area to deepen and expand their learning from the previous eight months through exchange, continued leadership development programming, and exposure to cutting-edge approaches and best practices in innovative leadership.
Meet the 2022 LeadNext Fellows:
Asia-Pacific Fellows
Lochana Gayatri Anand Adivarekar, 23 years (India) works with adolescents and youth around Gender and Sexuality, particularly as a Training and Advocacy Consultant for YUVA and as a mentor engaging youth in policymaking and governance processes. She has initiated a movement named "Ubuntu" with a vision of creating a gender-inclusive world.
Mayabee Arannya, 23 years (Bangladesh) is a feminist activist working to end gender-based violence (GBV) in her country. She is the Community and Strategy Lead at Kotha, a local feminist youth-led organization tackling the root causes of GBV. Kotha's work lies at the intersection of education, research, policy advocacy, and art.
Ana Malia Falemaka, 18 years (Tonga) is a first-year law student at the University of the South Pacific Tonga. She is a youth ambassador and trainee at the Talitha Project Tonga supporting women and girls' empowerment programs and a youth climate ambassador for Care Australia.
Sopharoth Ith, 22 years (Cambodia) is a first-generation college student awarded a SHE-CAN scholarship to pursue college education in the U.S. She intends to bring her knowledge home to expand educational opportunities for Cambodians—especially women and girls—as a path toward poverty alleviation. Having represented Cambodia to multiple international forums, she hopes to join the growing number of female policymakers impacting gender equality in Cambodia.
Nelson Kokoa, 24 years (Papua New Guinea) is a multi-disciplinary storyteller with a keen interest in public speaking, creativity, design, and theater arts. Recognized as a Clean Generation leader with The Voice Inc. – a youth development organization aimed at equipping young with the tools to be change agents – and a local actor at the Moresby Arts Theatre, he has been involved in innumerable youth development programs, historical and ground-breaking theatre shows, devoting his time to use his love for the arts to develop, inspire and empower young people in his country.
Christine Rose L. Lapada, 24 years (Philippines) is a Youth Leader and a Human Rights and Grassroots Legal advocate with experience in legal and community development research. She currently works as a Research Assistant and Legal Intern at the Ateneo Human Rights Center and as a Student Recruitment Coordinator and Volunteer Tutor at Tutors for Leni.
Ryenchin Myagmarsuren, 23 years (Mongolia) is a program coordinator at Zorig Foundation (ZF), a prominent non-profit organization in Mongolia. He runs a program providing professional development training and mentoring to more than 90 high school students across the country, manages Athlete Leadership Program (ALP), helping professional athletes with career transition after retirement, and co-organizes a Women in STEM project promoting women's leadership.
Ivo Ribeiro, 19 years (Timor-Leste) is majoring in Economics at Joao Saldanha Institute and is passionate about socio-economic development, communications, and youth engagement. In early 2020, he co-founded Youth for Others, a group of motivated on-the-ground volunteers to respond to severe flooding in his country.
Faye Simanjuntak, 19 years (Indonesia) is the founder of Rumah Faye, a non-profit working to eradicate child sexual abuse, trafficking, and exploitation through prevention, rescue, and rehabilitation programs, assisting in the recovery of over 140 girls. She was recognized on Forbes Indonesia's 30 under 30 list and the Young Asians to Watch list by The Strait Times.
Piyumi Wattuhewa, 21 years (Sri Lanka) works as the Advocacy Lead and Sinhala Language Spokesperson at Sisterhood Initiative, a young women's organization based in Sri Lanka, focused on creating a safe space for Muslim women. She has experience carrying out awareness campaigns relating to women's leadership and prevention of violence against women and girls and research related to online GBV and digital security.
U.S. Fellows
Eliya M. Baron Lopez, 25 years (San Francisco, CA) became dedicated to ocean conservation after growing up in the Monterey Bay Area. She has published on the global issues of marine plastics and South Korean maritime disputes and worked in the marine debris field as a researcher at the New England Aquarium, URI, and Scripps Institution of Oceanography. She is currently a Fulbright student at the Korea Institute of Ocean Science and Technology, researching South Korean marine plastics policy.
Shubham Gupta, 21 years (San Diego, CA) is a senior at UCLA majoring in Public Affairs and minoring in Global Studies and Chinese. He was recently awarded a fellowship from the UCLA Asia Pacific Center to study sexual assault and resource accessibility for migrant workers in Taipei and migration flows in California. Shubham directs several dance teams at UCLA.
Sora Heo, 21 years (Glenview, IL) is the proud product of immigrants and has been active in immigrant and refugee advocacy and justice causes on campus and in the Chicago-area community. She studies International Studies-Political Science and Arabic, has worked on multiple national political campaigns.
Anne-Marcelle Kouame, 25 years (Germantown, MD) is a certified YouMap© coach, ally-leader, and creator of Silk Road Journey, a self-discovery story lab that affirms students' individual strengths through stories that celebrate their cultural backgrounds. As a student leader, she led dozens of minority-inspired student initiatives and pursued a migrant-focused linguistic study across France, Tunisia, and Morocco. She is Ivorian-American.
Johileny Meran, 25 years (New York, NY) is a Program Coordinator with the National Clearinghouse on Disability and Exchange, working to increase the participation of people with disabilities in international exchange. She has worked with the American Association for People with Disabilities (AAPD) and with the National Disability Rights Network (NDRN). She is a Dominican immigrant and was motivated to pursue an international disability rights career after experiencing "accessibility shock" during a visit to her home country.
Mary Mijares, 22 years (Richmond, CA) is a first-generation Filipina immigrant and a recent University of California, Berkeley graduate. She has worked in research programs at Berkeley Law's Human Rights Center, the Institute for Research on Labor & Employment, and Amnesty International's Tech and Human Rights Department. She is also an artist and musician.
Nirmala Singh, 25 years (Jamaica, NY) has over five years of experience creating programs and partnerships in the nonprofit sector and various levels of government focused on gender equity and women's empowerment. She serves as the Community Programs Manager for RISE, is a co-founder of South Queens Women's March, and previously worked in the NYC Office of the Mayor working on women's and immigration programs.
Alec Stimac, 21 years (Broadview Heights, OH) is a junior and Belk Scholar at Davidson College in North Carolina studying International Relations and Chinese Studies. He is currently working for Morocco World News and writing an independent study project on the Algerian Moroccan border tension while studying abroad in Rabat, Morocco. He hopes to work in development, strategic affairs, or journalism within the Asia Pacific.
Ayodele Theard-Lewis, 20 years (Portland, OR) identifies as Haitian and African American and currently attends Xavier University of Louisiana, a Historically Black University in New Orleans. Her goals are to become an educator and a national educational policymaker. She currently serves on two board committees of a public charter school in New Orleans and a teacher's assistant in 2nd-grade classrooms.
Brendan Wong, 23 years (Roland Heights, CA) works as a legal clerk in Los Angeles conducting research and, using his bilingual skills in Chinese and English, supporting clients with limited English proficiency. He is passionate about analyzing anthropogenic impacts on our ecosystems and is actively pursuing a career in environmental justice.
The Asia Foundation is a nonprofit international development organization committed to improving lives across a dynamic and developing Asia. Informed by six decades of experience and deep local expertise, our work across the region is focused on good governance, women's empowerment and gender equality, inclusive economic growth, environment and climate action, and regional and international relations.
Read more about the Foundation's work.
For media inquiries, please visit our News Room. Engage with us on Facebook, Twitter, LinkedIn, and Instagram.
Read our latest news, or insights from our blog.
Media contacts
Amy Ovalle, Vice President, Global Communications
[email protected]
415-743-3340
Eelynn Sim, Director, Media & Strategy
[email protected]
415-743-3318
2023 Leaders on the Frontlines
Join us in San Francisco on October 12, 2023, to honor Niwat Roykaew.