DemRes Goes to Campus to Combat Disinformation Ahead of Indonesia's 2024 Election
Program Year: 2023
In Indonesia, the youth's participation in political discourse is relatively low despite being very active internet users. Youth groups are vulnerable to disinformation and misinformation, and providing them with tools to identify fake news and online misinformation is necessary in anticipation of the 2024 elections.
To raise public awareness of the danger of identity politics and hoaxes for young voters, The Asia Foundation supported local partners in organizing a training of trainers to counter misinformation and disinformation and empower university journalists, bloggers, and social media influencers to become anti-hoax activists. The training created a pool of anti-hoax activists that are active in educating their peers and communities.
One of the activities initiated by the groups was a "DemRes Goes to Campus" event. The campaign has reached 23 campuses and high schools, including 12 universities, ten high schools, and one Islamic boarding school in the provinces of Aceh, Jogjakarta, and Maluku. DemRes Goes to Campus provided an anti-hoax campaign and training for participants to learn how to do fact-checking, news verification, and use fact-checking tools. Afterward, the participants joined a follow-up workshop to practice the theory taught during the training.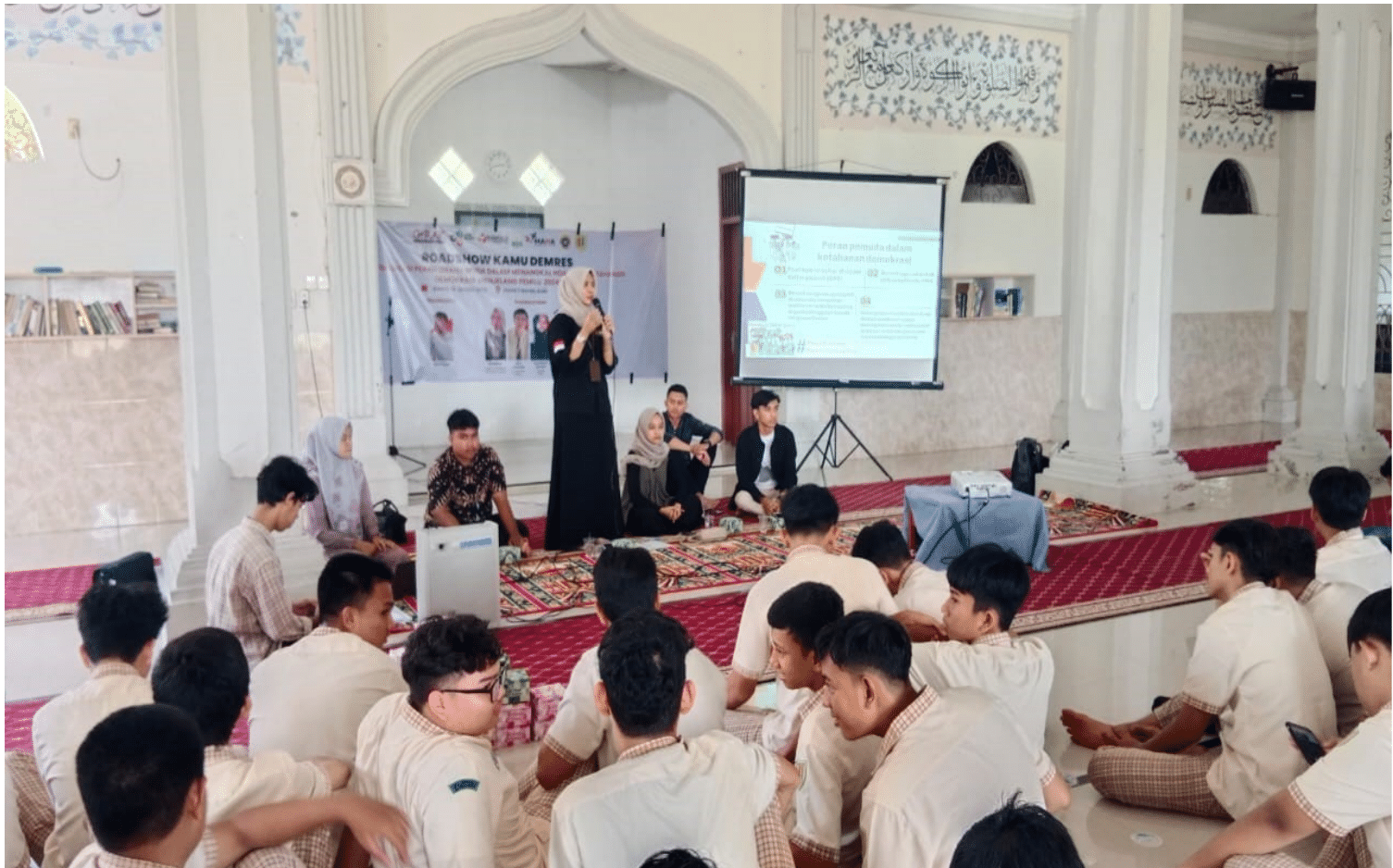 The last two Presidential Elections in Indonesia saw populist actors exploiting identity politics and spreading disinformation. Therefore, many anticipate another election that could be deeply polarizing and undercut the democratic process in Indonesia. In support of the ongoing resilience of democracy, The Asia Foundation is promoting freedom of expression and youth political participation to encourage young people to actively engage in political discourse in their local regions.
"DemRes Goes to Campus" is part of the Reclaiming Civic Space to Promote Democratic Resilience Project, funded by the Australian Department of Foreign Affairs and Trade (DFAT).
Translation
Di Indonesia, partisipasi politik kaum muda di ranah politik relatif rendah meski termasuk dalam kelompok pengguna internet yang paling aktif. Kelompok pemuda rentan dipengaruhi arus disinformasi dan misinformasi, membekali mereka dengan perangkat untuk mengidentifikasi berita bohong dan misinformasi online penting mengantisipasi Pemilu 2024 mendatang.
Dalam rangka meningkatkan kemawasan akan bahaya politik identitas dan hoaks kepada pemilih muda, The Asia Foundation mendukung mitra di daerah menggelar Training of Trainers untuk menangkal disinformasi dan misinformasi, di samping memberdayakan jurnalis kampus, blogger, dan influencer sosial media menyuarakan anti-hoaks. Pelatihan ini telah berhasil menciptakan aktivis anti-hoaks yang giat mendidik rekan dan komunitas terdekat mereka.
"DemRes Goes to Campus" adalah acara yang diinisiasi oleh kelompok-kelompok tersebut. Kampanye yang diadakan menjangkau 23 universitas dan SMU, termasuk 12 universitas, 10 SMU, dan 1 pesantren di Aceh, Jogjakarta, dan Maluku. "DemRes Goes to Campus" melaksanakan kampanye anti-hoaks dan pelatihan agar peserta paham bagaimana memeriksa fakta. Setelah itu, partisipan mengikuti workshop lanjutan untuk mempraktekkan teori yang sudah dipelajari selama pelatihan.
Pada dua pemilu terakhir , Indonesia menyaksikan aktor populis mengeksploitasi politik identitas dan menyebarkan disinformasi. Oleh sebab itu, banyak pihak mengantisipasi pemilu mendatang kembali memecah belah publik dan melemahkan demokrasi Indonesia. Untuk mendukung ketahanan demokrasi, The Asia Foundation mempromosikan kebebasan berekspresi dan partisipasi politik pemuda dengan mendorong kaum muda agar berperan aktif dalam diskursus politik di daerah masing-masing.
"DemRes Goes to Campus" adalah bagian dari program pemulihan Ruang Sipil untuk Ketahanan Demokrasi yang didanai oleh Department of Foreign Affairs and Trade.
The Asia Foundation Supports Leaders for a Better World