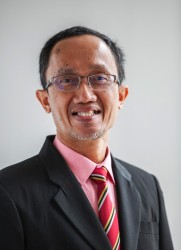 Senior Policy Advisor, Malaysia
Ahmad Ikram Bin Abdullah (Ji) is the senior policy advisor for The Asia Foundation in Malaysia. He has 30 years of working experience spanning in different sectors including government, the banking/corporate sector and a think tank.
Throughout his career, Ji has been involved in a multitude of strategic initiatives such as high-level government and business policy-making process, designing and organizing public engagement programs and strategic corporate events, influencing and advocacy work, government reform initiatives, providing analysis support and background intelligence, and re-branding exercise.
Ji's most recent assignments include an independent consultancy with an international development organization, chief executive officer of the Terengganu Strategic and Integrity Institute (TSIS) a state-owned think tank, vice president, Communications and Branding for SME Bank in Malaysia, and government relations advisor for ExxonMobil in Malaysia.
Ji has a deep interest in the areas of leadership thinking, coaching and human resource training, branding and strategic positioning, policymaking, and stakeholder management. He is also passionate about challenging accepted wisdom, believing that even if it ain't broke, you still oughta fix it.
Education: Ji is a former student of the prestigious Malay College Kuala Kangsar (MCKK). He holds a master's degree in Business Administration and a diploma in Islamic Studies from the International Islamic University Malaysia, a bachelor's degree in International Studies from Southwest Texas State University.