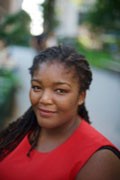 2016-2017 Luce Scholar
Department of Archaeology and Prehistory, Ministry of Culture and Fine Arts, Cambodia
For her Luce year in Cambodia, Alex McDougle will work on a range of archaeological and historical preservation projects connected with the Department of Archaeology and Prehistory under the Ministry of Culture and Fine Arts in Phnom Penh. Cambodia has a rich and diverse cultural heritage, and archaeology is critical for understanding and preserving that heritage. As recent as 2013, a ground-breaking archaeological discovery in Cambodia has revealed a colossal 700-year old urban landscape connecting ancient cities and temples to Angkor Wat.
Alex is an anthropologist focusing on bio-archaeology and forensics. In 2015, she graduated from the University of Hawai'i at Mānoa with high honors in Anthropology and a minor in French, and began working as a forensic archaeologist with History Flight, an American NGO focused on the recovery and repatriation of missing combat veterans. Conducting extensive fieldwork in the Gilbert Islands in the Republic of Kiribati, she supports the current excavation effort for American Soldiers killed during the 1943 Battle of Tarawa in the Pacific Theater. Alex's interest in conflict archaeology stems from her upbringing as the child of an archaeologist and a military officer. As a high school student, she volunteered with the excavation of a World War II internment camp hidden in the valleys of West Oahu.
While in college, she worked with the Ifugao Archaeological Project investigating upland rice field systems of Cordilleran people of Luzon in the Philippines. Her research addressed the potential of skeletal samples of children, leading to an undergraduate thesis analyzing the ways in which children of rice farming populations defied accepted understandings of population health during the initial introduction of sedentary farming, and underscored the need to include more diverse population samples to challenge generally accepted grand narratives of archaeology. As an African-American female, Alex is passionate about giving voices to marginalized peoples and increasing minority representation in academia. When not in the field, she is an amateur poet, coffee connoisseur and hip hop fanatic trying to make the world a better place.