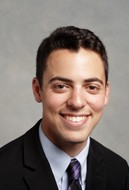 2014-2015 Luce Scholar
Speech Language Pathology Department of Primary Education in the Science of Art Osaka University of Arts Osaka, JAPAN
Andrew Peters was born and raised in Rochester, Minnesota. A lifelong fascination with language, its content, and its structure drove his studies at nearby Carleton College, where he graduated summa cum laude in 2013 with a B.A. in linguistics, with distinction for his thesis project on mathematical models for Spanish phonology. He travelled to Kyoto for an all-too-brief trimester studying Japanese linguistics at Doshisha University in 2012.
Andrew has a passion not just for linguistics but for language learning, having studied Latin, Spanish, and Japanese. He developed these pursuits alongside a long-held affinity for science and medicine, picking up hard-science classes at Carleton and immersing himself in HIV research for three summers at the Mayo Clinic. His work there and his experiences with Mayo physicians galvanized his desire for a medical career, and eventually his move to Chicago in fall 2013 to attend Northwestern University's Feinberg School of Medicine. He is particularly interested in speech disorders, as they represent an area where medicine and linguistics critically overlap, which he currently studies as a member of Northwestern's Aphasia and Neurolinguistics Research Laboratory. He hopes to seriously pursue and maintain this research interest, but views working with patients as the purpose and focus of his future career.
Working with infectious disease physicians and their need for global and public-health competency have also influenced his perspective on medicine. Outside of classes, Andrew has found teaching and tutoring fulfilling; he worked as a Writing Center tutor throughout his Carleton career and currently volunteers at an after-school science program for middle schoolers in Humboldt Park, Chicago. He has always been a musician, playing piano and horn, and performing in orchestras in his hometown and at Carleton. Music – along with reading, writing, the outdoors, and of course time with family and friends – is what keeps him mindful, open, and inspired.
The 2014-2015 Luce Scholar placement for Andrew Peters is at the Osaka University of Arts, a private arts university located in Kanan, Minamikawachi District, Osaka Prefecture, Japan. At the Osaka University of Arts, Andrew will work in the Department of Primary Education in the Science of Art, where directly support the research of acclaimed specialist Dr. Yumiko Tanaka Welty on areas of speech language pathology.