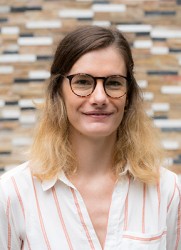 Manager, Urban Safety Project
Ange Moray is manager of the Urban Safety Project, which aims to support the country's nascent transition to democracy by strengthening the effectiveness and responsiveness of township actors in addressing people's urban safety needs, including the specific concerns of women.
Ange joined the Foundation in 2018 as a government communications advisor for the municipal reform team. Her work focused on the improvement of the relationship and trust between local authorities and the public. This included the development of communication and outreach materials for municipalities, building the capacity of government officials in internal and external communications and leading the development and implementation of a citizen engagement mobile application in three cities.
Between 2010 and 2017, Ange worked as program manager, program support manager and technical advisor for several nonprofit organizations in China and Cambodia. She leaded the creation of a vocational training program for women in Siem Reap, Cambodia, supported the development of an early childhood development social enterprise in Phnom Penh Cambodia, and managed the implementation of a EuropeAid-funded program for the protection of children of prisoners in Beijing, China.
Education: Master's degree in Global Communications from ISCOM Paris and online master's degree in International Cooperation and Humanitarian Aid from the Humanitarian Aid Studies Centre.