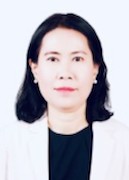 Former Program Manager, ASEAN Program, Thailand
Dr. Apiradee Thienthong formerly served as program manager for ASEAN Programs in Thailand, where she managed programs around ASEAN to counter trafficking in persons and on the Thailand ASEAN Chairmanship.
Apiradee is an expert on migration, trafficking in persons, development, gender, program management and management. She worked on counter-trafficking projects with various donors such as Australian government, the United States Agency for International Development and European Union on various project both for Thailand and ASEAN.
Education: Doctoral degree from Ramkhamhaeng University (International Program) in Political Sciences and International Relations, studying the 'ASEAN Way' of responding to trafficking in persons, studying the case of migration from Myanmar to Thailand; master's degree in Business Administration and bachelor's degree in accounting.