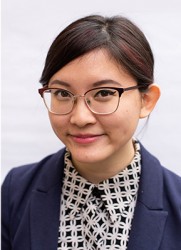 2020-2021 Luce Scholar
Ariel Chu is a writer from Eastvale, California. She is the daughter of Taiwanese immigrants, both of whom sacrificed their passions to raise a family in the United States. Drawing from her experience as a queer Asian American woman, she writes stories about intersecting identities, the burden of everyday power differentials, and what it means to be "authentic" given competing cultural influences. In 2017, Ariel graduated with highest honors from Williams College with a bachelor's degree in English and the title of Class Poet. She was also awarded the Hubbard Hutchinson Class of 1917 Memorial Fellowship for excellence in creative writing.
Ariel is currently a third-year MFA student in fiction at Syracuse University. She is an editor in chief of Salt Hill Journal, the winner of the Spring 2018 Masters Review Flash Fiction Competition, and a finalist for various literary contests and residencies. Her work can be found in The Sonora Review, Nat. Brut, and Wildness, among others, and her fiction has been nominated for a Pushcart Prize, Best of the Net Award, and Best Small Fictions. Ariel's creative ethos is rooted in a sense of community and mentorship. A former editorial intern at the Asian American Writers' Workshop, she serves as a college application editor for first-generation students.
At Syracuse University, she is an English instructor as well as a Creative Writing instructor, and has been recognized with a 2019 Outstanding Teaching Assistant Award. A recipient of 2019 P.D. Soros Fellowship for New Americans, Ariel plans to pursue a doctoral degree in creative writing while completing her first novel. An aspiring writing professor, she hopes to aid young writers in articulating and challenging their identities. In addition, Ariel aims to create her own literary journal, retreat, and arts organization, providing an outlet for marginalized voices in the United States and beyond. Having worked with a variety of creative communities and publications, Ariel aims to create new artistic platforms that serve as a force for social change and political action.