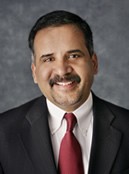 Former Director, Field Operations (South Asia)
Balasubramanian (Balu) Iyer left the Foundation in 2014
Balasubramanian (Balu) Iyer joined the Field Operations unit at San Francisco headquarters as Director, Field Operations (South Asia) in mid-November, 2006 and was responsible for ensuring and supporting effective management of country offices and operations in South Asia in accordance with the Foundation's mission, policies, budget and approved annual and strategic plans.
Mr. Iyer previously served as Asia Program Director for the International Development Exchange (IDEX), San Francisco, from 2001-2006 where he oversaw IDEX's operations, programs, and partnerships in Bangladesh, India, Philippines and Nepal.
He also has eight years of management experience with the Aga Khan Rural Support Program and ActionAid in India. As Regional Manager with ActionAid, he helped develop and managed the operations of ActionAid's network of regional offices in India. He previously worked with The Asia Foundation as a research associate/intern in 1999.
Education: Bachelor of Civil Engineering, National Institute of Technology in Durgapur, India; Post Graduate diploma in Rural Management, Institute of Rural Management, India; Masters Degree in Public Policy from the Goldman School of Public Policy, University of California, Berkeley; Doctoral candidate, Community Economic Development, Southern New Hampshire University.