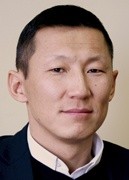 Former Senior Governance Advisor, Mongolia
Bayanmunkh Ariunbold formerly served as senior governance advisor for The Asia Foundation in Mongolia. He was previously program manager for the Global Affairs Canada-funded Strengthening Democratic Participation and Transparency in the Public Sector (STEPS) Project. Bayanmunkh has been involved in the implementation and management of various programs of the Foundation's Mongolia office focusing on anti-corruption, community-based mediation, local governance, and regional cooperation initiatives. Bayanmunkh has more thana decade of experience in government relations, with specific focus on the administrative laws and policies of Mongolia. In his previous capacity as a legal officer for the Ministry of Justice and Home Affairs of Mongolia he helped to draft national laws and oversaw the legality of proposed legislation.
Education: Bayanmunkh Ariunbold earned his bachelor's degree in Law at Shihihutug Law School in Ulaanbaatar, Mongolia and his master's degree in Business Administration from the University of Technology in Sydney, Australia.