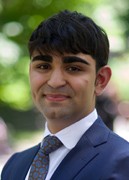 2017-2018 Luce Scholar
Center for Global Health Policy, The University of Tokyo
For his Luce year in Japan, Cyrus Ghaznavi will support the work and research of the Center for Global Health Policy at the University of Tokyo. The Center's mission is to improve population health by enhancing accountability and improving the evidence base for global health programs, through the provision of the best possible information and rigorous monitoring and evaluation. Cyrus's mentor at the Center, Dr. Kenji Shibuya, is professor and chair of Global Health Policy at the University of Tokyo's Graduate School of Medicine, president of the Japan Institute for Global Health, and executive advisor on global health for the Ministry of Health, Labour and Welfare. He led the Lancet Series on Japan, published in 2011, which jump-started debates on Japanese domestic and global health policy reform. Rayden Llano, the previous Luce Scholar placed at the Center, assisted him in that effort.
Raised in a Dallas home by an Indian mother and an Iranian father, Cyrus was imbued with the spirit of multiculturalism, which has been pivotal in giving him a global outlook later in his education, especially with respect to international health. Cyrus will graduate from Rice University in May 2017 with a bachelor's degree in Biological Sciences and Policy Studies. While an undergraduate, he researched rotavirus infection of human intestinal cells to understand how reactive oxygen species incur robust interferon responses. His affinity for virology has earned him the nickname, "Cyrus the Virus," which was especially appropriate for a class he taught at Rice entitled, "WWIII: Intro to Biowarfare." In the same vein, he presented on the ethical dilemmas associated with dual-use biological research at Rice's inaugural TEDx salon. Drawing on his experience as a researcher and global health enthusiast, Cyrus founded the Rice University chapter of END7, an international campaign devoted to raising awareness of neglected tropical diseases (NTDs) and funds for their elimination in disadvantaged nations across the globe. Since its founding, he has traveled to Washington, D.C. annually to lobby for increased funding for the USAID NTD budget by speaking to congressional representatives.
Recognizing the importance of policy in the advancement of science, he interned in D.C. at the Federation of American Scientists, where he researched legal trends in biotechnological patent law after a string of paradigm-shifting Supreme Court cases. Back in Houston, Cyrus has demonstrated a commitment to scholastic life at his university by tutoring his peers in STEM courses and general academic matters as part of the Academic Fellows and Peer Academic Advisors programs, respectively. Cyrus hopes to attend medical school, focus on infectious diseases, and build a career at the World Health Organization. In his free time, Cyrus enjoys trying new restaurants, listening to audiobooks, writing poetry, and studying Japanese.