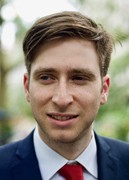 2017-2018 Luce Scholar
The Caravan Magazine
For his Luce year, Daniel Block will work for The Caravan magazine in New Delhi, India. India's first and only publication devoted to narrative journalism, The Caravan occupies a singular position among Indian magazines, presenting a unique mix of detailed reporting, vivid writing, and a commitment to the art of storytelling. Drawing on the tradition established by peers such as The New Yorker and Granta, The Caravan presents a rich and nuanced picture of contemporary India in all its complexity. Since its relaunch in January 2010, the magazine has earned a reputation as one of the country's most sophisticated publications: a showcase for the region's finest writers and a distinctive blend of reporting, criticism and commentary, photo essays, and new fiction and poetry. Recent Luce Scholar Adam Lerner was placed at The Caravan in the 2013-2014 year.
Daniel Block is a recent graduate of Swarthmore College, where he majored in political science and history. One of eight students to receive their degrees with highest honors, Daniel was inducted into Phi Beta Kappa, and was the recipient of the school's Ivy Award. A native of Armonk, New York, Daniel has a longstanding interest in politics and policy both inside and outside of the classroom. During his college summers, he interned in the Washington D.C. office of U.S. Senator Kristen Gillibrand and on the re-election campaign of his congressman, Sean Patrick Maloney. After graduating, he volunteered on Hillary Clinton's presidential campaign. In addition, he held various leadership positions in Swarthmore College Democrats and studied comparative politics during a semester abroad in Budapest.
Daniel also has a passion for journalism. At Swarthmore, he was the Editor-in-Chief of the Phoenix, the college's print and online student newspaper, where he managed a staff of fifty students and won awards from the Society of Professional Journalists and Associated Collegiate Press. He worked as an editorial intern at The American Prospect and as a staff writer for The Philadelphia Inquirer during the summers of 2015 and 2016, respectively. While working for The Prospect, Daniel wrote for the website, conducted research, and managed the magazine's Twitter presence. As an intern at The Inquirer, he published over twenty articles on topics ranging from Donald Trump rallies to school taxes. At Swarthmore, Daniel worked as a research assistant to several professors, studying American political development, the ethics of war, and how globalization has shaped modern insurgencies. He also conducted independent research into the history of U.S. state constitutions, resulting in an essay that received Swarthmore's 2015 Judith Polgar Ruchkin Prize, given to the best paper on politics or public policy. Daniel later presented his findings at the Northeastern Political Science Association's 2015 conference. Daniel aspires to merge his interest in academia and journalism as a public intellectual, attuned to both scholarly research and the broader world. He plans on pursuing a Ph.D. in comparative politics and writing about his findings as a freelance journalist. Currently, he is working as a ski instructor in Park City, Utah, helping children learn how to enjoy his favorite hobby.